Straw bale gardening can destroy your garden. A bold claim, but it's true. Here's what you need to know to safeguard your harvest.
Straw Bale Gardening Has a Hidden Risk
Straw bale gardening can destroy your garden.
A bold claim, but it's true. And the evidence is mounting.
Straw bale gardens have taken off over the last decade or so. I've seen some really pretty and clever methods of straw bale gardening. Just a quick Google image search will show you lots of beautiful straw bale gardens. It makes you want to jump right in, doesn't it?
Are Straw Bales Safe to Use?
Unfortunately, straw bales (and hay bales) can destroy your garden for years. How? Let's take a look.
Those of you that haven't read Compost Everything: The Good Guide to Extreme Composting may be wondering why in the world I'd state that straw bale gardening can destroy your garden.
My friend Andi knows.
My friend Luzette knows as well, though her gardens were destroyed by manure, not directly via straw or hay.
You May Also Enjoy:

"How to Rescue a Garden Destroyed by Grazon Contamination"
When I broke the story of toxic herbicides in manure back in August of 2012 via Natural Awakenings magazine, there were very few people that knew this stuff was around or how pervasive it really was. I wouldn't have known either . . . if it hadn't destroyed about $1000 worth of plants.
Since that first article, the stories keep mounting.
Toxic Herbicides Can Poison Gardens
I love the concept of straw bale gardening. It's great. It's a lot of fun and it's a quick way to get a garden going without worrying about improving the soil. You could consider straw bale gardening a form of composting and gardening simultaneously. The soil beneath a pile of rotten hay or straw improves marvelously after a year or so, leaving a patch of humus-rich earthworm-populated earth.
Yet if that hay or straw came from a field that was sprayed with one or more persistent herbicides such as Grazon™ or CleanWave™, the vegetables in your straw bale gardens will be wrecked. Not only that, you can't even compost the contaminated straw because the toxins (usually aminopyralid or its cousin clopyralid) stick around and will destroy whatever ends up with the resulting compost.
Factory Farming's Downstream Consequences
The reality of modern factory farming is that it's farming based on poisons. Wheat, oats, barley and other grain fields, as well as hay fields, are often sprayed with herbicides to control broad-leaf weeds long-term. "Weeds" like blackberries, amaranth, etc.
The toxins don't effect members of the grass family (grains included) but they will destroy most garden vegetables quite efficiently. I've been thanked multiple times from people that have either saved their gardens from these poisons—or who had finally figured out what had wrecked their crops.
Many people are just discovering the dangers. Check out this Amazon review of Compost Everything:

Do You Know Where Your Straw Came From?
Around my neck of the woods many farmers have discovered the amazing power of these herbicides to control weeds in their hay fields. They're sprayed everywhere—it's incredible.
As the grains/grasses grow, they uptake these toxins without harm. Animals can also graze on the fields without apparent issue.
Yet the resulting straw and manure still contains a potent dose of plant-killing power—and the toxins can stick around for years.
Toxic Pesticides in Animal Manure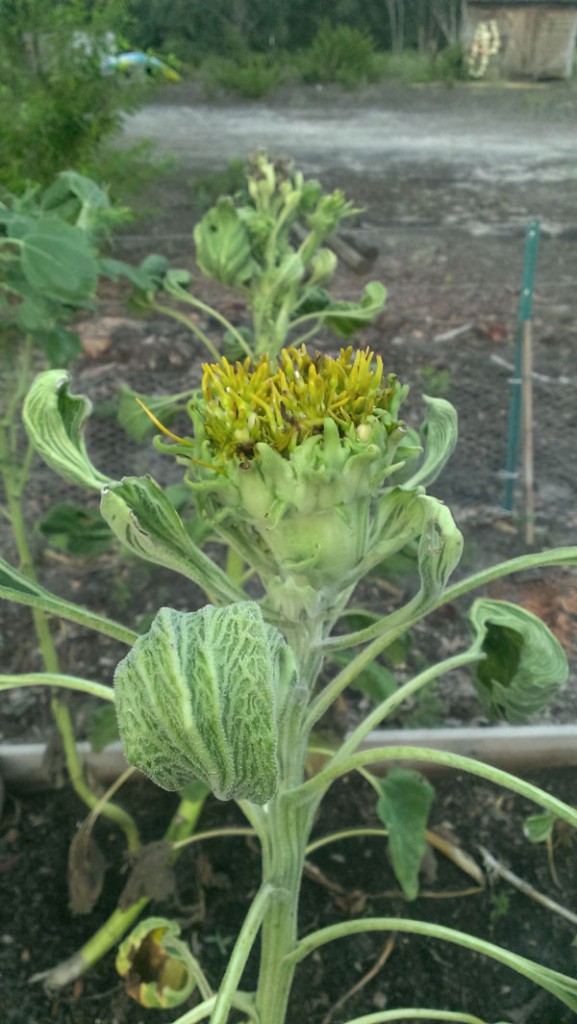 I've been offered free manure for my gardens many times. I've even been told, "We don't spray anything on our fields." Yet if those animals are eating hay from the feed store—or if there's straw bedding in the stables—the chances of contamination are very high.
Just say no. You have to. Otherwise things like I've pictured above happen to your plants.
Nasty.
Protect Your Straw Bale Garden from Hidden Pesticides
If you want to start straw bale gardening, how will you know if the straw has been sprayed at some point? If you have some rotten hay you want to compost, how will you know if it contains deadly toxins or not?
Marjory recommends a simple test. (This test also works for manure.)
Grow a flat of legumes.
Mix the straw or hay with water in a five-gallon bucket and stir frequently for a day or two.
Then, use the water on the legumes.
Keep an eye on the legumes to see how they respond. If the second and third set of leaves look normal, the straw, hay, or manure is probably safe to use.
Note the word "probably" in that last bullet point. If you conduct this test with hay or straw of unknown origin, you'll probably be on safer ground. There's still a little risk, but it's better than using bales willy-nilly without knowing their complete provenance and without any sort of testing first. That is going to blow up in your face.
You won't know, the feed store won't know, and good luck tracing the straw bales back to a specific field so you can ask the original farmer if he's sprayed anything within the last couple of years.
The Bottom Line on Straw Bales and Manure
I used to sweep up all the loose hay and straw every week or so from the local feed store after I got permission to scavenge it for my compost piles.
No more.
That's a game of Russian roulette you're going to lose.
Verdict: Unless you can verify that the fields from which your straw or hay was harvested weren't sprayed within the last three years or so with persistent herbicides, you're risking a lost gardening year . . . or more!
There was a time when straw bale gardening was a great idea. That time has passed.
Be safe.
What Do You Think?
How do you ensure your straw bales are safe? What are your experiences with straw bale gardening? Let us know in the comments!
____________________
This is an updated version of an article that was originally published May 6, 2016.
The Grow Network is a participant in the Amazon Services LLC Associates Program, an affiliate program designed to provide a means for our team to earn fees for recommending our favorite products! We may earn a small commission, at no additional cost to you, should you purchase an item after clicking one of our links. Thanks for supporting TGN!
(Visited 109,240 times, 10 visits today)
Tags: