About Us
Welcome to The Grow Network! In case we're meeting for the first time, we'd like you to know that we're the online home of a global network of people who produce their own food and medicine …
… The coolest backyard researchers on Earth (not that we like to brag 😉 )!
We're constantly sharing, discovering, and working together to test new paths for sustainable living—while reconnecting with "the old ways" that seem to be slipping away too quickly in our modern world.
Our catalyzing statement (the thing that gets us up every morning) is "Home Grown Food On Every Table!" We value soil, water, sunlight, simplicity, sustainability, usefulness, and freedom. And we strive to be the most useful site on the web for producing, preparing, and preserving your own food and medicine.
We are open to all religions, diets, and political parties. And we grow food for many reasons, including health, spirituality, preparedness … and just for fun!
Join us, won't you? And let's learn how to grow food and medicine, together!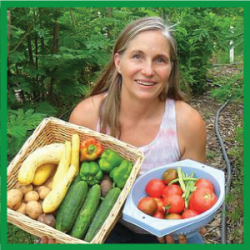 The Grow Network's founder, Marjory Wildcraft has been featured as an expert in sustainable living by National Geographic, and she is the host of the annual Home Grown Food Summit, which reaches hundreds of thousands of viewers every year.
She is best known for her DVD series Grow Your Own Groceries, which has over a half million copies in use by homesteaders, foodies, preppers, universities, and missionary organizations around the world.
Beloved for her humorous, non-judgmental, get 'er done style, Marjory and her husband, Dave, are raising two teenagers in Central Texas. When she's not building an online network, being "Mom," and tending her family's food supply, Marjory loves playing, running, doing gymnastics, skateboarding, acquiring skills from the Paleolithic era (yes, she is part cavewoman!), and experimenting with anything and everything related to food production and sustainability.
(Visited 642 times, 12 visits today)