By popular demand, we're offering our step-by-step,

 

DIY Hoop House Plans for just

 

$30!
____________________________________________________________________________
On this edition of Homesteading Basics, I talk about the lessons I've learned from several years of operating a hoop house.
The Easy Greenhouse Alternative
My hoop house is about 12 feet wide by 48 feet long. If you need a big greenhouse quickly and economically, a hoop house is definitely the way to go. It really is pretty quick to put up, and it's very cost effective.
My DIY Hoop House Plan
There are a couple of things I've learned about it. On my homestead in Central Texas, we get extremes of heat and cold. In the summer, we get a lot of intense sun here. What we found works really well is using a 70 percent shade mesh in the summer months. It provides a good amount of shade, yet allows a breeze to go through. We are able to grow things really well inside the mesh-only greenhouse.
In the winter, just taking the mesh off and having plastic on is the best way to go. The plastic definitely keeps the greenhouse nice and warm. We are able to grow fabulous plants all winter long.
The main thing about this is it creates a pretty big maintenance issue twice a year.
In the spring, we're taking the plastic off and putting the mesh on. Then, in the fall, we're taking the mesh off and putting the plastic on. We did operate it for a while with both the plastic and mesh on in winter, and we found that it just doesn't work that well.
That maintenance chore twice a year is going to take about four people for a greenhouse this size. That means we get the whole family involved with that chore.
But you can use a greenhouse for all seasons if you're willing to do that kind of work.
Plans For A Summer vs. Winter Hoop House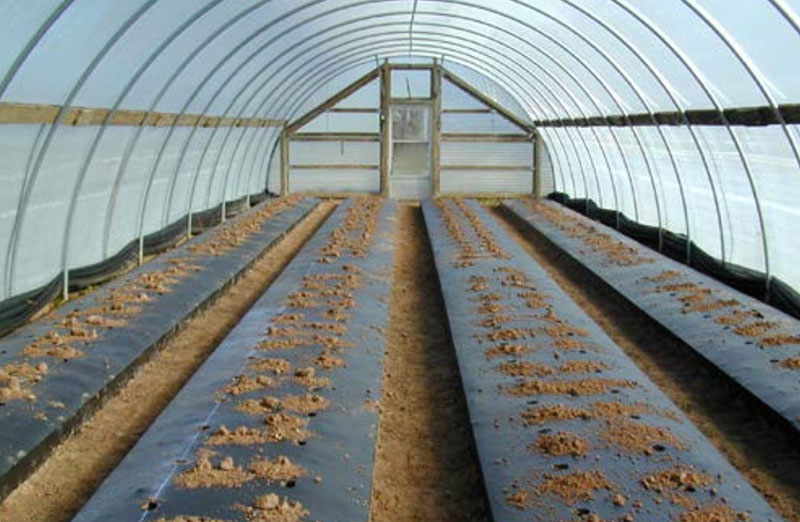 My other concern is that the mesh seems to be holding up really well, but I'm not sure what the lifetime of the plastic is going to be. I think taking it off and putting it back on adds extra wear and tear to it, and it may not last as long as it would if we just kept it in place throughout the whole year. I've spoken with different operators of commercial greenhouses, and it seems the plastic lasts anywhere from one to three years according to the different farmers you talk to.
Personally, I feel that that's a lot of waste. But it does seem to be effective, and I don't know of any truly viable alternatives. (Do you? If so, please let me know in the comments below!)
Again, if you need a big greenhouse really quickly and fairly inexpensively, hoop houses are a good way to go. (And remember, you can get our comprehensive, step-by-step Hoop House Plans right now for just $30!)


______________
This article was originally published on January 30, 2017.
The Grow Network is a participant in the Amazon Services LLC Associates Program, an affiliate program designed to provide a means for our team to earn fees for recommending our favorite products! We may earn a small commission, at no additional cost to you, should you purchase an item after clicking one of our links. Thanks for supporting TGN!
(Visited 16,609 times, 2 visits today)
Marjory Wildcraft is the founder of The Grow Network, which is a community of people focused on modern self-sufficient living. She has been featured by National Geographic as an expert in off-grid living, she hosted the Mother Earth News Online Homesteading Summit, and she is listed in Who's Who in America for having inspired hundreds of thousands of backyard gardens. Marjory was the focus of an article that won Reuter's Food Sustainability Media Award, and she recently authored The Grow System: The Essential Guide to Modern Self-Sufficient Living—From Growing Food to Making Medicine. 

Tags: