Looking for a simple, effective livestock watering system? This DIY system is self-filling, simple to build and clean, and off-grid friendly!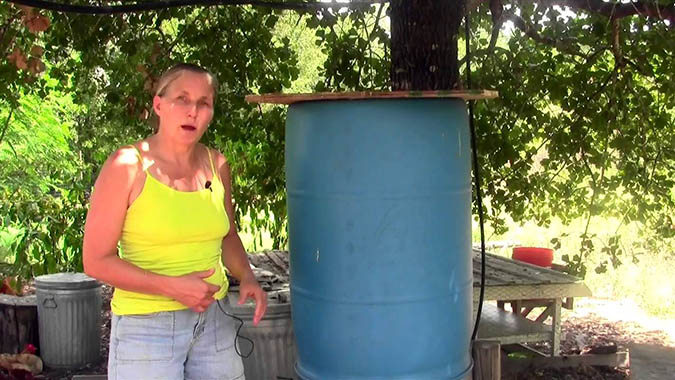 Small Livestock Watering System You Can DIY
One of the reasons why growing meat and animal products is easier than vegetables, fruits, or nuts is because animals will water themselves if you set it up for them. In the video below, you'll see a very simple and effective livestock watering system that works really well for most backyard and home-scale animals.
Get the skills you need to survive (and even thrive) during a long-term emergency situation with our popular Off-Grid Survival Toolkit, featuring 27 essential, survival-related presentations and 7 bonus eBooks!
Simple, DIY Livestock Watering System For Small Animals 
This is a completely off-grid livestock watering system, without any pumps, cords, or engines.
In the video, you'll also see how I make an easy "homestead scrubbing brush." (Try not to be alarmed by the dead squirrel. It's just a fact of life that I do my best to prevent.)
Get Step-by-Step Instructions to Build Your Own—My Treat!
For step-by-step instructions on how to build the DIY livestock watering system I show you in the video above, check out the "DIY Off-Grid Watering System" eCourse we put together in the TGN Academy. Simply click the graphic below, and tell us where to send your free access!
Register for your FREE access to the TGN Academy's Weekend Project:

"DIY Off-Grid Watering System"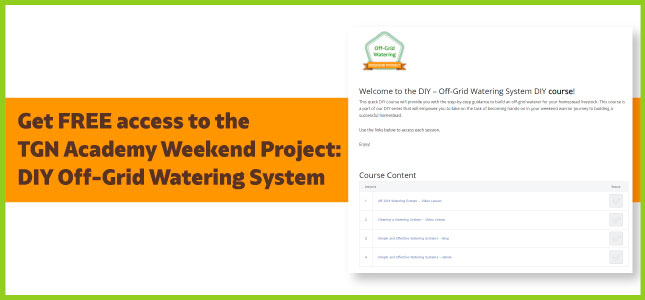 ____________
This is an updated version of an article that was originally published on October 30, 2014. 
(Visited 3,661 times, 1 visits today)
Marjory Wildcraft is the founder of The Grow Network, which is a community of people focused on modern self-sufficient living. She has been featured by National Geographic as an expert in off-grid living, she hosted the Mother Earth News Online Homesteading Summit, and she is listed in Who's Who in America for having inspired hundreds of thousands of backyard gardens. Marjory was the focus of an article that won Reuter's Food Sustainability Media Award, and she recently authored The Grow System: The Essential Guide to Modern Self-Sufficient Living—From Growing Food to Making Medicine. 

Tags: