Is toothpaste safe? It depends. Here are 8 toxic ingredients found in many brands of toothpaste … and how they can damage your health.
Over your lifetime, you'll use about 20 gallons of toothpaste. The chemicals in that toothpaste can get into your bloodstream. Even though you don't swallow it, your mouth can absorb it. Let's take a look at what's in your toxic toothpaste.
Is Toothpaste Safe? Toothpaste Toxins to Watch Out For
Look on the back of your toothpaste tube. What ingredients are listed? Can you even pronounce them? My thought: If you can't or struggle to pronounce it, you probably shouldn't put it in your body.
There are certain risks with a lot of common toothpaste ingredients, even though they are branded as "natural." The chemicals in your toothpaste are known to cause mental and physical problems, inflammation, and cancer.
Toothpaste Toxin #1: Artificial Colors, Flavors, and Sweeteners
Toothpaste often contains artificial colors, flavors, and sweeteners, especially toothpaste branded for children. These are linked to hyperactivity and behavioral problems.
FD&C and D&C dyes are made from petroleum. The term "lake" is a colorant made by combining a pigment with metal salts, usually aluminum, zirconium, titanium, and others.
Aspartame and artificial sweeteners are added to toothpaste to make it taste good. Aspartame in the body breaks down to wood alcohol and formaldehyde. Both of these are stored in your liver or kidneys. They are not eliminated from the body.
Toothpaste Toxin #2: Fluoride
I could write an entire article on the dangers of fluoride.
In a 2010 study, researchers found that a beneficial layer of fluorapatite was formed on your teeth from fluoride, but it was only 6 nanometers thick. Let's put that into perspective—you'd need 10,000 of those layers to be the width of a human hair. The ultra-thin layer disappears as soon as you chew something.
Now consider the toxic nature of fluoride. It is a chemical that accumulates in your tissue over time. It can cause neurological, as well as endocrine system problems.
Toothpaste Toxin #3: Triclosan
To fight plaque and gingivitis, Triclosan, an antibacterial chemical is added to toothpaste. However, it has been linked to antibiotic resistance, endocrine disruption, and thyroid dysfunction.
You May Also Enjoy:

"10 Natural Ways to Care for Your Teeth and Gums"

"How to Grow Equisetum Hyemale"

"23+ Surprising Sources of Toxic Aluminum … and How to Detox!"
Its chemical makeup is similar to thyroid hormones. Triclosan causes a wide-range of health problems including breast, ovarian, prostate, and testicular cancer, preterm and low birth weight babies, pre-puberty in girls, and undescended testicles in boys.
Download our better-than-toothpaste powder recipe below and learn the 5 must-have ingredients. And not only is it yummy, but it's also highly effective and it's is safe for children and those with thyroid conditions. Make it with your children or grandkids as a fun project. Kids like to brush when they help to make the toothpaste!
Toothpaste Toxin #4: Sodium Lauryl Sulfate
This harmful chemical is responsible for the foaming action of your toothpaste.
Sodium Lauryl Sulfate has also been linked to skin irritation and canker sores. It is registered as an insecticide. The manufacturer sought approval to market Sodium Lauryl Sulfate as an organic pesticide. The application was denied because of the potential environmental hazard.
Studies have shown that it may have toxic effects on marine life.
Toothpaste Toxin #5: Formaldehyde-Releasing Preservatives
Some of the chemicals in toothpaste release formaldehyde—a known carcinogen. These preservatives kill microbes that might grow in the toothpaste.
The preservatives are absorbed into your bloodstream through the lining of your mouth. It can also cause allergic skin reactions.
Here are 10 formaldehyde-releasing preservatives to watch out for:
DMDM hydantoin
Diazolidinyl urea
Imidazolidinyl urea
Polyoxymethylene urea
Methenamine
Quaternium-15
Sodium hydroxymethylglycinate
Bronopol
Bronidox
Glyoxal
Toothpaste Toxin #6: Parabens
These chemicals are endocrine disruptors that have been linked to cancer and developmental and reproductive issues. They act like the hormone, estrogen.
Keep an eye out for these chemicals in your toothpaste:
Methylparaben
Ethylparaben
Isobutylparaben
Propylparaben
Butylparaben
Isopropylparaben
Toothpaste Toxin #7: Carrageenan
This thickening agent (sometimes used in gelatin-free gummy candies) is a suspected carcinogen. According to current research, food-grade carrageenan creates intestinal inflammation that can lead to cancer, even in small doses.
It has been linked to:
Free radicals
Inflammation
Insulin resistance
Glucose intolerance
Toothpaste Toxin #8: Diethanolamine (DEA)
This foaming agent is a known hormone disrupter that reacts with other ingredients. It forms a potential carcinogen called N-nitrosodiethanolamine (NDEA), which is readily absorbed through the skin. It has been linked to stomach, esophagus, liver, and bladder cancers.
On another note …
Many kinds of toothpaste include ingredients that are genetically modified organisms (GMOs). The only way to avoid these is to buy products that carry the USDA 100% Organic label.
You May Also Enjoy:

"Natural Tooth Care—Doug Simons and Marjory Wildcraft"

"10 Medicinal Uses for Comfrey: Wound Healer, Muscle Relaxer, Ulcer Treatment, Eyewash, and More"
Is Toothpaste Safe? This Is.
So how do you brush your teeth with all of these toxins in commercial toothpaste formulas?
There are several healthy and safer alternative products on the market. Look at your local health food store for some of their recommendations.
Or, with a few ingredients, you can make your own.
Simple and Natural Toothpaste (Recipe)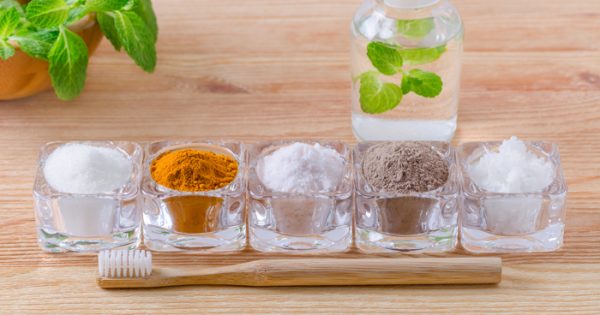 Brushing twice a day, this recipe lasts about a month.
The Foundation for Healthy Teeth
Remember that your diet is essential as the foundation for healthy teeth and gums. Your oral health depends on:
Vitamins C, D, and K2
Magnesium
Phosphorus
Potassium
Calcium
What Do You Think?
How do you take care of your teeth and gums? Share your best tips in the comments below!
This is an updated version of an article that was originally published on August 16, 2017.
The Grow Network is a participant in the Amazon Services LLC Associates Program, an affiliate program designed to provide a means for our team to earn fees for recommending our favorite products! We may earn a small commission, at no additional cost to you, should you purchase an item after clicking one of our links. Thanks for supporting TGN!
__________
Additional Resources
Is Your Toothpaste Toxic? Progressive Health. Is Your Toothpaste Loaded With Toxins? Mercola.Epoch Times August 26, 2015Behind the Dazzling Smile: Toxic Ingredients in Your Toothpaste. Cornucopia report.
Save
(Visited 15,684 times, 2 visits today)
Marjory Wildcraft is the founder of The Grow Network, which is a community of people focused on modern self-sufficient living. She has been featured by National Geographic as an expert in off-grid living, she hosted the Mother Earth News Online Homesteading Summit, and she is listed in Who's Who in America for having inspired hundreds of thousands of backyard gardens. Marjory was the focus of an article that won Reuter's Food Sustainability Media Award, and she recently authored The Grow System: The Essential Guide to Modern Self-Sufficient Living—From Growing Food to Making Medicine. 

Tags: