My husband and I were carting some branches from the front of our property to the back corner.  We have lots of trees and I was following the cart to make sure none of the branches got snagged along the way.  We both wear long pants, long-sleeved shirts, and sturdy shoes when we are working.
All of a sudden, I felt a really sharp pain in my butt below my left hip!  I let out a yelp and our progress came to a halt.
I thought something had crawled down in my pants to bite me.  I had my husband come over and check to make sure there was nothing there that could get me again.
A Real Pain in the Butt
The pain was still very sharp, something I had never experienced before.  After we unloaded the cart of  branches, I had him check out the spot again, only to find that there was a half-dollar-sized welt where something got me!
We made sure that there wasn't a stinger left and that narrowed down the possible culprits.  We determined I had been stung by a hornet right through my jeans.
Hornets and wasps are unlike bees in that they do not die from stinging something because their stingers aren't barbed and don't pull out.  Hornets are more dangerous than wasps because the venom they inject is more toxic.  Although it is unlikely that a person will die from a hornet sting, the hornet can sting more than once, which increases the amount of poison injected.
Getting to Know Our Local Hornets
Some larger hornets found in Asia have caused human deaths in Japan and China.  I'm glad we don't have those here!
The kind of hornet normally found in North America is the European hornet.  It is the largest wasp-type insect on this continent and can get over an inch long.  It is mostly dark brown and black, but has some yellow on its abdomen.  The females are larger and the only ones that sting.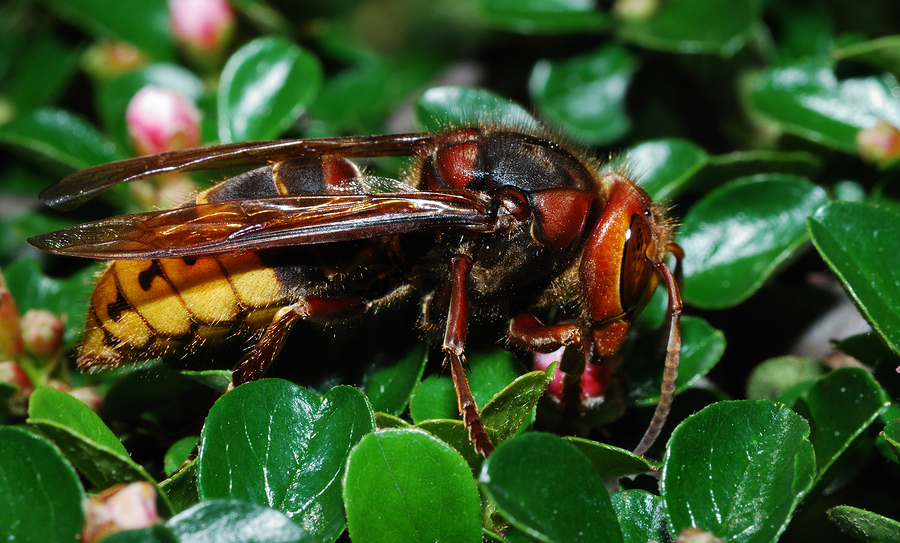 They usually sting defending a nest or a food source.  I don't know which of those I got too close to, but my guess is that I may have accidentally stepped on the hornet and the sting was retaliation.
We also have a lot of rotting wood on our property as well as large spider webs.  Hornets use the wood to make their nests and often steal food from spider's webs during the fall.  As we move through our forest, we often have to push webs out of the way.  So this is another possibility for what I may have done to provoke an attack.
If someone attacks a hornet nest, the entire nest can be mobilized to sting the attacker.  So it is probably not a good idea to do this unless you are prepared for the worst.
On a beneficial note, hornets also eat a lot of insects, including those which can be pests in gardens.  Unfortunately, they have also been known to attack domestic honey bee hives and can eliminate them.
Read more: Heat Exhaustion – The #1 Threat to Summertime Gardeners
What Happens After a Hornet Sting
Luckily, I am not allergic to wasp stings.  For people who are, this kind of sting can create headaches, elevated blood pressure, and shortness of breath.  If I had experienced any of those symptoms, I would have headed to the hospital for something to counteract the sting.
As it was, I did experience some burning and itching sensations around the sting area.  I tried a few different herbal and essential oil remedies, but the one thing that worked the best was an arnica gel.  It handled the burning and itching and reduced the welt after several applications over a few days.
Obviously, I will try not to get stung again!  However, if I do, I now have a better understanding of what could have triggered it and what I can do to handle the sting.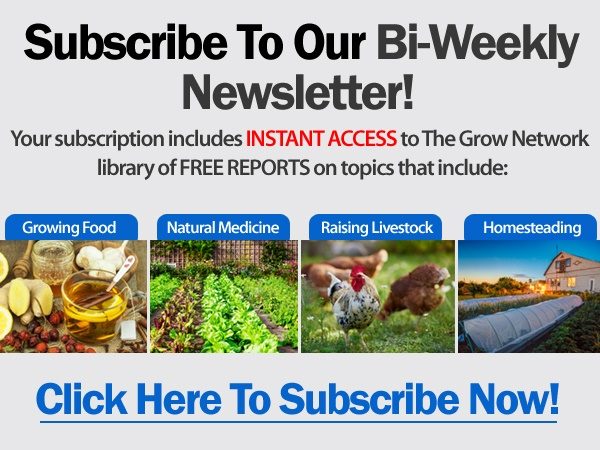 (Visited 1,518 times, 1 visits today)
Karen the Newbie Homesteader is a novice gardener, homesteader, and permaculturist. She and her husband recently purchased four acres in central Florida to create their homestead and grow their own food. She will be sharing their adventures: successes, failures, and everything in between – here at The Grow Network.

Tags: