John Jeavons has been working for 42 years researching and promoting backyard food production.  He is the author of the best-selling book  "How to Grow More Vegetables, Fruits, Nuts, Berries, Grains, and Other Crops Than You Ever Thought Possible On Less Land Than You Can Imagine" which has over 550,000 copies in print in seven languages.  He has authored or helped create over 30 publications to enable people in all regions of the world to grow a balanced diet on a small plot of land.  Jeavons' food-raising methods are being used in 141 countries and by such organizations as UNICEF, Save the Children, and the Peace Corps.  Jeavons' is the Executive Director of the non-profit research organization Ecology Action, and founder of the non-profit heirloom seed and tool company Bountiful Gardens.
Jeavons mini-farming techniques often called "GROW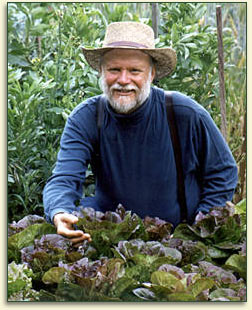 BIOINTENSIVE" make it possible to grow food using:
– 67% to 88% less water
– 50% to 100% less fertilizer
– 99% less energy than commercial agriculture, while using a fraction of the resources.
Homegrown Food On Every Table is the catalyzing statement for the organization founded by Marjory Wildcraft.  "Growing your own groceries and backyard food production is the answer to many of the major issues we are facing today" say Wildcraft.  "Here in the US, malnutrition is just one of the many elephants in the room no one is talking about".
To raise awareness, Wildcraft is conducting a series of interviews with leaders in the movement towards individual and family food self-reliance.  "John Jeavons has had the biggest impact of any man alive on helping people to grow their own food" says Wildcraft.
"Hundreds of thousands of people are able to eat dinner tonight because of Jeavons work." says Wildcraft.  "I have am honored and delighted to be able to interview John first for this series".
During the interview Wildcraft and Jeavons discuss;
– How many humans the earth has resources to feed, and a specific date for when the carrying capacity will be exceeded.
– How the Bio-Intensive method is superior for growing soil.
– Why aquaponics is not a good solution for food production.
– Recommendations for home gardeners dealing with Fukashima radioactive fallout, geo-engineering toxins, and pollution from industry.
– Best locations for surviving collapse scenarios.
(Visited 805 times, 1 visits today)
Marjory Wildcraft is an Expedition Leader and Bioneer Blogger with The [Grow] Network, which is an online community that recognizes the wisdom of "homegrown food on every table." Marjory has been featured as an expert on sustainable living by National Geographic, she is a speaker at Mother Earth News fairs, and is a returning guest on Coast to Coast AM. She is an author of several books, but is best known for her "Grow Your Own Groceries" video series, which is used by more than 300,000 homesteaders, survivalists, universities, and missionary organizations around the world.