When paired with beans, epazote is an excellent carminative, providing herbal gas relief. Learn more about this natural remedy for gas.

Herbal Gas Relief: The Mayan Remedy
If you've been gardening for a while, there's a really good chance that you eat a lot of beans. They're super easy to grow, they're one of the easiest plants to grow from seed, and they store well. A gardener's dream!
But if you're someone who is prone to gas after eating beans, then that gardener's dream can take a nightmarish turn…  You might call beans "a blessing and a curse."
Epazote: A Mayan Miracle Herb for Gas Relief
Epazote (Dysphania ambrosioides)—also known as Jesuit's tea, Mexican tea, paico, and wormseed—is a plant with a long and fascinating history. It was grown by the Mayans, the Incas, and the Aztecs—and it is still used to flavor many traditional dishes in Central America, South America, the Caribbean, and Mexico, where it is known as hierba de Santa María.
It is used widely as both a culinary and a medicinal herb. Epazote is used to cure people and animals suffering from parasitic worms like roundworms, hookworms, and tapeworms. Because of its effectiveness in controlling worms, it is often added directly to animal feed.
A less openly discussed use for epazote is as a "carminative," which means it relieves gas. This effect is likely why the herb has been used for thousands of years to flavor beans. Hippocrates said it best, "Let food be thy medicine…"
Native cultures in the Western hemisphere recognized that epazote lessened the discomfort of a bean-heavy diet, and started pairing this spice with beans thousands of years ago. People have described the taste of beans cooked with epazote as being "fuller and richer." It's a perfect pairing!
If you're interested to learn more about epazote as a medicine or a spice, check out this fact sheet from the University of Arizona Cooperative Extension:
Download the original PDF Here: Epazote.pdf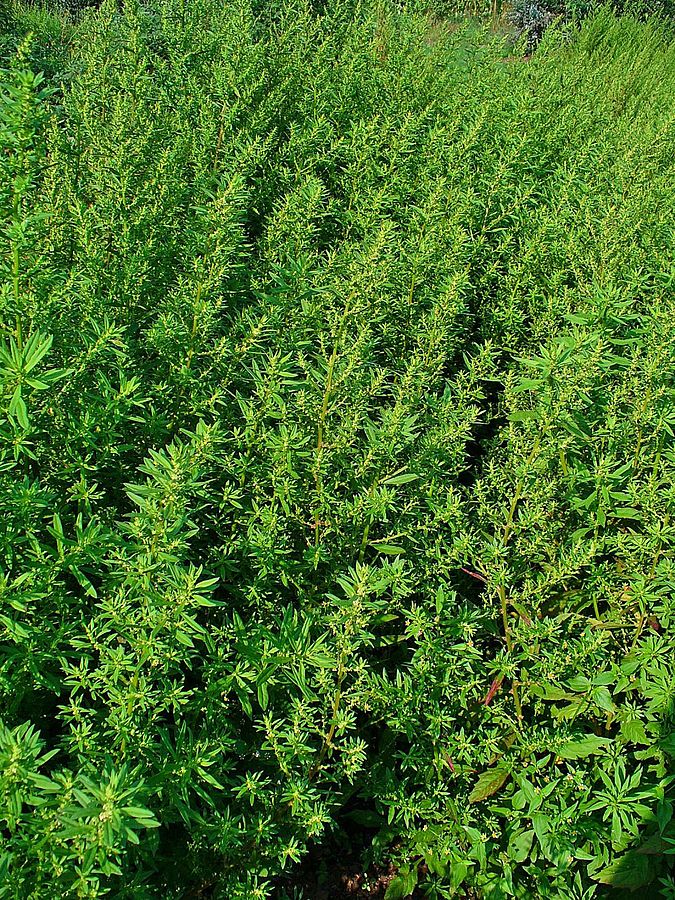 A Word of Warning: Epazote Spreads!
Epazote is easy to grow from seed or cuttings. It prefers a sandy soil with lots of drainage, and it doesn't respond well to sitting in moisture for too long. But as long as you don't keep it too wet, epazote will thrive… and spread.
The inflorescence of epazote looks something like lamb's quarter, with thousands of tiny green blooms clustered together. And the seeds of epazote are just as aggressive as lamb's quarter, if not more so. Tiny, miniscule, black seeds—thousands of them.
Because of its love of dry conditions and its tendency to spread like crazy, epazote is a great candidate for growing outside your vegetable garden. Find a sunny spot with rocky or sandy soil, and give it a try in a place where you won't mind if it takes over.
---
Special thanks to Kurt Nolte of the Yuma County Cooperative Extension, for compiling and sharing the helpful sheet about epazote.

Image credit (featured): By T.Voekler – Own work, CC BY-SA 3.0, https://commons.wikimedia.org/w/index.php?curid=4345903

Image credit (spreading): By H. Zell – Own work, CC BY-SA 3.0, https://commons.wikimedia.org/w/index.php?curid=9843502

(Visited 2,836 times, 1 visits today)

Tags: