You don't need much to garden—just soil, seeds, and a few garden hand tools. Here are the 5 essential tools, plus tips on how to use them.
The 5 Essential Garden Hand Tools
You don't need much to garden. You don't need a tiller, you don't need wood raised beds, and you don't need fancy gadgets. All you really need is soil, seeds, and a few garden hand tools.
Today we'll run through my top 5 gardening tools and you'll get an idea of how to use each in the garden.
Garden Hand Tool #1: Shovel
A shovel is the most basic of gardening tools. With it you can dig a garden bed, chop roots, bury compostable materials, and fight zombies.
I like to double-dig some beds to make them nice and loose. We also like to chop down the weeds in a small area, then dig deep pits and dump in highly nitrogenous materials like fresh chicken manure, meat scraps, dead fish, etc., then cover them over and plant the top with corn, melons, sunflowers, or pumpkins.
Like this:
And here, my friend Scott Head practices the same method:
Who would've thought a shovel was a compost-making tool?
Garden Hand Tool #2: Digging Fork

A good digging fork is hard to find these days, but if you can get one it's a great way to start new gardens. Fork up the soil, pull the weeds, rake and plant.
My favorite fork is a Clarington Forge fork I bought back when they were still made in England. Now they're made in India and I no longer trust the quality, so I'm glad I got mine when I did.
If you want to double-dig a bed, first dig a trench with your shovel, then fork the bottom with your fork to loosen the soil deeply. Plant roots love open soil and will dive deep for water and nutrients. With deep, loose soil, your gardens need less water and less fertilizer. Forks help make that happen.
Garden Hand Tool #3: Machete
Where would I be without my machete? I use it for everything from chopping up materials for compost to planting transplants to cutting bamboo stakes for my tomatoes.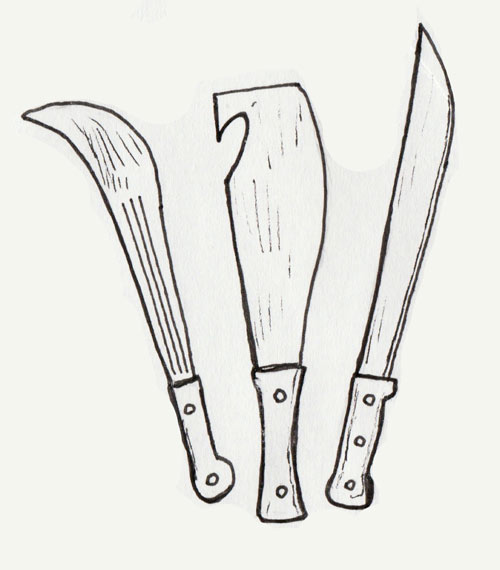 A good machete is a very useful tool. I carry mine with me all the time, using it for a wide range of tasks around the farm. As a bonus, it's a great weapon. So long as you don't lose any fingers.
Garden Hand Tool #4: Rake
If I had to choose one rake for gardening, I would choose a hard-tined landscape rake, as it's the best for making shaping new garden beds and raking seedbeds. After that, I would get a leaf rake, which is very useful for gathering leaves and cut grass for the compost pile.
Garden Hand Tool #5: Hoe
I could write an entire post about various hoes. I have a wheel hoe, a scuffle hoe, a large triangular eye hoe, multiple grub hoes, a grape hoe, a broad-bladed sharp digging hoe, and a collection of antique garden hoes we use regularly.
Weeding hoes are the first thing you need. My favorite hoe is an old antique one made from good steel. Most modern hoes are junky. If you can get an old hoe head, buy it and use it—the steel and construction is much better.
Put a good edge on a hoe and bend the swan neck so it nicely decapitates weeds without making you bend your back, then you'll find it almost works for itself.
I can weed our 7,000 square feet of garden beds in an hour or so, provided I don't let the weeds grow for more than a couple weeks before hoeing.
After I had a good weeding hoe, I'd seek out a digging hoe for chopping new ground and shaping garden beds. Eye hoes are quite useful and very underutilized in the West. EasyDigging.com sells some nice varieties.
Conclusion
With these five tools you'll be able to create and maintain garden beds for years—no gas required. And all of them together will cost you less than half the price of a tiller.
Get good hand tools and they'll serve you well for years, if not generations.
What Do You Think?
What's your favorite garden hand tool? Let us know in the comments!
__________________
This article was originally published on June 24, 2021.
The Grow Network is a participant in the Amazon Services LLC Associates Program, an affiliate program designed to provide a means for our team to earn fees for recommending our favorite products! We may earn a small commission, at no additional cost to you, should you purchase an item after clicking one of our links. Thanks for supporting TGN!
(Visited 9,588 times, 1 visits today)
Tags: