During extreme heat, it's important to have a plan in place to keep livestock cool. This effective system works even if the power goes out!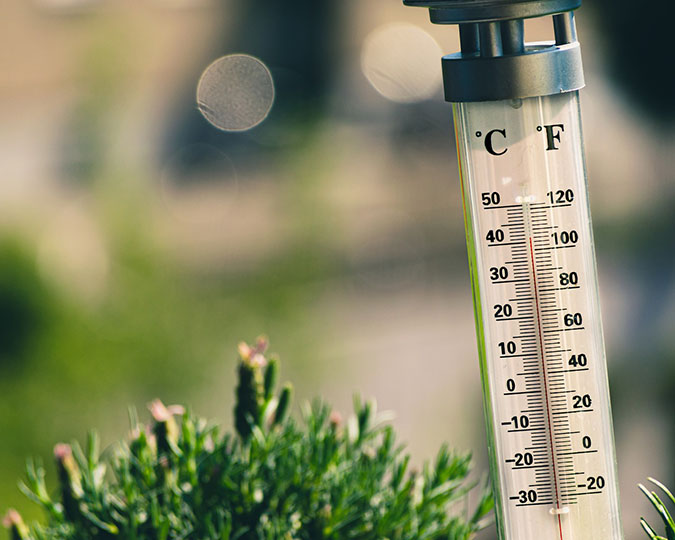 How to Keep Livestock Cool in Extreme Heat
When I lived in Central Texas, afternoon temperatures might break 100 degrees for several days in a row. (Some years, that was actually more like several months in a row!)
Temperatures like that can wreak havoc on your chickens, rabbits, and other livestock.
(For example, it's not unusual to hear that chickens stop laying when it's really hot outside or, worse case scenario, die from heat exhaustion. And rabbits usually can't breed in the heat.)
You may be able to go inside and enjoy the air conditioner when temperature skyrockets, but what about your animals? How can you keep livestock cool in extreme heat?
Keeping Livestock From Overheating
All livestock have limitations when it comes to how much heat they can withstand. So, it's really helpful to have a simple way to keep livestock cool, comfortable, and healthy through the hot summer months.
The video below deals with rabbits, but you can really keep any livestock cool using this system.
Watch to see how we managed to keep mothers, babies, and even a sexually viable daddy rabbit all healthy and happy right through the middle of July!
As usual, this is all done very simply and easily—without any electricity. This is a must-see video for anyone living where it gets HOT:
Off-Grid A/C With Simple Misters
As you can see, other than making sure that water and shade are always available, the most important part of this system is misting.
I'm using a simple misting system with plastic tubing and fittings that I picked up from my local farm supply store to keep livestock cool. I've had moderate success using only gravity to pressurize the whole system.
Oh, and if you like that watering setup I use for my chickens, I show you exactly how to build it in my free e-Book, "Simple and Effective Watering Systems for Livestock." In it, you'll learn to create a high-volume, low-maintenance, simple watering system that you can build yourself using easy-to-find materials.
The system relies on the same concept as a flushing toilet and can be duplicated using your choice of containers and maintained with a handful of weeds (really!).
Access it for free in the TGN Dashboard. Simply create a free account. Then, once you're logged in, click on "View My Dashboard" in the upper right-hand corner of the home page, and scroll down to the "My Library" section. 
What Do You Think?
What are your best off-grid suggestions for operating a misting system and finding other ways to keep livestock cool in intense summer heat? Let us know in the comments section below!
_______________
This is an updated version of an article that was originally published on July 24, 2103.
(Visited 15,496 times, 1 visits today)
Marjory Wildcraft is the founder of The Grow Network, which is a community of people focused on modern self-sufficient living. She has been featured by National Geographic as an expert in off-grid living, she hosted the Mother Earth News Online Homesteading Summit, and she is listed in Who's Who in America for having inspired hundreds of thousands of backyard gardens. Marjory was the focus of an article that won Reuter's Food Sustainability Media Award, and she recently authored The Grow System: The Essential Guide to Modern Self-Sufficient Living—From Growing Food to Making Medicine. 

Tags: