I do not like going to the dentist for a wide range of reasons—from bad experiences with hygienists to a slew of dental procedures that have cost tens of thousands of dollars. But there is something else, too. The materials and practices used by many dentists are creating toxic dental care.
Things to Keep in Mind
Dentists and hygienists look for what they are trained to find, so they often see what they want to see.
The problems caused by toxic dental material may be masked by the symptoms, which mimic other medical conditions.
5 Things You Didn't Know About Your Dentist
More than likely, your dentist graduated years ago. Dentistry has changed so much in the last several years. Has your dentist continued his or her education?
Many dentists don't have the latest technology. It would cost more than $2,000 to update his or her equipment to provide the best possible care. Does your dentist's office have upgraded equipment?
The American Dental Association and the FDA do not have a problem with mercury-based amalgam fillings, but holistic dentists say they are filled with toxins you'd be wisest to limit your exposure to.1)

http://naturaldentistry.us/3875/toxic-dental-materials/

Is your dentist still using these poisonous materials?
The lab your dentist uses is very important. Make sure your dentist is not using an overseas lab or a cut-rate domestic lab that uses tin, aluminum, or even lead to cut costs. What lab does your dentist use?
Dentists can receive a kickback for referring you to a specialist. For instance, you may be told you need a root canal or orthodontics. These specialists give your dentist a referral fee for every patient that gets treatment, even if you don't need the treatment. Do you need a second opinion?
Remember, you always have the right of refusal or even delay while you get a second opinion.
Toxic Dental Care: What Are They Putting in Your Mouth?
X-rays
In 2013, research showed that repeated dental x-rays without a neck shield make you predisposed to thyroid cancer.2)https://www.thyroid.org/professionals/ata-publications/clinical-thyroidology/september-2013-volume-25-issue-9/clin-thyroidol-201325201-202/
Bacteria
In 2016, at least 37 children were hospitalized for Mycobacterium abscesses after contracting a bacterial infection from a California dentist's office. The semi-antibiotic resistant bacteria came from contaminated plumbing supplying the patient mouthwashing stations.3)https://www.aboutlawsuits.com/dentist-water-infections-outbreak-children-111489/
According to the Centers for Disease Control (CDC), outbreaks at dentists' offices are rare. However, they do admit that even though there are recommended guidelines to prevent bacterial infections, many dentists do not follow these guidelines and procedures.4)http://www.cnn.com/2016/10/11/health/california-dental-water-bacteria/index.html
Sealants
Dental sealants are coatings of thin plastic applied to the teeth to prevent decay. The sealants prevent food particles and bacteria from getting into the grooves of the teeth, where it is difficult to brush. Sealants last about 5 to 10 years.
There is some concern that undetected decay can be sealed into teeth, which will quietly continue to decay the tooth.
Also, there is the potential presence of BPA (bisphenol A), a chemical used in some plastics, which has been associated with health and development problems in humans and animals. It has been studied as a potential issue with dental sealants. The American Dental Association research shows that BPA only shows up in sealants in trace amounts.5)https://www.drweil.com/health-wellness/body-mind-spirit/dental-oral-health/are-dental-sealants-safe/
Fluoride
There are many adverse effects of fluoride ingestion:
Brain: Scientists have found dementia-like effects, as well as lower IQ levels.6)https://www.cambridge.org/core/journals/the-british-journal-of-psychiatry/article/aluminium-and-fluoride-in-drinking-water-in-relation-to-later-dementia-risk/14AF4F22AC68C9D6F34F9EC91BE37B6D
Thyroid: Fluoride is an endocrine disrupter, which can lead to problems with judgment and intellect, depression, and weight gain.7)https://r.search.yahoo.com/_ylt=Awr9DuLLardcqCgAUTRXNyoA;_ylu=X3oDMTEyYzhoZWF1BGNvbG8DZ3ExBHBvcwM2BHZ0aWQDQjcwMTNfMQRzZWMDc3I-/RV=2/RE=1555553100/RO=10/RU=https%3a%2f%2fwww.healthunit.com%2fuploads%2freview-of-us-national-research.pdf/RK=2/RS=eCxEBEgoOjgAU0iReOiUUTmTDPg-
Bones: Fracture risks may increase with fluoride ingestion. There is also a 2005 study by Harvard scientists that found a connection between fluoride and osteosarcoma, a serious form of bone cancer in males under 20 years of age.8)[https://www.ewg.org/news/news-releases/2006/04/06/harvard-study-strong-link-between-fluoridated-water-and-bone-cancer However, it's important to note that a 2011 article in the Journal of Dental Research says the "association between fluoride and risk for osteosarcoma is controversial" and goes on to add that "no significant association between bone fluoride levels and osteosarcoma risk was detected in our case-controled study, based on controls with other tumor diagnoses."9)https://www.ncbi.nlm.nih.gov/pmc/articles/PMC3173011/
Kidneys: People with kidney disease have a higher risk of fluoride toxicity.10)https://www.researchgate.net/publication/325399594_Transcriptome_analysis_supports_viral_infection_and_fluoride_toxicity_as_contributors_to_chronic_kidney_disease_of_unknown_etiology_CKDu_in_Sri_Lanka
The bottom line? Fluoridated drinking water hasn't been proven to prevent tooth decay, although fluoride in toothpaste does help strengthen and remineralize damaged enamel.11)https://www.thoughtco.com/how-fluoride-works-prevent-tooth-decay-607857 However, there is a link between fluoride and some serious health risks, so proceed with caution.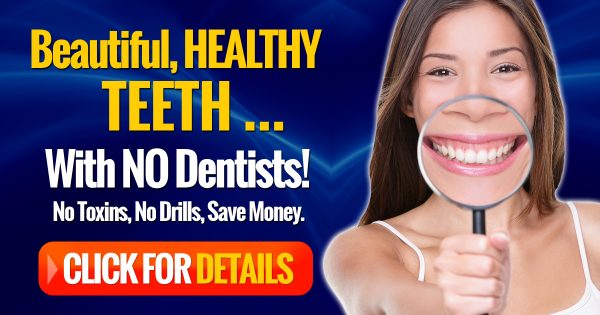 Toxic Materials and Hazardous Practices
How toxic are the fillings, crowns, sealants, and other materials dentists use to care for your teeth? And how necessary (or harmful) are some of the most common dental procedures? Here are just a few things to consider:
Fillings
Fillings can be made out of plastic (also called composite and resin), glass ionomer cement, and amalgam (metal).
For more than 150 years, amalgam has been a popular dental filling material. Modern amalgams are produced from an alloy of 42-45%  mercury, with the balance made of zinc, tin, silver, and copper.12)https://www.ncbi.nlm.nih.gov/pmc/articles/PMC3388771/
Whether or not the mercury in amalgam leaks at levels of "practical or clinical significance" is up for debate, although even proponents of traditional dentistry admit that some mercury is released after the amalgam is placed in the tooth, and more is released when the filling is inserted or removed.13)https://www.ncbi.nlm.nih.gov/pmc/articles/PMC3388771/
Mercury is poisonous and is a known neurotoxin, and the other metals in amalgam alloys can cause health issues, as well.14)http://naturaldentistry.us/3875/toxic-dental-materials/ Apart from toxicity issues, individual hypersensitivy to any of these metals can also be a concern.
Crowns and Bridges
Crowns and bridges are mostly made out of metal. If you ask your dentist for a porcelain crown, he or she may have a porcelain piece made that's baked onto the metal. These metals act as a substructure for strength . . . but they also contain nickel.
Nickel is cancer-causing.15)https://www.cancer.gov/about-cancer/causes-prevention/risk/substances/nickel It's a neurological toxin. Crowns and bridges can also contain palladium, cobalt, cadmium, and barium. This dental work can be a big, toxic mixture.16)http://naturaldentistry.us/3875/toxic-dental-materials/
Dentures
A lot of dentures are made out of materials that contain cadmium.17)http://www.chelationmedicalcenter.com/cadmium_toxic_heavy_metal.html Cadmium is a neurotoxin.18)https://www.ncbi.nlm.nih.gov/pmc/articles/PMC3753751/ The teeth and wires that they use can contain nickel chromium, which can also cause problems.19)https://www.ncbi.nlm.nih.gov/pubmed/6951258
Polymethyl methacrylate—also known as acrylic or plexiglass—is the pink part of partials and dentures. If your dentist is using that material and you have redness on your gums, you could be allergic to it.
Polishing
The polishers that hygienists use contain fluoride, sugars, and pumice. Research has shown that polishing can remove tooth enamel, although doing so twice per year (the common frequency of dentist visits) may not be often enough to cause significant damage.20)https://well.blogs.nytimes.com/2015/12/04/ask-well-is-tooth-polishing-necessary/
According to the American Dental Hygienists' Association Position Paper on Polishing Procedures:
Polishing is a cosmetic procedure with little therapeutic value.
Thorough brushing and flossing produce the same effect as polishing.
Continuous polishing can, over time, cause morphological changes by abrading tooth structure.
The outer layers of enamel are removed through polishing.
Their conclusion was that polishing should only be performed as needed and not be considered a routine procedure.
Deep-cleaning or Scaling
If you haven't had the "pleasure" of experiencing this deep-cleaning method, it is a high-pressure water pearl salt that is shot between your teeth and gums to remove tartar and plaque.
Experts say it won't harm your teeth or gums, and helps prevent gingivitis and periodontal disease.
However, there are some hazards of which you need to be aware:
Improper teeth scaling can loosen teeth. If this happens, there is a chance you could lose several teeth.
There are concerns for people who have diabetes or heart conditions.
Inappropriate teeth scaling may contribute to gum or periodontal disease when bacteria and food debris accumulate in the pockets left by the scaling procedure.
If your teeth are already sensitive, teeth scaling can increase your sensitivity to hot or cold food and drink.
While the risks might be minimal and the rewards great, it is still best to be informed. You are your own best health advocate, and that goes for your teeth and gums, too!
In the Pocket
Dentists are increasingly in the pockets of big corporations, pharmaceutical companies, and specialists. Be aware that dentists may personally benefit from selling you . . . well, just about anything from fluoride to teeth-straightening devices.
It's a question worth asking: Is the dentist making decisions about your dental health more concerned with what insurance companies and corporate managers will say than they are with what's best for you? There are some very conscientious practitioners out there, and this certainly won't be the case with every dentist—but it's definitely a viable concern with some.
Out of YOUR Pocket

The cost of dental care can be prohibitive. In fact, in 2016, the percentage of the US population who needed to see a dentist in the previous 12 months but didn't due to cost was 8.9 percent—significantly higher than in any other health care industry.21)https://www.ada.org/~/media/ADA/Science%20and%20Research/HPI/Files/HPIgraphic_1117_4.pdf?la=en
Buying an individual dental insurance policy costs an average of $350 per year,22)https://www.bankrate.com/finance/insurance/dental-insurance-1.aspx plus out-of-pocket expenses since insurance generally covers only a portion of the actual costs of remedial procedures. (For example, in 2013, Americans paid their dentists an out-of-pocket average of $544 each.23)https://www.bankrate.com/finance/insurance/dental-insurance-1.aspx)
Of course, different dentists charge different rates, but you can get an idea of what you might expect to pay for services (sans insurance) at the site HealthcareBluebook.com. (In Houston, TX, for example, you could expect to pay between $96 and $250 for a regular checkup, between $80 and $208 for a panoramic dental x-ray, and between $216 and $567 for a resin or composite filling on a large cavity. The cost of bridges, crowns, periodontics, etc., goes up from there.)
You Might Also Enjoy:  How Much Will You Spend At The Dentist?
It was George Carlin who said, "Somewhere in the United States is the worst dentist. And what's terrifying is that someone has an appointment with him or her tomorrow morning."
My hope is that the information in this article can help ensure that's not you!
And maybe, just maybe, as patients begin to see the dangers inherent in some common dental practices and insist on healthier procedures and materials, it will persuade the establishment to take a closer, more conscientious look at the dental industry—and make changes that just might save lives.
What are your thoughts on the dental care system? Tell us your stories in the comments below.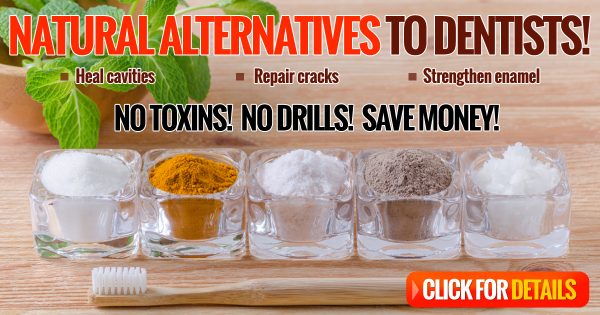 (This is an updated version of an article that was originally published August 11, 2017. The author may not currently be available to respond to comments, however we encourage our Community members to chime in to share their experiences and answer questions!)
(Visited 9,174 times, 1 visits today)
Marjory Wildcraft is the founder of The Grow Network, which is a community of people focused on modern self-sufficient living. She has been featured by National Geographic as an expert in off-grid living, she hosted the Mother Earth News Online Homesteading Summit, and she is listed in Who's Who in America for having inspired hundreds of thousands of backyard gardens. Marjory was the focus of an article that won Reuter's Food Sustainability Media Award, and she recently authored The Grow System: The Essential Guide to Modern Self-Sufficient Living—From Growing Food to Making Medicine. 
References

↑

1,

↑

14,

↑

16

http://naturaldentistry.us/3875/toxic-dental-materials/

↑

2

https://www.thyroid.org/professionals/ata-publications/clinical-thyroidology/september-2013-volume-25-issue-9/clin-thyroidol-201325201-202/

↑

3

https://www.aboutlawsuits.com/dentist-water-infections-outbreak-children-111489/

↑

4

http://www.cnn.com/2016/10/11/health/california-dental-water-bacteria/index.html

↑

5

https://www.drweil.com/health-wellness/body-mind-spirit/dental-oral-health/are-dental-sealants-safe/

↑

6

https://www.cambridge.org/core/journals/the-british-journal-of-psychiatry/article/aluminium-and-fluoride-in-drinking-water-in-relation-to-later-dementia-risk/14AF4F22AC68C9D6F34F9EC91BE37B6D

↑

7

https://r.search.yahoo.com/_ylt=Awr9DuLLardcqCgAUTRXNyoA;_ylu=X3oDMTEyYzhoZWF1BGNvbG8DZ3ExBHBvcwM2BHZ0aWQDQjcwMTNfMQRzZWMDc3I-/RV=2/RE=1555553100/RO=10/RU=https%3a%2f%2fwww.healthunit.com%2fuploads%2freview-of-us-national-research.pdf/RK=2/RS=eCxEBEgoOjgAU0iReOiUUTmTDPg-

↑

8
[

https://www.ewg.org/news/news-releases/2006/04/06/harvard-study-strong-link-between-fluoridated-water-and-bone-cancer

↑

9

https://www.ncbi.nlm.nih.gov/pmc/articles/PMC3173011/

↑

10

https://www.researchgate.net/publication/325399594_Transcriptome_analysis_supports_viral_infection_and_fluoride_toxicity_as_contributors_to_chronic_kidney_disease_of_unknown_etiology_CKDu_in_Sri_Lanka

↑

11

https://www.thoughtco.com/how-fluoride-works-prevent-tooth-decay-607857

↑

12,

↑

13

https://www.ncbi.nlm.nih.gov/pmc/articles/PMC3388771/

↑

15

https://www.cancer.gov/about-cancer/causes-prevention/risk/substances/nickel

↑

17

http://www.chelationmedicalcenter.com/cadmium_toxic_heavy_metal.html

↑

18

https://www.ncbi.nlm.nih.gov/pmc/articles/PMC3753751/

↑

19

https://www.ncbi.nlm.nih.gov/pubmed/6951258

↑

20

https://well.blogs.nytimes.com/2015/12/04/ask-well-is-tooth-polishing-necessary/

↑

21

https://www.ada.org/~/media/ADA/Science%20and%20Research/HPI/Files/HPIgraphic_1117_4.pdf?la=en

↑

22,

↑

23

https://www.bankrate.com/finance/insurance/dental-insurance-1.aspx
Tags: