Plant Sweet Potatoes from Slips, Vines, or Roots
If you live in a good climate for growing them, you should plant sweet potatoes every year.  They're one of the easiest vegetables to grow.
Here's how I plant my sweet potatoes.
Step 1: Get Your Planting Material!
This isn't hard. Sometimes your local feed store or nursery will sell "slips," which are just rooted segments of vines. This is a really easy way to get started, but if you have a little more time you can make your own sweet potato slips like I teach you here.
You can also simply buy a bag of sweet potatoes and start burying them in the garden… or take chunks of vine off an existing plant and start plunking the stems a few inches deep into the ground.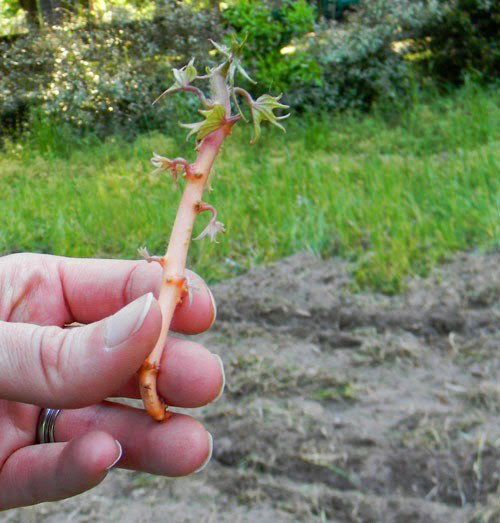 Rachel broke this chunk off a sweet potato in the pantry. It's perfect.
I've done all of the above with good success. Think of them like ivy: they root easily at every node. Water them for a couple of weeks and they'll take off.
Generally, we eat most of the big sweet potatoes through the winter and keep a basket of the smaller ones for planting in the spring. It doesn't matter that they're small. Unlike individual fruit or vegetables, the sweet potatoes we harvest all contain the exact same genes as the big ones we ate, so there's not a problem with "selecting" for tiny roots.
No room for sweet potatoes?  Check this out: Balcony Gardening – Big Food Production in Small Spaces
Step 2: Prep Your Bed
You don't have to worry too much about preparation for sweet potatoes. Loose, loamy soil is great… but they'll also grow in so-so sand without many complaints.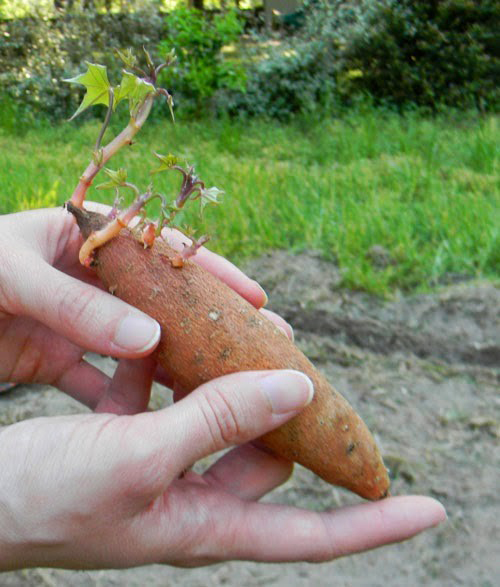 The vines are shorter on this sweet potato so Rachel planted the entire root.
We grew this particular round of sweet potatoes in a bed where we planted white potatoes the year before. You don't have to worry about sweet potatoes and white potatoes sharing diseases – they aren't even remotely related species.
That said, after pulling white potatoes the year before, I covered the area in fall with a mixture of rye and lentils as a green manure cover crop.
Here's what it looked like before I busted out the tiller: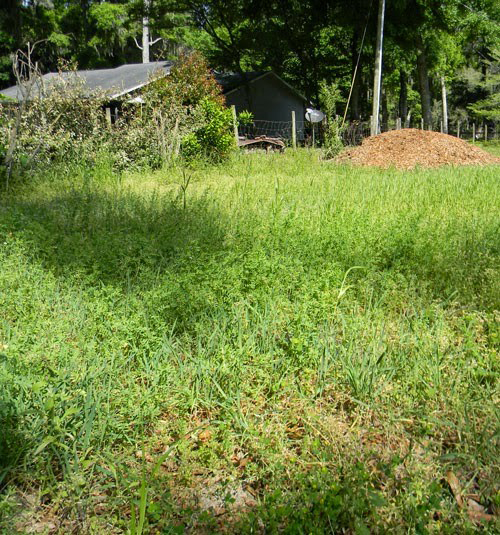 Cover crops add nutrition to the soil and keep it "alive" between plantings.
I dug three trenches about 4′ apart after tilling, then we planted the sweet potatoes at 4′ apart down the trenches.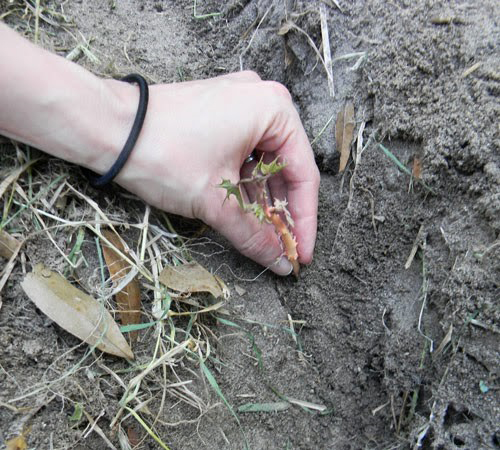 Rachel covered this piece of vine with dirt all the way up to the leaves.
We get plenty of sweet potatoes from our gardens each year, and we wouldn't want to be without them.
Infographic: Which Spud is Superior? White Potato vs Sweet Potato
Step 3: Water Well… and Stand Back!
Sweet potatoes will take off in warm weather and need little to no irrigation in years with decent rainfall. They also tend to run over most weeds and control the area where you plant them… and the areas around the garden… and some areas beyond that. I have them coming up 20′ from where I planted them last year. My kind of plant.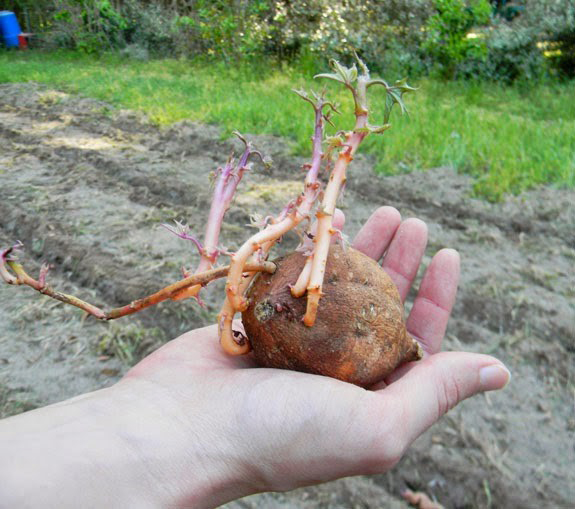 This sweet potato yielded at least five good slips for planting.
If you haven't planted your sweet potatoes yet, it's time to get going as soon as the danger of frost has passed. If you have a long enough warm season, you can start one bed then use it to start a second, as I do in this video:
As a final note – sweet potatoes make a great ground cover for food forests, especially in the more tropical areas of Florida where they'll grow year round. As a bonus, the longer you leave them in the ground… the bigger the roots tend to get.
Sweet potatoes are easy to grow and easy to plant. Get to it!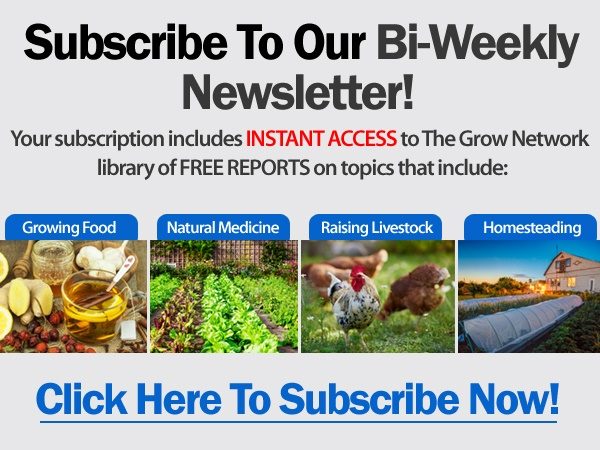 (Visited 2,856 times, 1 visits today)
Tags: