A Funny Thing Happened at the Fair
A couple of years ago, I was invited to speak at the Mother Earth News Fair in Topeka, Kansas. I gave my talk about "How to Grow Half of Your Own Food in an Hour a Day." The talk was really great and several people in the audience came up to me afterward to tell me how excited they were about starting to grow some of their own food and medicine.
I just love that energy when someone gets excited about working toward real food independence!
After my talk was over, I was walking around the aisles at the fair and chatting with all of the people there. There were some pretty cool products on display—heritage crafts and folk art, these awesome modular livestock fodder systems, local organic seed companies . . . you name it.
If it's about sustainable living or traditional organic foods, it was there.
So I was walking around, taking in the sites and soaking up as much info as I could retain, when I had a chance encounter that I want to tell you about . . .
Read more: Grow Your Own Chicken Feed the Easy Way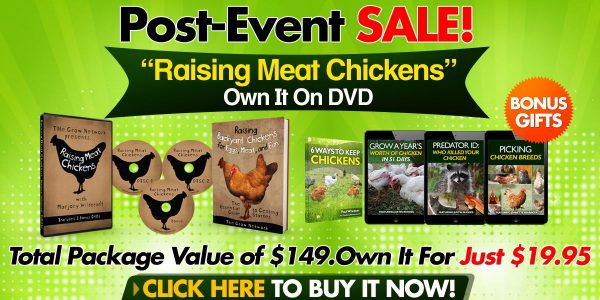 Strangers in the Crowd
This encounter didn't exactly start out on a positive note.
To tell you the truth, we were in each others' way. I was trying to round the corner on a crowded aisle, and I had identified a tiny little narrow pathway where I could just squeeze through.
But about halfway through, I realized that there was someone else coming from the other direction who was also trying to squeeze through the same narrow opening in the crowd.
We met in the middle and started trying to shimmy around each other, but the space was too tight. We were stuck there together, caught in the crowd face to face, and neither of us could get to where we were trying to go.
We were both a little embarrassed, and we both gave each other a slightly sheepish smile when our eyes finally met.
"It's pretty crowded today," I said, in an attempt to break the ice and relieve the awkward vibe that was going on.
"Yeah," she said, "I can't believe how many people came out."
The crowd started to thin around us, but we had already struck up a conversation, so I decided to stick with it. "I'm Marjory Wildcraft. I just did a presentation over there at the stage in the back corner. Did you see it?"
"No, I've been in the booth all morning long," she said. As she spoke, she pointed to a big booth across the aisle.
I had to do a double take, because the booth she pointed to had a huge logo on the banner that I recognized instantly. It was the infamous red-and-white checkerboard of Purina.
Read more: Ferment Your Feed for Happier and Healthier Chickens
A Fox in the Hen House?
I was a little bit shocked . . . .
There I was, surrounded by all of the latest and greatest products in the organic, sustainable, traditional living marketplace.
Purina was one name I definitely had not expected to see in this crowd.
I looked around a little bit to see if maybe she had pointed at the wrong booth.
And that's when I noticed her name tag.
There it was, right in front of me the whole time—that same red-and-white checkerboard right above her name, "Jodi." I tried not to be rude, but I simply had to ask…
"What are you doing here?"
"Excuse me?"
"I'm sorry," I said, trying to take a step backward in the conversation. "I, uh, I'm surprised to see that Purina is here at the Mother Earth News Fair."
"Oh. Ha, ha, yeah, a lot of people have said that to me today." She smiled, and I knew that she wasn't too offended by my surprise.
Read more: Are You Prepared for Peak Chicken?
Making a New Friendship
When Jodi laughed, we both relaxed. I could tell that she was used to getting responses like mine, and she could tell that I was happy I hadn't offended her.
But I still had to know. I gave Jodi a gentle smile and took a second try at asking the same question . . . .
"So, really, what are you doing here?"
Jodi explained that Purina sees a lot of value in small-scale family farms. They recognize that homesteading is a growing movement; they think it's important; and they want to make sure that they're listening to those customers about what they need and want from the products they buy to feed their animals.
"Huh," I said, still a little surprised. I was trying to tread lightly so I wouldn't offend her again. "Have you gotten a pretty good response from the people here?"
Jodi lit up, "We have! We're just here to listen to people, and I think that people really appreciate that."
"I see," I said.
My first instinct had been that the people at this fair would be somewhat hostile toward a company like Purina. But for a company like Purina to show up at a Mother Earth News Fair, just to listen to the people . . . well . . . you can't really get too upset about that.
I looked over at her booth again, and sure enough, it didn't look like they were trying to sell any products that day. I noticed that there was a small group of homesteader-type families standing around and talking to the Purina representatives, who were listening intently to what the people had to say.
All of a sudden it started to make sense to me.
"What are people saying to you?" I asked.
Jodi thought it over for a second and then replied, "Organic."
Is Organic Enough?
We talked for a while longer. Jodi explained that she had talked to lots of people with lots of opinions. Some of the people at the fair already purchased Purina feed regularly from their local farm supply stores. Others, like me, were just surprised to see Purina there at all.
But, one common thread that she heard a lot that day was that people want to give their chickens organic feed. It was a big deal.
And Jodi explained that Purina was already working hard to get a line of organic chicken feeds out on the market. It wasn't a small task for them—they had to source all new suppliers, create a new production process, and find new distributors who were willing to stock the product.
I could see that Jodi knew all of the ins and outs of the project, and it sounded to me like Purina was serious about creating this new line of organic chicken feeds.
But still, even as Jodi was speaking, my mind kept wondering off. I was thinking about the Purina company that I already knew. The Purina company that supplies food to all of those big industrial chicken farms . . . . The Purina that formulated chemical changes in animal food to make eggs come out bigger and make hogs grow faster . . . . The Purina that has been passed around over the years—owned and operated by huge global conglomerates like BP, Koch Industries, and Nestle . . . . The Purina that has been blamed for poisoning thousands of cats and dogs with low-quality pet foods…
I was pretty confused.
Read more: Would You Eat Chicken-less Eggs?
The Benefit of the Doubt
After we had talked for a few minutes, I decided to give Jodi the benefit of the doubt.
"Well, I'm impressed that you're here listening to people. And I'll tell you what . . . If you ever get that organic chicken feed on the market, I'm going to buy a bag of it."
Jodi laughed, "Oh, I hope you will!"
We parted ways, and I kept walking to take in the rest of the fair.
To tell you the truth, I didn't even think about it again for the next few years. That is, until I bumped into Jodi again at the Mother Earth News Fair in Texas this past spring. This time, I was lucky enough to have Anthony—the Grow Network's videographer—there with me:
I'm A Woman of My Word
Well, I've never been one to break a promise. After we shot this video, I asked Jodi where I could find Purina's new organic chicken feed, so that I could buy a bag and let my chickens try it.
She said that my local farm supply should have it—if it wasn't there, I should just wait a month or two and try again. Sure enough, I found it in stock at my local store.
I have been raising a big flock of meat birds for a project we're working on for The Grow Network this summer. I gave this food to those chickens for a couple of weeks, as a test. Come to think of it, it wasn't much of a test. I think these chickens would have eaten anything. But they did seem to like the organic Purina feed. They ate the whole bag and I didn't notice any changes in their health or behavior while they were eating it.
But I'm dying to know. . . .
Would you buy organic chicken feed from Purina?
Some of the people I've talked to swear that they'd never touch anything made by Purina. Other people don't have a problem with it, and they say their decision would just be made based on the price.
So, what do you think? Is Purina's organic chicken feed good or evil? Drop a comment down below to let me know what you think…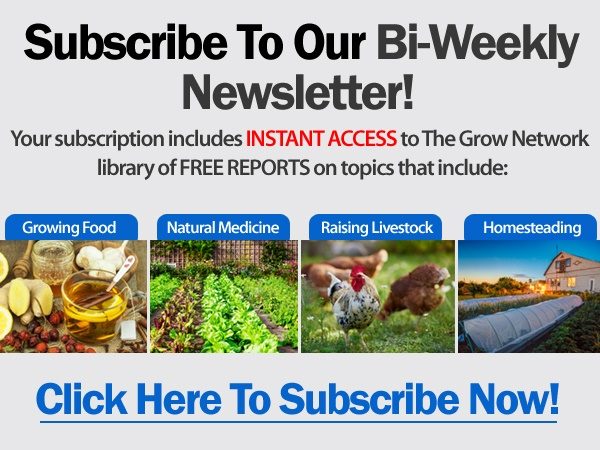 (This post is an updated version of an article originally published on August 9, 2016.)

(Visited 2,410 times, 1 visits today)

Tags: