Just When You Thought You'd Heard it All…
Eggs are always a hot button topic with foodies and farmers.  The long debate about the healthiness of eating eggs, the endless exposés about egg farms – not to mention and the entire market segment of egg substitutes for vegans.  But have you heard about chicken-less eggs?
Yep – just when you thought eggs couldn't be any more convoluted, here come chicken-less eggs.
Read more: The Perfect Hard Boiled Egg; and Why You Should Eat Them
Replacing the Egg
Using things that aren't really eggs to replace eggs isn't exactly a new idea.
There are many commercial egg substitutes on the market targeted at vegans.  Most of these are made from vegetable products – soy flour, potato starch, algae, etc.  And vegan cooks have found a huge variety of foods that work well as egg substitutes for different dishes – from tofu to pumpkin to flax seed and more.
But vegans aren't the only people trying to beat eggs.  There are many more products on the market that use processed egg whites as a base – generally claiming that their products are more healthy than a plain old egg white.
And the new "chicken-less egg" isn't for vegetarians either.  This new product is… well… it's kinda an egg… but mostly not…
Just What are Chicken-less Eggs?
This month's issue of Entrepreneur Magazine includes a short interview with Arturo Elizondo, co-founder of Clara Foods – a startup in San Francisco that's using yeast to make something that is "genetically egg."
They insert genes from egg whites into yeast, ferment that yeast in a big tank, and create a product that has the genetic identity of egg whites, although no chicken was ever involved.
So, chicken-less eggs are a product of the enzymes of fermented GMO yeast.  They didn't provide any information about the substrate that is being fermented, or the nutritional properties of the finished "egg."
Infographic: Eggsposing Some Basic Facts About Eggs
Brewing Egg Whites
Elizonda says his factory looks like a high-tech brewery, funded with $1.75M in venture capital from investors last July.  They point to the high environmental footprint of conventional egg farms as their big justification – arguing that their method is revolutionary because it is so much more efficient.
And they refer to similar methods used to produce insulin for diabetics and rennet for cheese as proof that their model will work.
Would You Eat Chicken-less Eggs?
So here's my big question…  Would you eat these chicken-less eggs?
Use the comments below to share your opinions…
(I already know what my answer is.  When I think about a sustainable egg supply, I don't envision a state-of-the-art production facility – my sustainable egg supply looks more like chickens running around in everyone's yard!)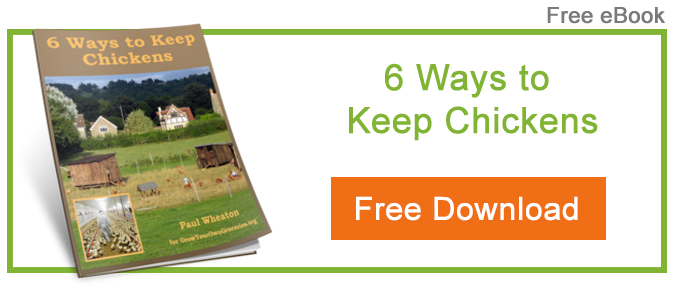 ---
Sources:

1: How This Startup Raised a $1.7 Million Seed Round on Chicken-Less Eggs. https://www.entrepreneur.com/article/271933
2: Clara Foods Raises Funds to Make Vegan Egg Whites. https://isha-datar.squarespace.com/press/
3: Egg Protein Farmer Arturo Elizondo Envisions a Well-Fed World Beyond Chickens. https://www.inverse.com/article/12712-egg-protein-farmer-arturo-elizondo-envisions-a-well-fed-world-beyond-chickens

(Visited 1,224 times, 1 visits today)

Tags: