What's the best way to kill garden slugs organically? Here are 3 proven methods, plus additional tips on crafting a slug-unfriendly garden environment.
What's the best way to kill garden slugs organically? Well, I'm glad you asked.
There's more than one way to kill slugs in the garden… instead of giving you one cure-all, today I'll give you three easy ways to slaughter the slimy saboteurs.
This post was inspired by JTF, who asked: "Please tell me how you stop slugs eating through your crops! l have a million slugs, you would think l was trying to grow them! Any help appreciated."
A few years back we had a major slug infestation in our gardens and I had to act fast. Now if slugs attack, I'm ready.
Here are three ways to catch and kill garden slugs that actually work.
How to Kill Garden Slugs Method #1: Scrap Lumber
One simple method to find slugs is to wet some pieces of scrap lumber, then lay them on the ground in the evening.
The next morning, the slugs will often be underneath them, hiding from the sun.
You May Also Enjoy:

"How to Dress for Working in the Heat"

"Easy Raised Beds With Only 2 Tools"
Actually killing them now requires you to embrace your hatred.
You can throw slugs into a bowl of sudsy water, put salt on them, or just go full psycho and chop them into pieces with a knife or scissors.
How to Kill Garden Slugs Method #2: Cheap Beer
If the slugs in your garden are really out of control, go out and get yourself a few cans of cheap beer.
Now, drink them all. After a few minutes, you will no longer care about the slug infestation.
Just kidding. The beer is for the slugs, not you.
You May Also Enjoy:

"How to Make Homemade Yogurt: Easy, Inexpensive, and the Healthiest You'll Ever Eat"

"How to Peel 20 Cloves of Garlic in 8 Seconds"
Get yourself some little bowls and put them here and there around the garden in the evening. Pour an inch or so of beer in the bottom of each one. The next morning, each bowl should have dead slugs in it.
See, slugs are nature's alcoholics. They have very sensitive senses of smell and will crawl to wherever there is beer and literally drink themselves to death.
This method was quite effective in our garden. But we also paired it with slug-killing method #3 for a complete beatdown.
How to Kill Garden Slugs Method #3: Hand-Pickin'
Slugs are mostly nocturnal. They like the cool, moist evenings.
When the slugs really started destroying our pea plot a few years ago, my wife and I went out with flashlights a little after dark and started slug hunting.
Sure enough, we found dozens.
You May Also Enjoy:

"Homemade Apple Cider Vinegar the Easy Way—With 29 Uses"

"15 Wild Foods That Will Keep You Alive In An Emergency"
The first night's hunt I brought a little dish of salt with me and we tossed them in there to bubble away into slimy, desiccated corpses…. but then we found it was just easier to take scissors in hand and nip the slugs in half with the blades.
Brutal revenge.
Final Thoughts
A few last points.
If you have mulch in your garden, slugs love that. They don't like bare ground as much. Slugs and their cousin the snail like lots of material they can hide in. Bare ground doesn't provide that. Raised beds with wood or stone borders also give them a place to hide. That's one reason to just build your beds from mounded soil, like so: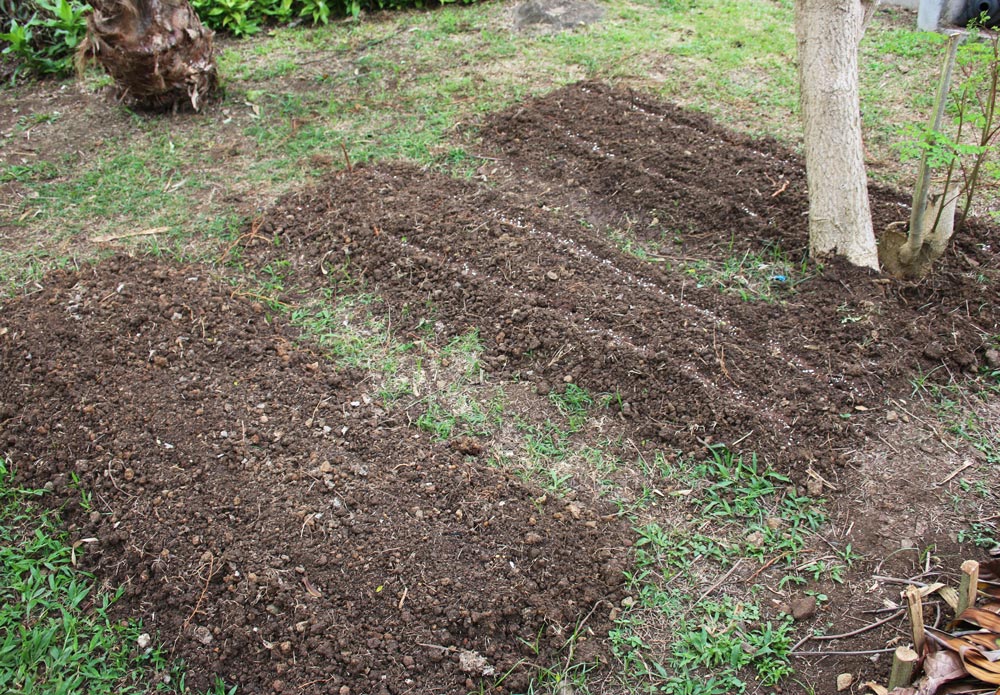 It's also cheaper than buying boards or blocks.
Also, staying on top of slug issues will keep you from losing as many plants. Look for shiny trails around the garden and obviously gnawed areas—and don't wait to get started! Hunt around and get killing before they eat up your hard work.
If you have ducks, they love to eat slugs. Letting them wander the garden now and again might work, though I don't have enough faith in ducks to do so. Better to just pick off garden slugs and throw them to the ducks.
You can also throw the bowls of beer and slugs into your compost pile. Slugs compost just fine, as does beer.
Show no mercy.
What Do You Think?
How do you deal with slugs in your garden? Share your best tips in the comments below!
________________
This is an updated version of an article that was originally published on January 22, 2018. The author may not currently be available to respond to comments, however we encourage our Community members to chime in to share their experiences and answer questions!
The Grow Network is a participant in the Amazon Services LLC Associates Program, an affiliate program designed to provide a means for our team to earn fees for recommending our favorite products! We may earn a small commission, at no additional cost to you, should you purchase an item after clicking one of our links. Thanks for supporting TGN!
(Visited 15,564 times, 2 visits today)
Tags: