Watering Cans, Watering Cans, Everywhere
I suspect that many members of the Grow Network have a collection of cheap plastic watering cans lying around.  Marjory sure does – just take a look!
In this video, Marjory walks us through her collection and talks about the pros and cons of the various designs.
As you'll see, two of the biggest factors she takes into account are the size of the hole you use to fill the can, and the flow pattern of the rosette at the tip of the pouring spout.
The Best Watering Can? The Best Rosette!
One trick I use at home is that if I don't like the rosette on a certain watering can – I get rid of it (the rosette, not the can).  For some cans, this means I just pull the rosette off and toss it.  For others, I've used a hacksaw to cut it off.
I always keep one or two cans with good rosettes that have a flow pattern I like, so that I can use those to distribute compost tea or fertilizer efficiently.
I still use the other cans that don't have rosettes, but I only use them as carriers, so that I can transport many watering cans worth of fluid at once.  Then, I dump the contents of those into the can with the good rosette and use that one to actually apply the fluid.  This way, I only have to maintain one or two rosettes, and I don't ever have to struggle with a flow pattern that I don't like.
Video: Sustainable Apple Trees – Self-watering and Self-fertilizing
Do you Know a Great Watering Can?
As we all know, there are about a million different watering cans out there on the market.  And, as we all know, most of them aren't very good.
Is there a particular style or design that you've had good luck with?  Is there a watering can you've owned for years that takes an exceptional amount of abuse without breaking or cracking?  If so, use the comments section below to share it with the group.  We'd love to hear what has worked the best for you!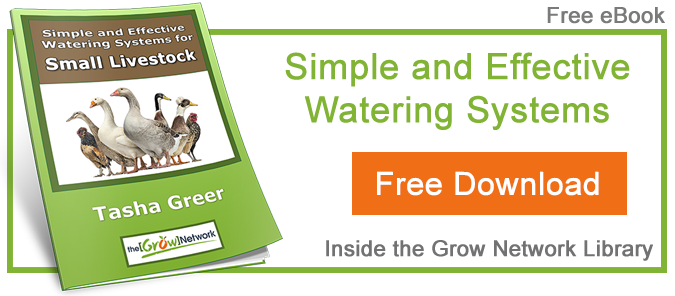 (Visited 719 times, 1 visits today)

Tags: