(Length: 1:16 minutes)
How old are the spices in your spice cabinet?
If you're like me, some of spices and seasonings might be just slightly older than two to three years—the point at which they lose potency and should be discarded.
But what if you could have a continual supply of homegrown spices and seasonings that you use most, without having to worry about an expiration date?
In this quick video, I show you a quick solution—a living spice cabinet on your kitchen windowsill filled with homegrown spices and seasonings.
I grow basil, chives, thyme, oregano, rosemary, and sage.
These are all excellent choices for indoor container gardening. And you can add parsley, horehound, winter savory, dill, marjoram, coriander, and mint to that list.
Whether you're a well-established gardener or your gardening skills are just starting to bloom (sorry, couldn't resist! 😉 ), you'll need a few things to get your living spice cabinet started.
Environment: Right Plant, Right Place
One of the most basic principles of successful gardening is "right plant, right place."
Basically, if you grow a plant in an environment that meets its basic needs for sunlight, temperature, airflow, soil drainage, etc., you'll be doing yourself a huge favor in the long run.
Your plant will be stronger, healthier, happier, and more productive; have fewer disease and pest issues; and create fewer headaches for you!
So, before you head to the garden center for pots and seedlings, take a few minutes to determine how you'll provide the right environment for your herbs.
Here's what you'll need to consider:
Sunlight: Most herbs need six to eight hours of sunlight daily. You can usually provide this via an unobscured window with western or southern exposure. To ensure that the entire plant gets adequate sunlight, rotate it every three to four days.
Artificial Light: If you don't have an indoor location that provides enough natural light, you can use two 40-watt cool white fluorescent bulbs. Place the plants 6 to 12 inches below the light source, and keep the bulbs lit for two hours per hour of required sunlight. For example, if your plants need eight hours of sunlight, expose them to 16 hours of artificial fluorescent light daily. And if you don't want to mess with turning the lights on and off at certain times each day, consider buying a plug-in timer to handle the task for you. (Trust me, they're awesome. Highly recommended!)
Herbs prefer moderate temperatures, so choose a location that reaches 65°F–70°F during the day and 55°F–60°F at night. Avoid temperature extremes by keeping your herb plants away from mechanical heat sources and out of chilly drafts.
Herbs will grow best in a somewhat humid environment. So, if you live where it's arid, you'll need to get creative to provide supplemental humidity. You might fill a tray with stones, set your pots in it, and keep it filled with water just to the bottom of the herb containers. Alternately, you can keep a spray bottle handy and mist your herb plants with water as needed.
Like many other plants, herbs do best with good air circulation. So be sure not to crowd your plants together, maintaining a bit of space between them. And, when possible, crack a window or turn on a fan to keep some air flowing in the area.
Materials: Four Essentials
Now that you've figured out the best spot in your house for your homegrown spices and seasonings, it's time to go shopping—either in your potting shed or at your local garden center!
Here's what you'll need:
Fast-Draining Growing Medium
Look for a potting mix designed to drain fast and control moisture.
The main ingredient will be coir or sphagnum peat moss. These amendments have a large texture that helps the soil stay aerated and well drained, and their natural absorptive properties help keep the soil moist. (Interestingly, the more sustainable choice of the two, coir, is also the most useful. Not only is it a renewable resource produced from coconut husks, but it absorbs nearly a third more water than peat, is much easier to re-wet when it's dry, is more alkaline, is slower to decompose … the list goes on.)
The ingredient list will also include some combination of water-holding minerals, such as vermiculite or perlite.
Many growing mediums will also include additions like compost, fertilizer, and wetting agents.
Or, you can be like Grow Network, Change Maker, David the Good and make your own!
Liquid Fertilizer
Think fish emulsion and seaweed. Make your own liquid fertilizers centered on these ingredients here, or find some premade options at your local garden center.
Recommendations vary on how often to feed your culinary herb plants. Some say to use low-dose liquid fertilizer every couple of weeks, while others recommend feeding them every four weeks, or even less often. If you're concerned about overfeeding, let your plants be your guide. If they look lush but have poor flavor, it's time to cut back on the fertilizer.
Plants
Many people prefer to plant seedlings because they get you to your goal of freshly harvested herbs that much faster. However, if you're willing to wait a little longer, grow your herbs from seed. In either case, follow the planting directions provided on the pot or seed packet, and you'll have homegrown spices and seasonings in no time.
Water: The Final Ingredient
Finally, remember to water your herbs—but just occasionally.
Almost all herbs grown indoors will do best if you let their soil dry out between waterings. You'll know it's time to water if, when you stick your finger into the soil to a depth of one-inch, the soil is dry. Rosemary is the exception to this rule. Its soil needs to be kept moist.
It's Time to Spice Things Up!
With just a few simple materials, plus a careful choice of environment, you'll have homegrown spices and seasonings in YOUR living spice cabinet, just like mine.
It will add visual and aromatic appeal to your home and your meals—and, perhaps best of all, help ensure that your favorite spices are always fresh and full of flavor!
What are your favorite spices to grow? Do you have a living spice cabinet? Let us know in the comments below.
Save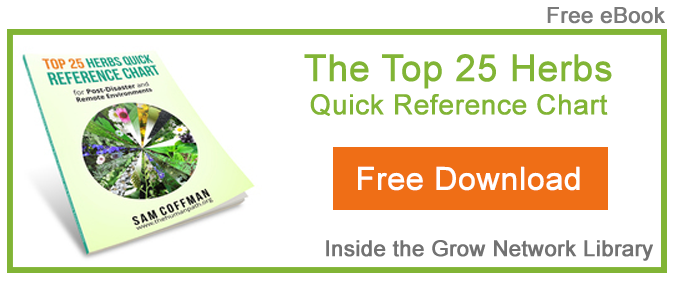 Save

(Visited 779 times, 1 visits today)

Tags: