Does a compost pile destroy weed seeds? Or more specifically, does YOUR compost pile destroy weed seeds?
We are regularly assured by composting experts that hot composting destroys seeds … yet I have some pumpkins that beg to differ.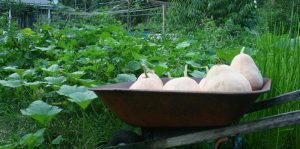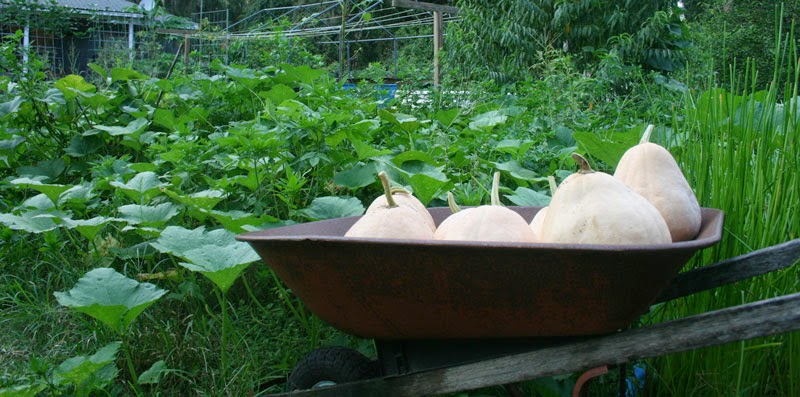 Those pumpkins grew as volunteers from a compost pile a few years ago. Granted, it wasn't a regularly turned compost pile, meaning they probably missed the hottest part of the heap, but how many of you turn your compost regularly? And I'm going to bet that you still had little tomatoes or weeds pop up in it. Come on, admit it!
My bet is ALL of you.
Here's an example of "hot composting kills weed seeds" advice from Aggie Horticulture:
"The composting process also naturally kills weed seeds. Properly managed, a compost pile should easily reach 140°F, which breaks down all organic matter, including weed seeds."
They recognize the difficulty, though, as the next line reads:
"The keyword is properly."
My bet is that few gardeners reach that lofty, "proper" status.
Why Our Backyard Compost Pile Doesn't Kill Weed Seeds
A typical backyard compost pile isn't insulated or turned often enough to maintain heat. Those viable seeds in the compost don't get rotated through the hot center of the pile.
Yes, the heat generated by thermophilic bacteria (an organism living at hot temperatures) is high enough to destroy weed seeds, but getting every bit of your compostable materials hot enough to kill the seeds takes very good compost management.
My old compost pile didn't do it. It was built from reclaimed landscape logs with too many gaps to get everything hot. Plus, turning it was a pain.
I imagine if you owned a cement truck and packed the barrel of it with a proper mix of carboniferous and nitrogenous materials. Then you rotated it every day or so, and perhaps insulated the inside with foam. You could get that compost to heat up perfectly.
I'm joking. A bit.
My composting methods have gone from complicated to simple over the years. I've realized creating perfect compost doesn't really matter.
Nature doesn't create perfectly sifted, totally rotted, brown humus. No! She throws logs and leaves on the ground. There's always some finished material and some fresh material, fungi eating at this, and some insect boring away at that.
But Let Me Back Up. What Prompted Today's Post?
This Viewer Asked a Question
There was a comment that prompted today's great big post on weed seeds in a compost pile. Four words that led to 1,145 words (give or take):

Martha asked this question on this anaerobic compost tea video I posted:
My answer was:
"Good question. I try to avoid throwing plants with mature seeds into the tea. They never seem to get completely die in a hot compost pile, either. Even though we hear all the time that "hot composting kills weed seeds!" It's probably true for the ones in the middle of the pile, but I'm always getting volunteer tomatoes, wheat from straw, weeds, and pumpkins popping up even from a hot compost pile. My guess is that this tea method will rot down most of the seeds, if it sits long enough … but not all of them."
It takes a lot of faith in your compost to deliberately throw in weedy materials, no matter how you're composting.
If you have spiny pigweed going to seed in your food forest, do you really think you'll be able to throw that in your compost bin and use the resulting compost in your spring gardens without spiny pigweed popping up?
Do you want to take that risk?
I Hear You, "But I Compost the Right Way!"
That's fine—I appreciate the "thermometer and sifter" brigade.
To those about to compost, I salute you!
I am totally sure that I could destroy weed seeds by hot composting if I thought it out properly. However, my interest is more in gardening than in the processes that lead up to it. Making a "perfect" looking compost pile, or compost for that matter, isn't as important to me as growing corn, pumpkins, beans, yams, and fruit trees. I also don't like spending money to make perfect systems.
If you enjoy it, that's fantastic. I love the smell, look and taste (well, maybe not taste) of finished compost. I made some nice-looking stuff myself this year and just sifted it the other day.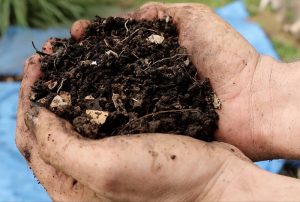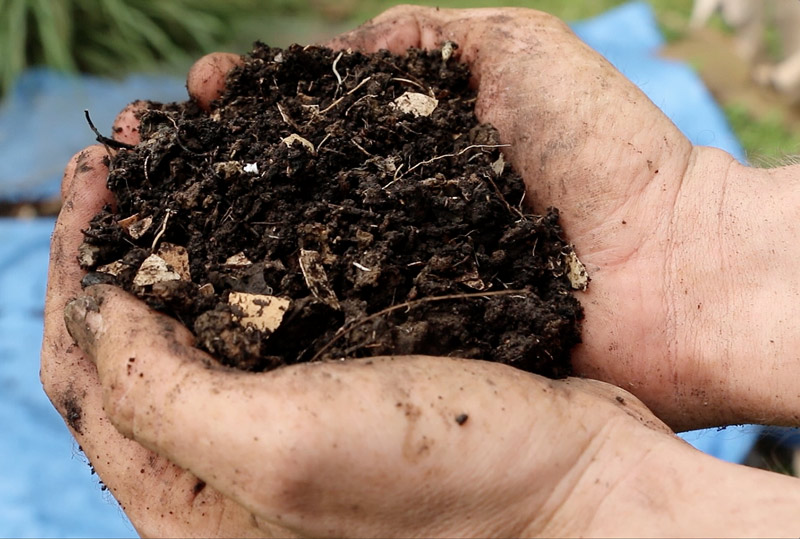 I made that compost with almost no work, though. No thermometers, no turning, no measuring ratios of carbon/nitrogen to get that 25/1 mix. No, I just threw it all on the ground in one of my garden beds.
And—oh YES—LOTS of seeds came up in it! Enough to start my new fruit tree nursery.
I view this as a feature, not a bug. Sometimes I just let compost piles turn into garden beds since there are so many volunteer edibles coming up.
But What About Killing Weed Seeds???
Right—that's what you all want to know, right? How CAN you compost those pesky weedy plants?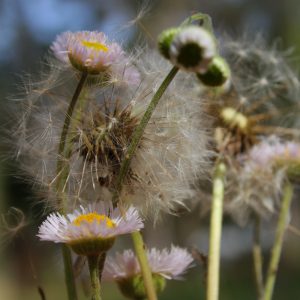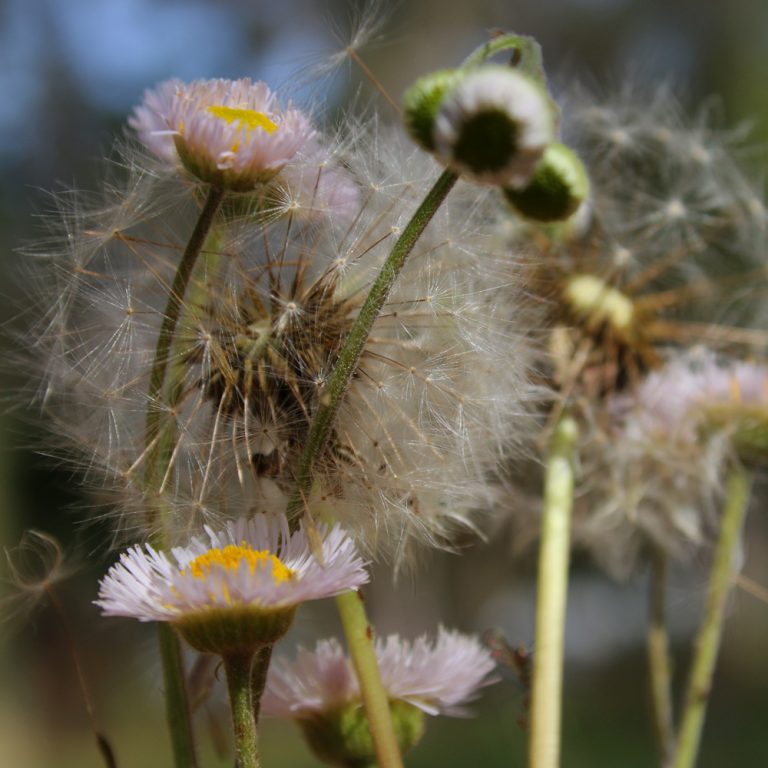 My favorite method is to keep them out of the compost pile and gardens altogether.
In my former food forest, I would chop down weeds and throw them on the ground around my fruit trees and other shrubs. If they self-seeded and came back, I'd chop them down again.
Unlike delicate annual garden plants such as lettuce and cabbage, trees and shrubs don't need to be perfectly weeded in order to produce. I just knocked down the weeds again and again. Every time I did, guess what?
Those fallen weeds rotted into humus.
Nature does this all the time.
The winter freezes come once-a-year and kill all the weeds. They fall to the ground and rot into the soil, which improves it.
If you want to use weeds to feed your gardens, you'll have much better luck in a no-till system where you throw a pile of seedy weeds on the ground. Then, cover them up with mulch … and then, DON'T TILL!
If you till, you'll bring those seeds up to the light and warmth. They'll go crazy in your eggplants. However, beneath a layer of mulch, they'll eventually rot away safely.
That's my two cents on composting and destroying weed seeds. Yes, a compost pile can destroy weed seeds … BUT … and it's a big but … most of us aren't doing it "properly."
Don't trust too much in the magic of compost to pile-drive your pesky pigweed problems.
Personally, I prefer cold composting anyhow! I believe it keeps more of the good stuff in the pile instead of steaming it away into the air. Nature almost always cold composts! While that process takes longer, I think it's a simpler and gentler method. I wrote an entire book on composting (Compost Everything: The Good Guide to Extreme Composting) and many of the methods in that book are cold compost approaches.
You might also like these composting articles from David the Good:
So, tell us … have you had success hot-composting seedy weeds? The comments below are waiting for yours!
(This post was originally published on July 31, 2017.)
Save
Save
(Visited 8,084 times, 1 visits today)
Tags: