Marjory's note; I put out a request for articles on making one of those 'potato' gardens out of old tires.  You know, you start the potato plants in the lower one, and keep adding hay and compost and another tire are the plants grow up and up.  By the time you've got plants hanging over the top of a stack of 4 or 5 tires you can knock the thing apart and harvest out a big crop of potatoes.  It sounds to me like a great system for either smaller areas (going vertically keeps a smaller footprint) and addresses my major concern – gophers.
I got a lot of comments that these tires are toxic and shouldn't be used.  Does anyone have any links to research done on old tires and suitability for use as a growing container?
I certainly understand about treated wood – which used to contain arsenic, and now contains copper sulphate (see Eric's comments below).  And railroad ties are steeped in creosote….  Treated wood is definitely toxic and off my list for using in or around gardens. 
But old tires?  I just don't know.  Old tires have had a lot of use, exposure to high temps, and time to off-gas.  Lots of gardeners use various plastic containers for their plants on patios.   I can certainly see why there could be a concern, but is there really?  Aren't they mostly rubber and steel belts?
What are tires made of?  How long does it take for them to decompose?   What do they break down to?  Could the inside of the tires be painted – or otherwise separated from the soil and possible contamination?  Almost everything in our world seems to be toxic these days – so yes, I feel concern.  But is this over reacting?  How can we more objectively decide?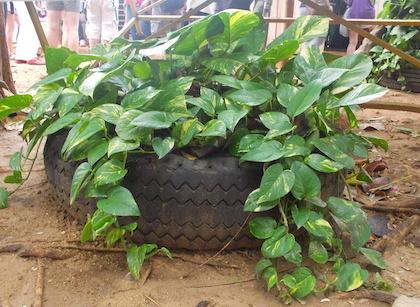 Do you have any info on toxicity of tires?  What is your opinion on the matter?  Your comments would be greatly appreciated.
Brenda T. wrote in saying there were lot of other alternatives, but she didn't say what they were.  Tires are super easy to get a hold of, and have the perfect shape for a modular vertical growing system.  So I would appreciate any other suggestions for other easily obtained material that can be used.   
Here is what Eric H. wrote in (and thanks to Brenda, Jane, and Ryan for writing in too):
"Using tires, or treated wood, (and probably some plastics as well) is probably not a good idea. The (volatile) chemicals used in tire manufacturing will eventually leach into the soil as the tire breaks down/decomposes, mostly from UV exposure. Ditto for treated wood. That blue coloring (and the green goo as well) you see occasionally on treated lumber is copper sulfate – not exactly what I would want in the soil where I grow my food."
And finally, Billy wrote up a post with his results of his experiments growing 'taters in tires' and ended up with a very poor yield.  So are we totaly barking up the wrong tree?   http://www.growyourowngroceries.org/billy-tries-taters-in-tires-with-poor-results/

(Visited 2,475 times, 1 visits today)
Marjory Wildcraft is an Expedition Leader and Bioneer Blogger with The [Grow] Network, which is an online community that recognizes the wisdom of "homegrown food on every table." Marjory has been featured as an expert on sustainable living by National Geographic, she is a speaker at Mother Earth News fairs, and is a returning guest on Coast to Coast AM. She is an author of several books, but is best known for her "Grow Your Own Groceries" video series, which is used by more than 300,000 homesteaders, survivalists, universities, and missionary organizations around the world.