One Big Step Towards Food Independence
Tomato sauce is the pillar of most of my family's favorite meals.  Spaghetti, chili, pizza, stews – you name it, we love to slather tomato sauce all over everything.
Like almost everyone else at the Grow Network, I grow tomatoes every year.  Some years are great and I am overrun with red fruits, and some years I end up wondering what hit me.  But this year I am going to be more scientific about the process.
I want to be tomato sauce sovereign!
Tomato Sauce Sovereignty
I'll keep you updated as I work toward tomato sauce sovereignty.  Feel free to let me know if you have questions about what I'm doing… and why.  I'm sure we'll all have a good laugh along the way.
In this first go-round, I am hoping to can 24 pints of tomato sauce.  That is about a six-month supply if you use one pint of sauce per week.  Of course, my family could eat a lot more.  And we could produce a lot more if I could only get my kids to help!  LOL!
I like to make thick tomato sauces, and you need about three pounds of tomatoes for each pint.  So, I figure I'll need a total of about seventy-two pounds of tomatoes.
How Many Tomatoes Does One Plant Yield?
So now I need to figure out how many tomato plants I need to grow.  In my experience, production varies widely depending on spacing, soil fertility, gardening experience, and more.
I have gotten yields that range from 2 lbs per plant all the way up to 16 lbs per plant.  For this experiment, I am guesstimating that I'll get around 8 lbs per plant – which means I'll need 9 plants.  Although, I am actually planting 14 plants…
Read more: 15 Simple Homemade Fertilizers
Learning from Past Mistakes
Oh yes, if you've done any gardening at all, then you know by now that you should bank on some failures.
Have you ever lost an entire crop because the tomatoes rotted on the ground?  Have you ever walked out in the morning to find your best plants largely consumed by horn worms?  Have you ever had a tomato plant that grew big and strong but never produced much fruit?
Me too.  So, in a future update I'll discuss staking and pruning methods that help you to get the most from each plant.  I'll also go into some details on how I stagger the nutrients to optimize production.  You just might be surprised to learn one thing that you really shouldn't do – especially near the end.  I'll keep you updated.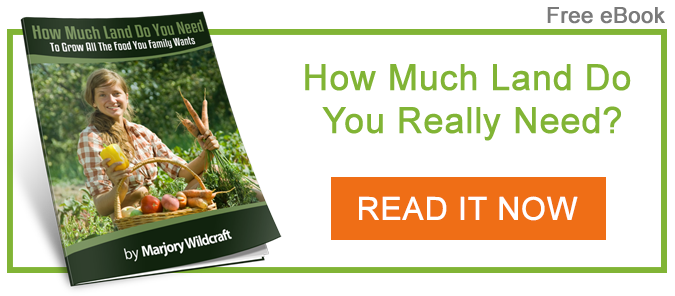 (Visited 218 times, 1 visits today)
Marjory Wildcraft is an Expedition Leader and Bioneer Blogger with The [Grow] Network, which is an online community that recognizes the wisdom of "homegrown food on every table." Marjory has been featured as an expert on sustainable living by National Geographic, she is a speaker at Mother Earth News fairs, and is a returning guest on Coast to Coast AM. She is an author of several books, but is best known for her "Grow Your Own Groceries" video series, which is used by more than 300,000 homesteaders, survivalists, universities, and missionary organizations around the world.

Tags: