Monoculture is defined as "the cultivation or growth of a single crop or organism, especially on agricultural or forest land." The first time I remember hearing about monoculture was when I read Michael Pollan's The Botany of Desire back around 2001. Monoculture is a big deal in agriculture, and it just may become a household word for Americans of all persuasions in the near future…
If you've ever driven through Iowa and looked out the window to see clean, identical rows of corn extending all the way to the horizon… that's what monoculture looks like. Likewise, if you've driven through Kansas and seen amber waves of grain, waving uniformly as far as the eye can see… that was monoculture as well.
The Dangers of Monoculture
Monoculture is widely viewed as a bad idea because it means that we invest heavily in one variety of crop, putting all of our proverbial eggs into one basket. If a pest or disease comes along and attacks that chosen variety, we're simply out of luck, as all of our resources were sunk into that single variety, and now it has a big problem.
History has demonstrated the danger of monocultures several times, most famously in Ireland during the Great Famine of the 1840s.
Ireland invested heavily in the potato during the 18th and 19th centuries. Ireland's rural poor were especially dependent on the potato as their primary staple. In the mid 1840s, a fungus called Potato Blight (Phytophthora infestans) made its way from South America, to North America, and on to Europe. Within only a few years, potato blight had spread worldwide. Crops were lost on many continents, but the effects were most devastating in Ireland, where potatoes had been commonly grown in monoculture. The disease wiped out a significant portion of the potato harvest for several consecutive years, and hundreds of thousands of Ireland's poor starved to death.
And this was in the 1840s, before steam-powered railroads and ships were widely adopted – long before commercial flight. But even back then, it took an aggressive fungus about 2 years to travel from South America, north to the U.S., and across the Atlantic to Europe – with horse-drawn wagons and wind-powered clipper ships as its only helpers.
Similar scenarios have played out over time – and some of them have happened very close to home. 100 years after the Great Famine in Ireland, Victoria oat blight swept through oat monocultures in the United States. And then in the 1970s, southern corn leaf blight spread through the U.S. These are examples of monocultures being targeted by a single, well-adapted pathogen, right here in America.
In the 1950s, monocultures of Gros Michel bananas were famously obliterated by Panama disease on banana plantations around the world from South America, to Africa and Australia.
Despite history's repeated lessons on this subject, in today's industrial agriculture environment monoculture is perfectly commonplace. Genetic modification of crops lends itself to monoculture, as endless fields of beans and grain can be modified to resist one specific pesticide or herbicide, enabling cost-effective weeding and pest treatment from crop-dusting planes overhead. The result is exactly the scenario about which history has repeatedly warned us. While the modified crops are resistant to a controlled substance manufactured in a lab, they are abnormally susceptible to naturally occurring pathogens. Any one pathogen that adapts to prey on the monocultured crop can run rampant, free from the natural checks and balances present in a diverse ecosystem.
History Repeats Itself
And according to the journal PLOS Pathogens from the Public Library of Science, we may be on the verge of another global monoculture backfire today. On November 19th, they published a study detailing the legacy of the Panama disease disaster, one generation later. The Gros Michel banana variety, which had been reproduced around the world by tissue cloning, slowly gave in to Panama disease around the world in the middle of the 20th century. To beat the Panama disease pathogen, banana growers identified a different variety that was resistant to the disease, and they began to produce that alternate variety, the Cavendish, in place of the failing Gros Michel. No significant changes were made in the method of production – only the variety of banana was changed.
Who would have guessed it? The pathogen behind Panama disease (since identified as Fusarium oxysporum) has naturally adapted to target the new Cavendish variety of bananas. First identified in the 1990s, the new strain of Panama disease (Tropical Race 4) has wiped out banana plantations in Taiwan, China, Indonesia, Malaysia, Australia, the Philippines, Jordan, Pakistan, and Lebanon. The Cavendish currently represents 99 percent of the global banana market. And, it seems that its time is limited. With no known controls, it's only a matter of time before the banana plantations of Latin America are infected with the new strain of Panama disease.
As the study's authors note, "Any disease management eventually fails in a highly susceptible monoculture."
Banana producers will likely, and predictably, find another variety of banana that is resistant to Tropical Race 4, and substitute that variety where the Gros Michel and now the Cavendish have failed. And we'll enjoy bananas again, until the disease adapts to prey on the new variety. But the larger lesson to be learned here is that monoculture itself is inherently unsustainable.
One can't help but wonder… what if an environment existed where many different banana plants of diverse genetic origins were grown alongside other plants with different genetic and microbial profiles? Would Panama disease fade to the background? What happens when you introduce Tropical Race 4 into an environment of thriving biological diversity, instead of a massive monoculture of its pre-selected prey?
Perhaps one day we'll find out.
In the meantime, what can we do about the impending banana-pocalypse?
Dealing with the Banana-pocalypse
One thing that we can all do is to plant our gardens full of organic heirlooms of many varieties, and then talk to anyone who will listen about the importance of biodiversity. If we can demonstrate that diversity works on a small scale, and infect that idea into the minds of everyone around us, we might one day reach a tipping point where everyone recognizes both the danger of monoculture and the benefit of biodiversity. With each heirloom variety you preserve, and with each landrace variety you select, you pave the way towards a cultural shift of understanding biodiversity.
Personally, in my household, the first thing we'll do is try to find a good substitute for frozen banana pieces in our smoothies. Dang! Frozen bananas are awesome smoothie fodder… I wonder if anyone can recommend a good substitute? Maybe frozen sunchoke tubers? If you have any ideas to help us out, use the comments section below to let me know about them…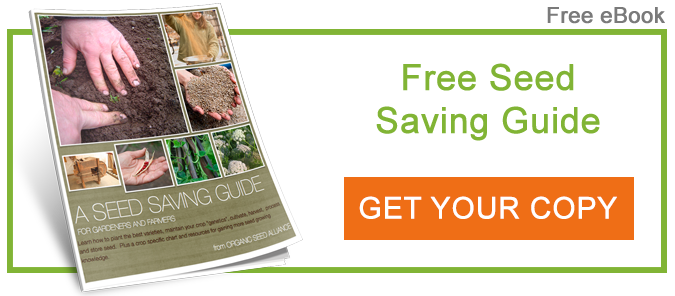 ---
Sources:

• National Center for Biotechnology Information: An Andean origin of Phytophthora infestans inferred from mitochondrial and nuclear gene genealogies
• PLOS Pathogens: Worse Comes to Worst: Bananas and Panama Disease—When Plant and Pathogen Clones Meet
• The Washington Post: Bye, bye, bananas

(Visited 282 times, 1 visits today)

Tags: