Hey I got some photos from Armand so you can see the whole process.  If you didn't know, we have a guessing game of trying to figure out how big the tap root was on this huge pecan tree being moved.  Read that article first, and then come back here to maximize your fun.
Click here to read the first article.
Here are some photos of the actual tree being moved.  Scroll down to the bottom and I'll tell you how big the taproot was!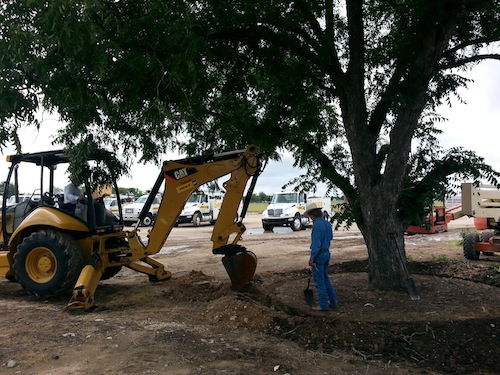 This is how they started – kinda small ring if you ask me…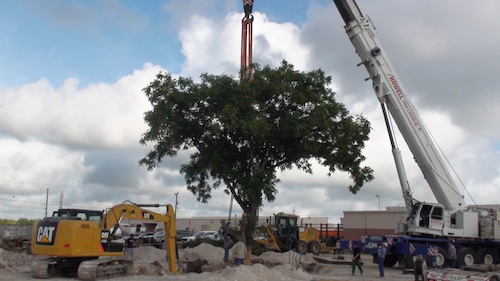 More and more digging.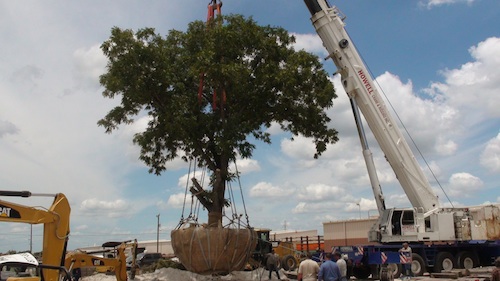 Up she goes!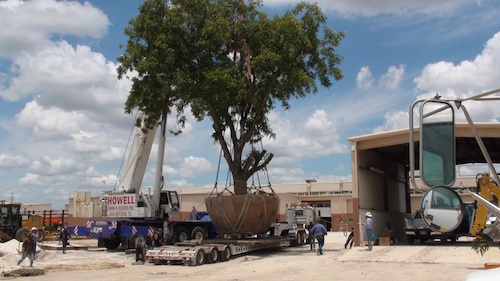 On a trailer and off to her new home.
Armand assures me that this tree will survive.  They are watering her  twice a day.  And her new hole had, uh 6 or 7 semi-truck loads of good soil and compost in it.  Actually they are wondering if the tree will go into shock at getting to this new source of fertility.
Now the question was – how big do you think the taproot was at the bottom of the root ball?  The root ball was about 10 high as you can see.
There was NO taproot at 10′.  Zip.  Nada.
Here is why.  The ground is solid caliche.  Solid rock,  There is nothing in the ground for the tree roots to go after.  No water, no nutrition, nothing.  So the tree sends out root just below the surface.
I spend time each year on a journey to the Sonoran desert for medicine and skills.  Everywhere for miles is creosote bush after creosote bush.  Chaparral is another name.  "Queen of the Desert" yet another.  The bushes are typically spaced apart by about 8′ to 12′ – in a surprising uniformity.  I was surprised to learn from those who have dug them, the roots of the creosote are only a few inches below ground and no more.  There is absolutely no reason to go any deeper.  Their strategy is to have the roots spread out along the ground in all directions to grab any moisture if it falls.
This pecan tree was doing the same thing.  I wonder how productive the tree was in that rock?  Was there much more soil when the tree was a young and growing seedling?
Anyway, hey wasn't that fun?  I loved all the diverse answers.  Stay tuned for more wacky contests.
(Visited 274 times, 1 visits today)
Marjory Wildcraft is an Expedition Leader and Bioneer Blogger with The [Grow] Network, which is an online community that recognizes the wisdom of "homegrown food on every table." Marjory has been featured as an expert on sustainable living by National Geographic, she is a speaker at Mother Earth News fairs, and is a returning guest on Coast to Coast AM. She is an author of several books, but is best known for her "Grow Your Own Groceries" video series, which is used by more than 300,000 homesteaders, survivalists, universities, and missionary organizations around the world.