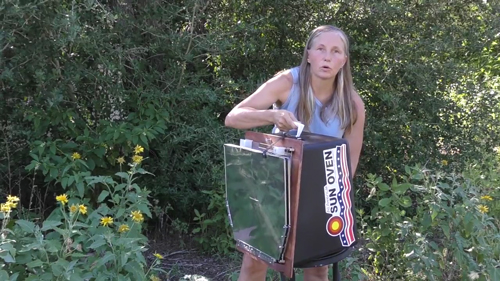 Wow… talk about buzz!
During our last Home Grown Food Summit, the owner of Sun Ovens International, Paul Munsen, very kindly donated not one, but TWO Sun Ovens for us to give away as prizes.
(Congratulations again to Alisa Eilenberg and Carla Simpson.  We hope you're already enjoying them.)
But it was a bit crazy, Nikki, who manages all of our incoming email was BOMBARDED with inquiries about this particular prize.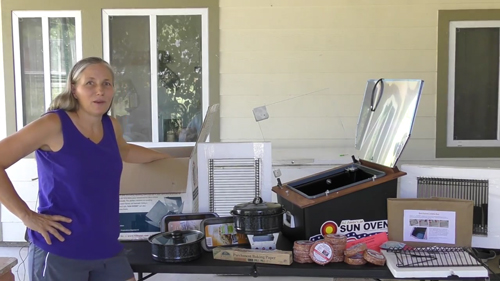 (And the Survival Still… but I'll come back to that in another post.)
Anyway, people were asking Nikki so many questions about how the Sun Oven works, where to buy one etc., that once the Summit dust settled, I contacted Paul in early July and asked him if he'd mind hosting a webinar for us?
To teach us all how to set up an outdoor kitchen and cook with a sun oven!
Not only did Paul agree…  Paul has promised to GIVE AWAY yet another Sun Oven to one of the lucky people who register for and attend this webinar:

13 Ways To Harness The Sun, Save Money, & Live Naturally
Webinar, taking place
Wednesday July 19th, 2017
6pm PST / 7pm MDT / 8pm CST / 9 pm EST
A 60-minute online class with live Q&A
FREE TO ATTEND … but you must register here:
https://www.sunoven.com/grow-network-registration/
How awesome is that?
Plus, I asked Paul to ship me one in advance…
… So I could create my own video review of it!
You can watch me unbox a Sun Oven, and cook with it for the first time here:
Once I tried it, I could immediately appreciate why the Sun Ovens have been on the market for more than 30 years now.
This is a quality product.
And in the middle of a Texas summer, I gotta tell you, I really appreciate being able to cook outdoors with it.
If you're interested in grabbing a Sun Oven for your family, Paul has put together a really great package deal for our TGN family.
But do make sure you join Paul for the webinar on Wednesday evening.
I can't be there, as I'll be in Austin that evening, filming something else for you. But my dear colleague, Sharon Porter, the Director of Operations and "Integrator" here at TGN, will be hosting the call with Paul.
And, wink wink, that Sharon asks tough questions.
So I trust her to stand in for me, and get you answers to all YOUR questions about cooking outdoors with the sun.
Hope you can make it!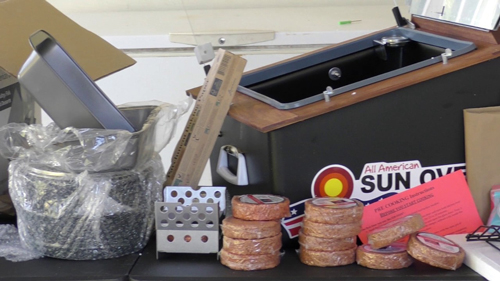 P.S.   Don't forget … Paul has spoken at the last two Home Grown Food Summits, so if you'd like to geek out and prepare some questions IN ADVANCE for him, you can always re-watch the presentations (if you purchased lifetime access to these events):
"Harnessing Solar Energy On The Homestead" was his presentation at the 2017 Home Grown Food Summit.   Lifetime access here if you don't already have it.
And "Cooking With The Power Of The Sun" was his presentation at the 2016 Home Grown Food Summit.  (Lifetime access is no longer available, but if you already own it, you can re-watch it!)
P.P.S.  You won't want to miss this webinar, Paul has promised to cover topics that will include:
Ways to use a SUN OVEN that go way beyond just cooking, like pasteurizing water, dehydrating, and sterilizing potting soil.
How to bake, boil, steam, & roast complete meals, that'll never burn.
How to naturally dehydrate fruits, vegetables or make jerky.
Enjoy baked roasts and breads all summer long while reducing your utility bills.
Naturally kill bug infestations in grains or dried foods.
And so much more.
Again, you can register for this FREE webinar here: https://www.sunoven.com/grow-network-registration/
Plus, you'll see on the registration page that Paul is giving everyone who registers a FREE COPY of his eBook "Emerging from the Emergency", a 120-page disaster preparedness guide that helps you plan to survive any tragedy or disaster.
So make sure you download a copy of that too!
(Visited 34 times, 1 visits today)
Tags:
cooking with the sun
,
outdoor kitchen
,
solar cooking
,
summer kitchen
,
sun oven review
Categorised in: Cooking, Cooking and Recipes, Food, Food Preservation, Homesteading Skills, Preparedness, Product Reviews, Uncategorized
This post was written by Marjory