During a recent Home Grown Food Summit, the president of SUN OVENS International, Paul Munsen, very kindly donated not one, but two, SUN OVENS for us to give away as prizes.
But it was a bit crazy: Nikki, who manages all of our incoming e-mail, was bombarded with inquiries about this particular prize.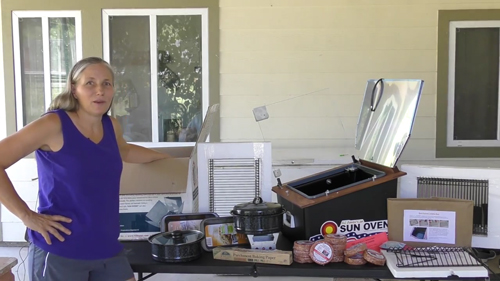 People were asking Nikki so many questions about how the SUN OVEN works, that I contacted Paul and asked him to ship me one so I could create my own video review of it!
You can watch me unbox a SUN OVEN and cook with it for the first time here:
Once I tried it, I could immediately appreciate why SUN OVENS have been on the market for more than 30 years now.
This is a quality product.
And when it's the middle of summer, I gotta tell you, I really appreciate being able to cook outdoors with it!
(Visited 4,735 times, 1 visits today)
Marjory Wildcraft is the founder of The Grow Network, which is a community of people focused on modern self-sufficient living. She has been featured by National Geographic as an expert in off-grid living, she hosted the Mother Earth News Online Homesteading Summit, and she is listed in Who's Who in America for having inspired hundreds of thousands of backyard gardens. Marjory was the focus of an article that won Reuter's Food Sustainability Media Award, and she recently authored The Grow System: The Essential Guide to Modern Self-Sufficient Living—From Growing Food to Making Medicine. 

Tags: