When you need to clear thick brush or tackle masses of stubborn weeds, you can pull out the harsh chemicals, attack them with your brush knife … or rent a herd of goats.
That last option is becoming increasingly popular thanks to the ingenuity of Tammy Dunakin, founder and self-proclaimed chief goat wrangler at Rent-A-Ruminant LLC.
Unfulfilled at work?
Tammy founded her business after a career in emergency medicine left her feeling unfulfilled. She had some pet goats, noticed they looked bored … and decided to do something about it.
The goat-as-land-clearers idea has been catching on. Not only is Tammy making a decent living and franchising her business, she's also built her flock almost entirely from goats she's rescued.
By offering goats as an alternative to heavy machinery or noxious chemicals, she is helping to reduce the use of fossil fuels and the presence of toxins in our air, soil, and water.
And since her goats fertilize as they go, they also leave the soil in better shape than they found it.
As you might imagine, Tammy finds her work meaningful and enjoys running a business that promotes sustainability and the health of our planet.
She is happy to be making a living and a difference.
And our world needs many, many more businesses like Tammy's.
Why?
Middle class malnutrition
We've got a lot of "middle class malnutrition" on our planet, in large part due to the centralization of agriculture. Crops have been bred for durability rather than flavor or nutrition, and they lose a lot of their vitamins and minerals during transport. People don't want to eat them because they don't taste good … and their bodies don't crave them because they lack nutrition.
Then you have livestock, which have been bred and raised to produce unnatural quantities of eggs, milk—you name it—using unnatural feed in unnatural environments. The result, of course, is much less nutritious food.
For these reasons and more, our entire food system needs to be reimagined, redesigned, and rebuilt.
What's the solution?
YOU are!
Making a living can be making a difference. Our food system is in a sorry state. The upside is that there are tons of opportunities for people like Tammy Dunakin, you, and me to create a living doing work we find meaningful.
If you're not sure how to get started, you'll want to check out my next video chapter of Grow: All True Wealth Comes From the Ground.
Then, leave me a comment. How do you earn money doing meaningful work? What advice would you give to people who want to make a living making a difference?
Did you see the last chapter? Click here to watch My Biggest Financial Mistake Will Make You Wealthy!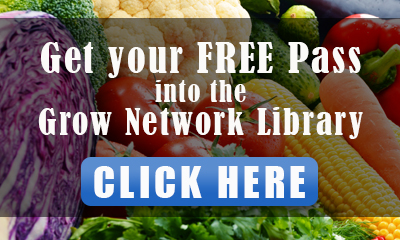 Click here to get your FREE pass!
(Visited 779 times, 1 visits today)
Marjory Wildcraft is the founder of The Grow Network, which is a community of people focused on modern self-sufficient living. She has been featured by National Geographic as an expert in off-grid living, she hosted the Mother Earth News Online Homesteading Summit, and she is listed in Who's Who in America for having inspired hundreds of thousands of backyard gardens. Marjory was the focus of an article that won Reuter's Food Sustainability Media Award, and she recently authored The Grow System: The Essential Guide to Modern Self-Sufficient Living—From Growing Food to Making Medicine. 

Tags: