A Simple Non-Toxic Weed Killer
Looking for an easy and sustainable way to control weeds?  Try vinegar.
Vinegar kills weeds by drying the leaves out.  So it works great for plants that are mostly leaf.  Annual grasses, soft leafy annual weeds like chickweed and henbit, etc.  If you apply it correctly, vinegar can kill these weeds dead.
Where it doesn't do so well is with perennial weeds that have woody stems and roots, or strong rhizomes – like Johnson grass (Sorghum halepense), quack grass (Elymus repens), some clovers, and tree seedlings.  Vinegar will kill the leaves of these plants, but it won't kill the actual plants, and they will probably just grow new leaves.
Don't Kill Weeds If It's Not Necessary
Before anyone gets upset because we're talking about herbicides here – let me make it clear that I definitely encourage people to allow weeds to grow in their yards (and gardens).
At my house, we cultivate an entire lawn full of "weeds."  We're in a suburban environment, surrounded by lawns, and our yard blends right in for most of the year because we pick & choose our weeds carefully.  Most of them are either pretty, edible, medicinal, or useful – and we try to let them go to seed when we can.  We actively cultivate a few of them.
The area I sprayed in this example is a rock-mulched xeric butterfly garden in the very front of the yard along the street.  That's the only area I sprayed this spring.
Read More: Eat Your Weeds Don't Mow Them!
How to Use Vinegar as a Weed Killer
There are 4 key instructions to make this work:
Use a Pump Sprayer – Using a sprayer is critical for this task.  It can be any type of pump sprayer (don't use a sprayer that connects to your garden hose).  What's important is that you apply a fine mist to thoroughly coat the leaves with vinegar.  Spray to runoff.
Spray During Peak Sunlight – You'll have more success if you can apply the vinegar in direct sunlight.
Do a Few Applications – You'll have more success if you do 2 or 3 repeat applications.  The bed in the picture above was sprayed twice, on back-to-back days.
Spray After Weeds have Emerged – If you jump the gun and spray before all of the annual weeds have emerged, you'll need to do another round later after new weeds emerge.  If you time it just right, and you have some luck, you can get away with one application per season.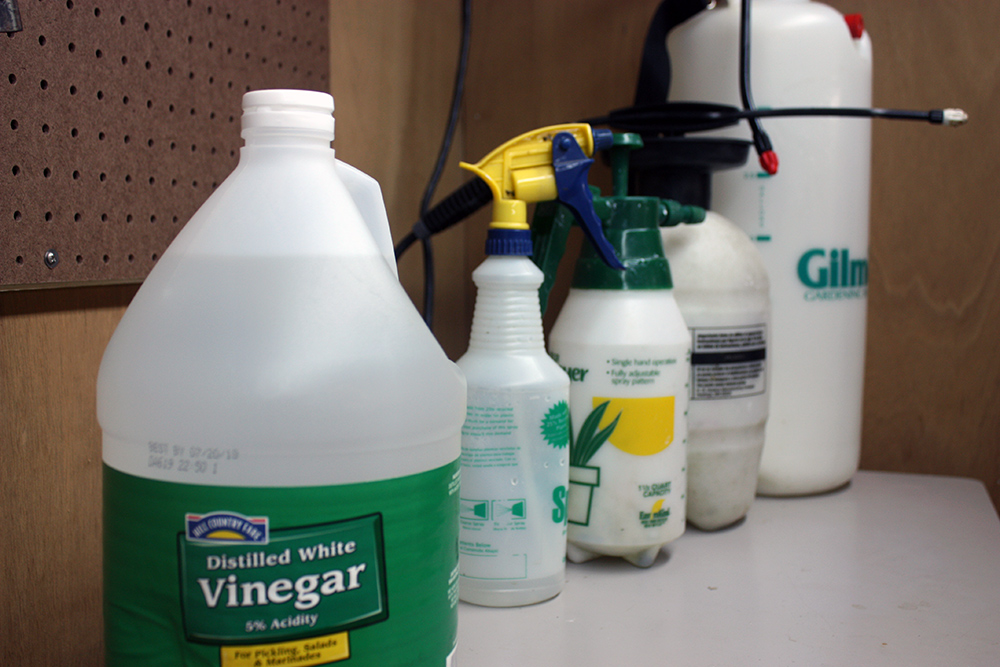 More Resources and Information
If you do a quick search, there's plenty of information out there about using vinegar as an herbicide.  There are many recipes that add in various ingredients like soap, citrus juice, cayenne, etc.
One helpful reference I found is a study from the Cornell Cooperative Extension.  I thought this was interesting because it shows how plain-old vinegar performs up against some commercial vinegar-based weed killer products.
If you decide to go with anything other than 5% acetic acid (grocery store vinegar), please handle those chemicals very carefully.  Grocery store vinegar has worked fine for me.
You can view or download that study here: Using Acetic Acid (Vinegar) As A Broad-Spectrum Herbicide
I also found a blog post where someone gathered up all the different "special recipes" they could find on the internet.  Some added soap, salt, water, orange oil, etc.  They did some non-scientific testing, and got similar results with the various ingredients added.
I think it's best to just use vinegar.  The plain old 5% vinegar from the grocery store.  It's about a dollar per gallon, and it's the simplest way I've found to kill weeds with chemicals.
Before you spray, read this: Weeds – What They Tell Us and Why You Should Care
---
Thanks to David Chinery, Cooperative Extension Educator, Cornell Cooperative Extension (Fact sheet 7.011)

(Visited 5,574 times, 1 visits today)

Tags: