Making your clothes is easy, fun, a great way to up-cycle old clothing, and an important survival skill.
My first experience with making clothes was with a loop loom used to make potholders. When I was growing up, I made a bunch for my family. Then, I went up and down the neighborhood looking for more customers. I gave them a deal they couldn't refuse—pot holders to match their kitchen colors, and they could set the price. It was a pretty sweet deal for an enterprising 7-year-old. I had fun making them, and my mom let me keep all the money from my sales.
Learning from Mom
Growing up, my mother always had a sewing machine. She made a lot of our clothes, Halloween costumes, and dresses for herself. She taught me how to use her Singer sewing machine. It was only slightly upgraded from the original that worked with a foot treadle. Mom's electric version had a cabinet with a lever to press with your knee. The lever would speed up or slow down the sewing.  At 10-years-old, I sewed my first dress, a jumper with straps that buttoned and had two pockets in the front.
Making clothes through the years
Fast forward to junior high, I made my Halloween costumes, crocheted granny square vests, and made macramé belts to sell. My mom taught me the basics of crocheting. I learned macramé in art class at school.
Later, I made my first wedding dress with lace sleeves and satin skirts. Sewing saved me a lot of money, and made me some, too!
The Knitting Machine
However, my mother was not a knitter. It was not a skill I picked up as a kid. My father even bought her a double-bedded knitting machine from Germany, but she could never get her proficiency high enough to use it. My father didn't want us messing up his machines, so we were not allowed to use it.
However, I love sweaters, so the idea of making my own has always intrigued me. I finally learned basic knitting in my 50's, but hand-knitting took too long. Eventually, I found a knitting machine that was simple enough for me to use and fast enough that I could make something in my limited available time. The "Ultimate Sweater Machine" fit the bill.
It took me a while to get the hang of it. While I was learning, I created some strange pieces. There was a sweater with arms that stuck straight out, an afghan that shrunk when my husband washed it, and several incomplete projects. Eventually, I followed the directions that came with the machine and made my first sweater that looked right. It turned out to be huge. I adjusted the needle setting up, since I was using a bulky yarn.
Unlike sewing, if you screw up a knitted piece, you simply take it apart and start over. That's what I did with the monster sweater. I unraveled the whole thing, wound it back up into balls, adjusted the rows, and number of needles to make a sweater that fit me. You can see the before and after in the images below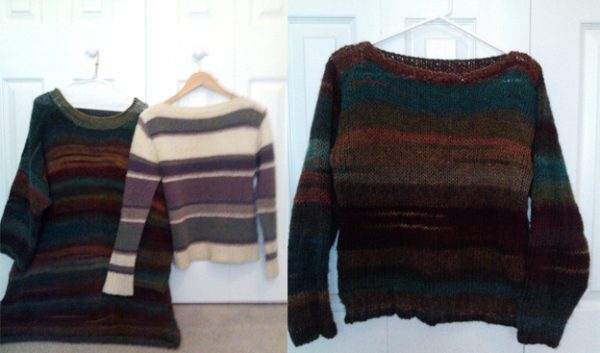 Now that I know how to make a sweater, I can make more and other things as well. Even if it isn't the first priority for self-sufficiency, being able to make clothing is a skill worth learning.
Do you make your clothing? What is your favorite method? We'd like to know in the comments below.

(Visited 834 times, 1 visits today)
Karen the Newbie Homesteader is a novice gardener, homesteader, and permaculturist. She and her husband recently purchased four acres in central Florida to create their homestead and grow their own food. She will be sharing their adventures: successes, failures, and everything in between – here at The Grow Network.

Tags: