Mother Nature's Approach
Imagine a deep, remote forest. Wildlife is abundant. Birds are singing. Mushrooms are growing on trees, and the forest floor is covered with fallen leaves of every color. You bend over and scoop up a handful of leaves to find incredible soil fertility in the form of dark, moist, healthy earth.
Mother Nature is truly amazing—when left alone, that is.
Plant life here has thrived for hundreds of thousands of years. Everything is recycled. There is no such thing as "waste" in nature. Fallen leaves get broken down and decomposed, which then creates the nutrient-rich and healthy soil that growing plants crave.
Now, enter humans. Look at how technologically advanced and stoic we are! Surely, we are smarter than primitive nature, right?
The Human Approach
Modern agriculture has made it possible for us to grow lots of beautiful-looking food in rows on farms. We have created machines that allow us to grow food more efficiently—so efficiently, in fact, that our grocery stores incorporate a 75 percent pricing upcharge to offset the huge amount of fruits and vegetables they will end up throwing out.
We have developed agricultural technology and run with it …
… Unfortunately, though, it appears that we didn't first tie our shoes!
If you look at farm fields that have been worked for decades, you'll see dry, cracked dirt. That hardly looks like the healthy, nutrient-dense soil we find in the forests that Mother Nature takes care of.
You may be saying to yourself: "And why is this a problem? You just told me that we have made food production efficient and bountiful. What gives?"
Well, you see, farmers have gotten themselves into quite the conundrum over the last couple of decades. It's not their fault, really, as they are just following recent tradition.
The reason we are still able to grow food despite unhealthy soil is because the food has been grown artificially.
Farmers spray their crops with synthetic fertilizers that directly feed the plant, not the soil. And since the farmer fails to feed the soil, the ONLY way he can continue to grow crops is by spraying more and more synthetic fertilizers, pesticides, and herbicides on the crops.
(Incidentally, the advent of genetically modified crops makes it easier for farmers to use pesticides and herbicides that kill everything but the prized crop, leaving it to flourish. On the surface, it sounds like a good thing. But while these GMO plants might be immune to the poisons that are sprayed on them, we certainly are not!)
At this point, many people often ask: "Does that mean Miracle-Gro in my garden is bad?"
Miracle-Gro is simply a supplemental fertilizer (not a pesticide or herbicide) that feeds plants synthetically but does nothing for soil fertility. Think of it like this: Miracle Grow is to plants what vitamins are to humans. They serve as a good supplement to our diet, but should never be the main source of nutrition.
The Soil is Alive!
Just as the ocean is teeming with life under the surface, so, too, is the soil!
Healthy soil comprises a complex network of symbiotic micro-organisms and insects that help break down decomposing plant material and turn it into bioavailable nutrients that growing plants can absorb.
As you might imagine, abundant soil fertility creates healthy, nutrient-dense plants.
So, when we think about growing vibrant plants, we really ought to think first about growing and regenerating the soil.
The Two Phases of Healthy Soil
Each year, soil goes through two distinct phases:
Energy Absorption: This occurs in the fall and winter seasons
Energy Release: This occurs in the spring and summer seasons
In fall and winter, properly fed soil replenishes its energy reserves for the next growing season. In the spring and summer, it releasing energy into plants so that they can grow.
Three Rules for Soil Fertility
Now that we understand why soil fertility is so important, let's talk about how to restore and replenish it.
As I mentioned above, healthy soil is teeming with life. Comprising millions of beneficial bacteria, microbes, insects, and fungi, it is an underground ecosystem that thrives when we follow three simple rules:
Tilling Is Killing: When we think about modern agriculture, we often visualize the process of tilling the soil. However, farmers are known to severely over-till the soil, which disrupts the living network of underground organisms. It is the equivalent of taking a fleet of bulldozers through the forest. If you must till, a shallow till of two to three inches is actually optimum. Otherwise, consider a no-till garden.
No Bare Soil: Soil likes to be covered up. You can use hay, wood chips, or shredded dry leaves to blanket the top of the soil. This prevents it from drying out. Also, as the material breaks down, it provides food for the soil (such as occurs in our remote forest example).
Amend the Soil: Each growing season, plants absorb energy and nutrients from the soil. The best time to replenish the soil is in the fall after harvesting your crops. Simply add compost on top of the soil, and then blanket the top of the soil again. Luckily for us, we can accomplish this last step using a material that's free, abundant, and right outside our back door!
Don't Bag Those Leaves!
Fallen leaves are one of nature's gracious gifts to us.
Over the winter, they help insulate your plant beds and provide shelter for invertebrates such as insects, worms, and roly poly bugs (which, incidentally, are crustaceans!).
Fallen leaves are the building blocks of soil. As they break down via the help of invertebrates and soil fungi, they help create incredibly rich soil fertility. This allows for a cascade of biological processes, including nutrient cycling.
Leaf litter also fosters an environment that encourages the development of mycorrhizal fungi. You won't see the vast majority of these miracle workers, as they often are too small to be visible to the naked eye. But don't take them for granted. Soil fungi form symbiotic relationships with virtually every plant on Earth by exchanging nutrients and making them more bioavailable. (That is a whole other amazing topic for discussion.)
It's basically everything you saw in the movie Avatar. Plants can communicate and pass food to each other via a connected underground fungal network. This network connects plants of all shapes and sizes to one another so they can cooperate as enormous interconnected systems.
But without the decaying matter that leaves provide, none of these intricate processes can happen.
Thank goodness for fall and its multicolored bounty—and for neighbors who are graciously raking, bagging, and giving away this precious resource!
Take advantage of their kindness and use these leaves in your garden. In short order, your plants will be thriving in the same dark, moist, healthy soil that exists deep in the heart of the forest.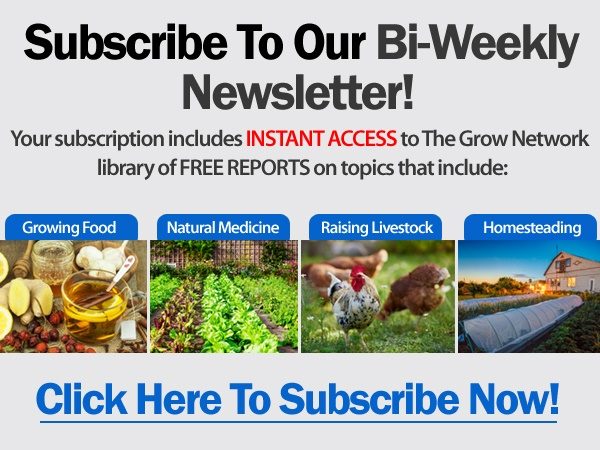 (Visited 913 times, 1 visits today)
Brian Moyers is a self-proclaimed ambassador to the future and an avid DIY guy. Brian traded in dead oil for living soil when he chose to walk away from his lucrative position at a major oil company to pursue a life of ever-increasing sustainability. He enjoys educating others about permaculture, reconnecting with nature, and food security.

Tags: