As a mother and a gardener, I cannot avoid children in my garden. Luckily, kids are natural helpers. They question everything and want to take part in what we are doing. These little "helpers" can frustrate us when we are short on time and NEED to get our chores done. Truthfully, kids and gardening go hand-in-hand!
While it is tempting to say, "you are too little" or "maybe when you get older," we must remember that our mindset and actions as adults determine how much (or little) kids will continue to want to help. As adults, we have:
The power to provide an environment where kids can learn and explore the wonders of the natural world.
Responsibility to show them how to be good helpers, teachers, and productive members of society.
A duty to teach them how to share the abundance in their lives—whether it be knowledge, compassion, or food—with others.
Outside in the garden is perhaps the best place to teach kids how to be good helpers, get them excited about food, and become closer as a family.
The only ethical decision is to take responsibility for our own existence and that of our children.
– Bill Mollison, Co-founder of Permaculture
Can I Help?
Our children want to help, but what can they do?
There are many kid-sized activities in and around the garden.  Some of the things they can tackle include:
Planting
Weeding
Watering
Controlling pests
Harvesting
Planting starts with seed selection. Children love to pick out their favorite foods from the seed aisle or catalog. They love to imagine what the fruits of their labor look and taste like. A child's interest begins here, and their patience ends.
Be sure to help them pick out some quick growing crops such as lettuce, baby carrots, and bush beans. Having your child choose quick-growing crops ensures they can continue to be excited during the early and slow parts of the season.
Teaching them about succession planting is also useful, so they are constantly thinking about what to harvest and plant next.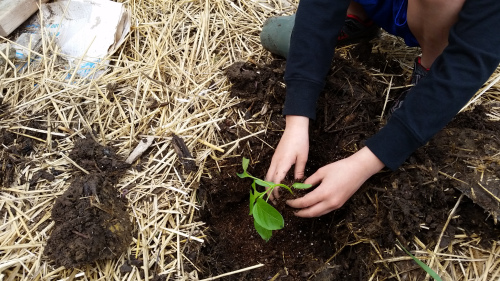 Weeding, the chore everyone loves to hate

Luckily, pulling plants apart and out of the ground is a natural pastime for little hands. We need only guide their enthusiasm to ensure some of our crops remain to maturity. The time is perfect to discuss each plant that grows and answer some important questions such as:
What "weeds" are in the wrong place?
Which plants provide for us and each other?
Some plants can hurt us.
How do plant friends help each other?
What types of plants don't get along with "this plant?"
Watering provides plants with their essential element of moisture and children their key element of playing and splashing. Just try and keep a 4-year-old out of a mud puddle.
Controlling pests combines two forces of nature: bugs and bug squishers
Bugs are some of the most fascinating and terrifying creatures in the lives of our children. Introducing them to harmful as well as beneficial insects sets the tone for their relationship with these creatures for the rest of their lives, ask someone who had a spider put on them at a young age.
Point out the pollinators, and tell the kids how bees and butterflies help fruit and vegetables grow. Talk about the life cycle of a butterfly. Tell them how bees work together to make honey.
Tell them about beneficial predators such as the praying mantis, ninja of the bug world, and the Braconid wasp, killer of hornworms.
Get them a bug house. It will always be full.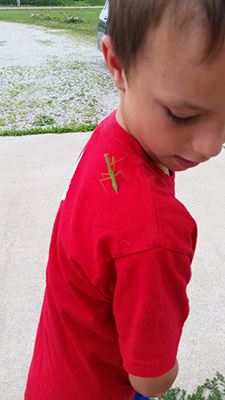 Bonding as a family
Working together outside in the sunshine and growing food for the table will also strengthen family bonds. It's a way to build responsibility, excitement, and self-esteem in both child and adult.
Let the kids help in the garden, in the house, and in your life. Just like plants work together to improve the soil and protect each other, families work together to strengthen bonds.
Despite our urges to simply get stuff done, we must have patience with our children and take time to teach them. No matter our gardening successes and failures, they are always watching and learning.
Our most important crop is our children. Every experience and lesson are fertilizer to help them grow strong and wild into the best version of the individual. Of all the things we teach them, the most important lessons are how to be human.
The ultimate goal of farming is not the growing of crops, but the cultivation and perfection of human beings.
– Masanobu Fukuoka, Farmer and author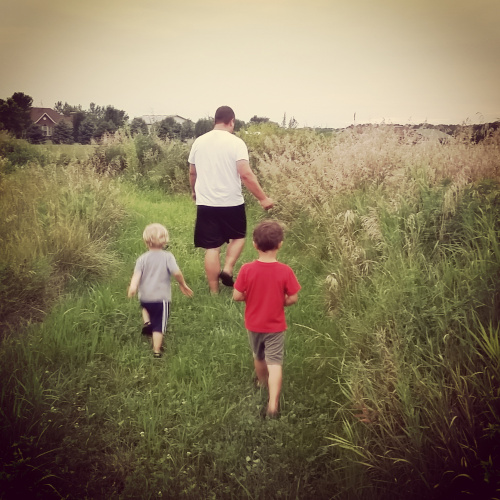 Do your kids help in the garden? What is their favorite chore? Let us know in the comments below.

Sources
Mollison, Bill, Permaculture: A Designers Manual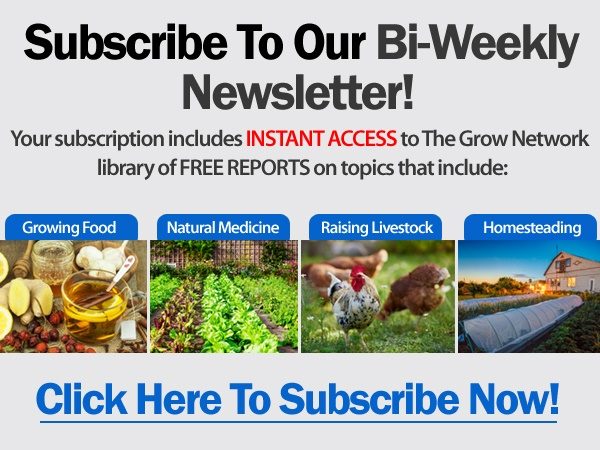 Save
Save
Save
(Visited 436 times, 1 visits today)
Melissa Durbin is a Midwest homemaker, homesteader, and homeschooler. She has a passion for writing and loves to share all the triumphs and trials of gardening, raising chickens, and homeschooling two little boys.

In 2012, Melissa and her family moved from Metro Detroit to Illinois onto a 5-acre patch of flat land with poor soil and few trees. Since then, they've put in over a hundred fruit trees, built a small vineyard, planted a food hedge, and started a garden.

Melissa started blogging to chronicle the many adventures she's had as a rookie homesteader. Her blog, https://apinchofhomestead.com/, is a mix of humorous anecdotes, true-life-inspired fiction and poetry, and lessons learned.
Melissa has a background in project management and writing. She worked in advertising for almost ten years before turning in the briefcase and starting her new life as a homesteader.

Tags: