Do you know how to use a paracord bracelet? In this video, learn 5 uses for this handy survival tool. (#5 may surprise you!)
How to Use a Paracord Bracelet
Do you know how to use a paracord bracelet? We've recently added a sweet 5-in-1 paracord bracelet to our TGN store, and we've been getting some questions on how to make full use of it. So I created the video below to show you the 5 ways you can put the Grow Paracord Survival Bracelet to work for you—whether you're camping and need a handy fire starter, get lost in the wilderness and need some help finding your way home, need a length of sturdy rope to secure a shelter … you get the idea!
It's the sort of thing you hope you never need—but that you're really glad to have in a pinch.
I also show you my favorite way to carry it around with me. (I like my accessories on the smaller side, so I found this a little too bulky to wear all the time. I show you my workaround in the video!)
How to use the "Grow" Paracord Survival Bracelet from The Grow Network on Vimeo.
5 Ways to Use the Grow Paracord Survival Bracelet
Here are the 5 built-in features of the Grow Paracord Survival Bracelet. Watch the video above to see how to use them!
Reliable compass (Be sure to open the bracelet to use it, so that it's not right next to the metal pieces!)
Flint and ferro rod striker
Loud emergency whistle
12 feet of paracord
7 sturdy core yarns can be used when finer string is needed, such as for sewing thread to patch up gear and for fishing line in an emergency situation
My team has told me they keep these in the hydration backpacks they take with them when they're hiking, camping, skiing, and doing other outdoor pursuits. I do the same!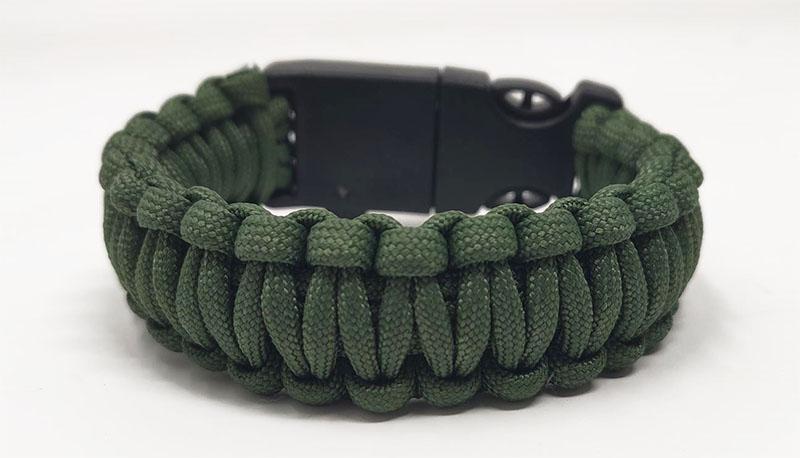 If you'd like to grab one of our Grow Paracord Survival Bracelets for yourself or your loved ones, you can buy one (or more) in our store here.
What Do You Think?
Do you keep a paracord bracelet with your survival gear or outdoor pack? What's your favorite way to use a paracord bracelet? Leave me a note in the comments to let me know!
(Visited 5,701 times, 1 visits today)
Marjory Wildcraft is the founder of The Grow Network, which is a community of people focused on modern self-sufficient living. She has been featured by National Geographic as an expert in off-grid living, she hosted the Mother Earth News Online Homesteading Summit, and she is listed in Who's Who in America for having inspired hundreds of thousands of backyard gardens. Marjory was the focus of an article that won Reuter's Food Sustainability Media Award, and she recently authored The Grow System: The Essential Guide to Modern Self-Sufficient Living—From Growing Food to Making Medicine. 

Tags: