Marjory shares her top 4 tips and tricks for how to stay warm outside while working on the homestead during the winter months.
As you start to live more sustainably, you will be spending more time outdoors. And, in the winter, it can be tough to stay warm while working outside in the cold. Getting or cutting firewood, tending livestock, taking care of the orchards or greenhouse—all of these activities mean you'll be outside in the cold.
Sure, it may not be a full-on survival situation, but you are going to want to stay warm regardless! Here are my 4 best tips to follow when you're wondering how to stay warm outside when you're working during the winter months:
Cold-Busting Tip #1: Wrap Your Neck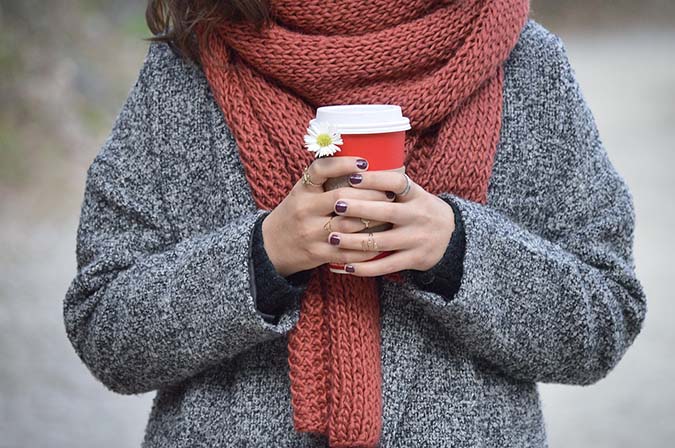 Your neck radiates more heat than any other area of the body. The head and feet are next on the list. However, your neck is the most important area to keep warm. In my backpack (which also doubles as a purse), I keep a neck wrap. I've used it more times than I can count to stay warm during an unexpected cold front.
Have you ever started to get that scratchy feeling in your throat and you can feel the beginnings of a cold or the flu coming on? I like to wrap my neck while sleeping at night. I have found that this simple act seems to nip that sore throat in the bud! While I am no doctor, my theory is that by wrapping your neck, it creates a localized mini-fever, which possibly stops trouble before it has time to spread.
Check out this article on treating fevers—and when not to treat a fever. The comments section of this particular article is especially amazing—click here to read how to assist a fever.
Cold-Busting Tip #2: Wrap Your Kidneys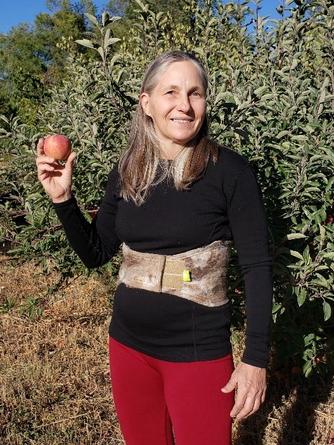 An ancient way to dress warm in the winter is to wrap your kidneys. This idea seems too simple on the surface to work. But if you follow the logic, it makes perfect sense.
You May Also Enjoy: "The Kidney Wrap: Prepare Your Body For Winter"
When we get chilled, our bodies divert extra blood flow to our core area to protect our vital organs from freezing. As a result, two things happen. First, you feel a significant increase in pressure in your core due to the extra blood flow. Second, the parts of your body furthest from your internal organs lose blood flow and get cold faster.
Update 01/30/21: Our luxurious, handcrafted Ultimate Kidney Wraps get rave reviews—but our supply is limited, so hurry to get yours! Click Here to Buy Your Heirloom-Quality Kidney Wrap.
Compression kidney wraps simulate your bodies response by adding insulation around your internal organs and increasing pressure in your core area so additional blood flow is not required to keep your organs warm. That means you get to keep the blood flow going strong from the top of your head, to the tips of your fingers and toes. That makes you feel warmer all over.
Cold-Busting Tip #3: Stay Hydrated 
For some reason, it seems harder to stay hydrated and drink enough fluids when it is cold outside. Of the many signs of dehydration, getting a bit chilled is usually one of the first to appear. Some other signs may be dry lips, dizziness when standing, and slower mental function. I find that making a quart of tea (like a good nourishing infusion made with nettle leaf or oatstraw) to sip on throughout the day helps me to drink more fluid. By using a quart-sized mason jar, I am easily able to keep track of how much I am drinking during the day.
I find that tea helps to keep my body hydrated better than just drinking straight water. My grandmother was always drinking herbal tea that was nutritive. Good health is best achieved with gentle nudges! Sipping tea is a great way to help the process. Wildcrafting and/or growing your own teas is easy and can be a fun gardening project for the whole family.
Cold-Busting Tip #4: Prepare a Warm Space for Your Return
I picked up this tip when I got my permaculture certification. It is a lot easier to go out and brave the cold if you have a warm place to come back to. It doesn't have to be a large room or even the whole house. But knowing that when you come back inside there will be somewhere warm gives you a psychological boost. I've relied on this for so many years that I don't think about going outside without setting up my warm spot first!
Before you dress up and head out, throw a few logs on the fire and set the flue so you'll have a warm spot waiting for you. If you are not heating with wood, perhaps you might run a tiny heater in a small room to have a "warm area" to return to.
Whichever you choose, knowing you have a warm place to come back to after working outside is vitally important. And, you never know: If you have an accident outside, having a warm space to return to during an emergency may be crucial to your survival.
What Do You Think?
Do you have any suggestions on how to stay warm outside while working in the cold weather? Leave a comment—I'd love to hear them!


___________________
This is an updated version of a post that was originally published on December 1, 2016.
The Grow Network is a participant in the Amazon Services LLC Associates Program, an affiliate program designed to provide a means for our team to earn fees for recommending our favorite products! We may earn a small commission, at no additional cost to you, should you purchase an item after clicking one of our links. Thanks for supporting TGN!
(Visited 7,506 times, 1 visits today)
Marjory Wildcraft is the founder of The Grow Network, which is a community of people focused on modern self-sufficient living. She has been featured by National Geographic as an expert in off-grid living, she hosted the Mother Earth News Online Homesteading Summit, and she is listed in Who's Who in America for having inspired hundreds of thousands of backyard gardens. Marjory was the focus of an article that won Reuter's Food Sustainability Media Award, and she recently authored The Grow System: The Essential Guide to Modern Self-Sufficient Living—From Growing Food to Making Medicine. 

Tags: