Working in the Garden with a Bad Back
When you need to prepare a garden bed, it's one of those things that can be really hard for people who have back problems due to injury or age.  We get this question often, and we feel like it's a really important topic – because many of the people who are actively trying to grow their own food for health reasons are the same people who have trouble doing the labor.
Here's Marjory to tell you about one easy trick that anyone can do to prepare a garden bed, without the backbreaking labor that is usually required to bend over and pull out all of those weeds and grasses.  Instead of hard labor and hand tools, the only things required to do this trick are a tarp and some time…
Prepare a Garden Bed without Breaking a Sweat
The key here is to completely cover the area where your new garden bed will be located.  You are trying to deprive the plants underneath of sunlight and water until they die and begin to break down.  Black plastic sheeting will also work, and you could even use an old shower curtain, as long as it doesn't allow light through to the plants underneath (don't use clear plastic).
After you cover the area, you'll be in a waiting game while the plants run out of food and water.  Eventually you'll peek under the tarp and find that all of the plants are dead, as Marjory demonstrates in the video.
Be careful not to remove the tarp too soon.  Some weeds can be extremely resilient.  If the roots are still resisting when you pull on the stem of a plant, you might want to give it a little more time to finish the job.
Also read: Eat Your Weeds Don't Mow Them
Restoring the Life in Your New Garden Soil
One side effect of this method is that while the plastic is effective in killing off plants, it can also have a negative impact on the various soil organisms and microorganisms that you need to have in order to have a truly thriving garden.
Be sure to take some steps to restore the soil food web if you use this method to clear a new garden bed.  Things like compost tea and products containing mycorrhizal fungi can help you restore the balance of life within the soil.  Here is one great solution you can use, and chances are you have all the ingredients in your kitchen already: Pan Juice – A Simple Homemade Fertilizer.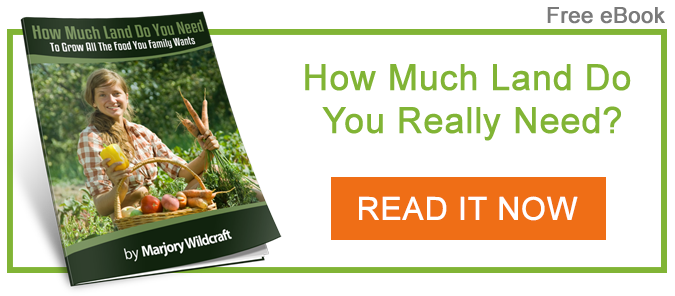 (Visited 279 times, 1 visits today)

Tags: