Invasive Plants: Coming to a Forest Near You
Being able to identify and use plants is a critical skill for living sustainably.
Of course, botany is not the easiest thing to pick up…  So anywhere you get a chance to learn a bit more, you should take advantage of it.  I'm working on a new resource to teach botany to members of the Grow Network right now.  But… in the meantime… you might be able to get some good free information to help you along if you don't mind getting a little bit creative.
The War on Invasive Plants
Did you know there is a war on invasive plants?
The stated objective of the U.S. Forest Service is to completely eradicate some of the plants that they say are foreign invasives.  Personally, I doubt that eradication will work.  You know, there is a basic universal law that can be summarized as: "What you resist, will persist."
But you can get a whole new perspective on the situation when you know that many of these invasive plants are actually edible and/or medicinal.
Read my series: Extreme Agri-Tourism: Off the Grid with the Tarahumara Indians
Learning About Your Local Invasives
Invasive species are, by their nature, abundant… and getting more so.  That means these are some of the plants you are most likely to come across if you go out looking.  So, many of them are good candidates for you to learn about.
As I mentioned above, botany isn't easy.  It's important that you find good resources to help you along the way.  Personally, I was surprised and pleased to find so much good free information available when I decided to start learning about these plants.
Free information… why not take advantage of it?  And to pay them back for their free information, you can help the Forest Service by reporting invasive species when you find them (if you want to – I'll leave that decision up to you).
Resources to Help Identify Invasive Plants
The federal government, and the governments of many states, provide a ton of free resources to help you start learning about these plants.
One of the best resources I've found is the Forest Service's invasive species program (http://www.fs.fed.us/invasivespecies/).  I'm not sure if they're still doing this, but when I contacted them, they agreed to send me a free copy of a DVD-ROM database all about invasive plants across the United States.  They also have several books and pamphlets that they mailed out to me at no cost.
Of course, one of the best resources is going to be a local expert in your region.  Search around and there's a good chance you'll find a local workshop that focuses on the invasive plants that are common in your area.
Read more: How to Find Like Minded Neighbors and Build Self-Reliant Community
Learning About Useful Invasives
The way I see it – if you can harvest an invasive species and also make use of it – that's a win-win.  But how can you know which invasive plants are useful?
As you start to identify the invasive plants in your area, search online to find out if each of them is edible, medicinal, or useful in some other way.  You'll find many good resources, and there is a fair amount of information on this site too (thegrownetwork.com).  When possible, search by both the common name and the latin botanical name for each plant.  Different resources use different names for the same plants.
One of my personal favorite resources is the Plants for a Future database (available for free online at http://www.pfaf.org/).  While the website is free, I definitely encourage you to support PFAF by making a donation or purchasing one of the books or databases in their online shop.
One Example of a Useful Invasive
Here is one example of a plant that is both useful and invasive.  The Forest Service says that autumn olive (Eleagnus umbellate) is an invasive species in much of the northeastern United States.  If you cross-check that plant with the Plants for a Future database, you'll find that autumn olive is edible… and it's medicinal.  So, if you live in the northeast – this is one abundant plant that it would be good for you to learn!
Invasive plants are prolific.  If a plant is considered invasive, chances are it is thriving in our climate and spreading rapidly.  So, why not become an ally of them and figure out how we can make use of them?
We are quite lucky to have so many good free online resources to help us as we learn.  Let's make good use of these resources, and these plants, while they are available.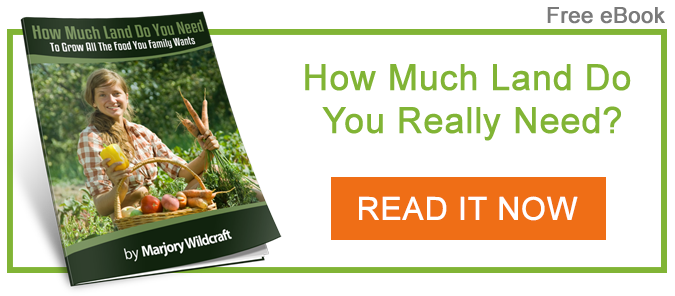 (Visited 77 times, 1 visits today)
Marjory Wildcraft is an Expedition Leader and Bioneer Blogger with The [Grow] Network, which is an online community that recognizes the wisdom of "homegrown food on every table." Marjory has been featured as an expert on sustainable living by National Geographic, she is a speaker at Mother Earth News fairs, and is a returning guest on Coast to Coast AM. She is an author of several books, but is best known for her "Grow Your Own Groceries" video series, which is used by more than 300,000 homesteaders, survivalists, universities, and missionary organizations around the world.

Tags: