See My Soil Fertility Experiment
I grew these plants out for a fun demonstration.  Take a look at the photo below.  There are two cucumber plants, and two tomato plants.   All were started from seed at the same time, given the same amount of sunlight, and all were watered the same.  But clearly, some of the plants did better than the others.
Mmm, mmm, good.  Isn't summertime just wonderful with the fresh, delicious tomato and cucumber salads?
Want to take a guess as to why the plants on the left are bigger, healthier, and stronger than the plants on the right?
No, it is not the color of the pot…  LOL!
It's All About Soil Fertility
OK, ready for the answer?
In the darker colored pots I used a very rich, fertile soil that included fresh worm castings.  And in the lighter colored pots I used mostly sand – like beach sand, with only a little compost.
Actually, I tried this experiment first with only plain sand.  The seeds barely sprouted and then quickly died… So I had to start over and add a bit of compost in with the sand to get them to grow at all.
Read more: How to Fertilize Your Container Gardens
Don't Underestimate Soil Fertility
The big lesson from this?  Yes, I've said it before, fertility is sooo important!  And the really good news?  When you grow in fertile soil, not only are your plants easier to grow and care for – but you get more nutrients when you eat those cucumbers or tomatoes.
I did a similar experiment using bean plants.  Can you guess what happened that time?  Stay tuned and I'll share the story with you soon.  Or drop a comment down below if you want to take a guess…
Read more: How Much Nutrient is in Your Homemade Fertilizer?
My Favorite Potting Soil Amendment
If you haven't already discovered this, let me share a secret with you… Worm compost rocks!  I've been evaluating different worm composting systems for a while now, and there are several good options out there for people with big acreage all the way down to people living in small apartments. Drop me a line if there's a composting system you love that you think I should check out.
For the DIY crowd, check out the 5 gallon bucket worm bin that Brian sent in to the writing contest last year. You can find that entry here: Turn Your Trash into Black Gold with this Amazingly Simple Vermicompost System.
And also be sure to check out this video I did with Peter-Paul, who actually got an iPhone in return for his worm juice. Watch the video here: Simple and Effective Worm Composting. (And if you have any questions about leachate versus compost tea, you can get a good overview here: Leachate, Worm Tea, and Aerobic Compost Tea – A Clarification.)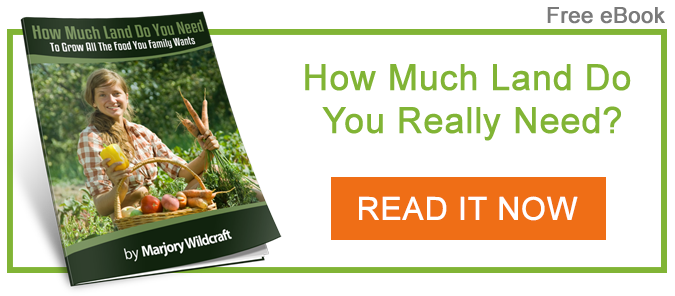 (Visited 768 times, 1 visits today)
Marjory Wildcraft is an Expedition Leader and Bioneer Blogger with The [Grow] Network, which is an online community that recognizes the wisdom of "homegrown food on every table." Marjory has been featured as an expert on sustainable living by National Geographic, she is a speaker at Mother Earth News fairs, and is a returning guest on Coast to Coast AM. She is an author of several books, but is best known for her "Grow Your Own Groceries" video series, which is used by more than 300,000 homesteaders, survivalists, universities, and missionary organizations around the world.

Tags: