Marjory I recently saw you make up a potion (the Four Thieves  Tonic, or Fire Cider video is here) using Ginger.  You said you bought it from the store because you could not grow it.
Well here in Ohio an organic farmer friend of mine experimented with growing ginger in his high tunnel and outside. Low and behold we now have fresh ginger at our farmers market.
Once other farmers saw what he was doing they jumped on the band wagon and started growing it as well. He starts it inside in his basement and then transfers it to the field and high tunnels. The ginger in the field he puts under row cover in early spring but the high tunnel stuff is fine.
We all think we have had fresh ginger but until you had fresh like his stuff all we have been eating until now is a dried up root.  The fresh stuff I have to keep in the freezer because it is so soft you cannot grate it. It will will not form that hard skin you see in stores for several months which is a good thing. I keep it in a zip lock bag for easy access.
How he started is he bought some organic ginger from the grocery store. Did a little research and found he could grow it. Now he orders it from Hawaii. He is experimenting with trying to keep some over the winter by putting it in buckets with potting soil. The verdict is still out on that one.
So yes you can grow ginger in Northern Ohio.
Greg
Marjory's note;  Thanks for sending this in Greg.  I just finished re-reading Eliot Coleman's book on "Four Season Harvest" which is a masterpiece on how to grow in cold climates.  Eliot uses that system of a high tunnel and then row cover which works amazingly well on his farm in Maine.  You can pick up Eliot's book here at Amazon:  http://astore.amazon.com/wwwbackyardfo-20?_encoding=UTF8&node=5
Here is a photo of how it is done: row cover is used inside of a greenhouse for a double layer of protection.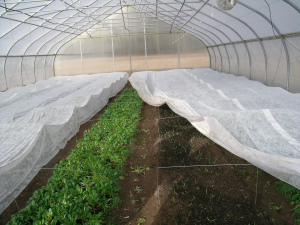 (Visited 1,433 times, 1 visits today)
Marjory Wildcraft is an Expedition Leader and Bioneer Blogger with The [Grow] Network, which is an online community that recognizes the wisdom of "homegrown food on every table." Marjory has been featured as an expert on sustainable living by National Geographic, she is a speaker at Mother Earth News fairs, and is a returning guest on Coast to Coast AM. She is an author of several books, but is best known for her "Grow Your Own Groceries" video series, which is used by more than 300,000 homesteaders, survivalists, universities, and missionary organizations around the world.

Tags: