I stopped by a Spec's liquor store recently.  No, I am not a big drinker (quite the opposite) but I needed to pick up some Ever Clear for making tinctures.  You know, after attending the Herbalismo! event I've been so inspired to make more of my own medicine.  So, here I am at the checkout with these 2 huge bottles of rocket fuel and you'll never guess what I see at the checkout counter.  A box of crickets seasoned with salt and vinegar.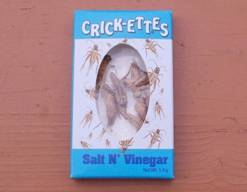 I spoke with the cashier and she said that they had started out as gag gifts, but more and more people were buying them for snacks.  She said her daughter really liked them. 
So, looks like you don't have to wait for the 7th Annual Bug Fest to get your hands on some edible insects.  Just go to your local liquor store.  And pick up a six pack of beer too – it helps tremendously with palatability.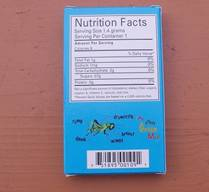 I am totally surprised at how much eating bugs has become a trend among the partying crowd.  I might, sort of, be responsible for it.  Check out this episode on San Antonio's Fox morning show for all the tips Cassandra came up for adding zing to your scorpions….  http://www.growyourowngroceries.org/bug-eating-is-the-hottest-new-trend-with-marjory-wildcraft-and-allen-davison/
Also, if you missed that episode of "Doomsday Preppers" where I show a family how to eat insects – check out the video here:  http://www.growyourowngroceries.org/marjory-wildcraft-relocation-expert-on-doomsday-preppers/ They were about to move to Costa Rica, a place with a ton of food on the wing, so to speak.  "Green Meat" – oh boy… 
(Visited 61 times, 1 visits today)
Marjory Wildcraft is an Expedition Leader and Bioneer Blogger with The [Grow] Network, which is an online community that recognizes the wisdom of "homegrown food on every table." Marjory has been featured as an expert on sustainable living by National Geographic, she is a speaker at Mother Earth News fairs, and is a returning guest on Coast to Coast AM. She is an author of several books, but is best known for her "Grow Your Own Groceries" video series, which is used by more than 300,000 homesteaders, survivalists, universities, and missionary organizations around the world.