Is your bad back a real pain when you garden? If so, you've faced the reality that there are certain gardening methods that are easier on the back than others, such as gardening in containers or planting in waist-high beds.
But what if you want to embrace traditional gardening methods and plant straight in the ground, but can't—or don't want to—double dig?
Summer: Bake the Soil to Kill Grass and Weeds
In this video, Marjory shows you how to turn a patch of grass into bare soil using a simplified version of a technique called "solarizing."
By laying a tarp or 2 mil black plastic on the would-be garden bed, weighing it down with rocks, and letting the plot bake for a few months in the summer sun, you can effectively kill grass, weed seeds, and even unwelcome soil diseases. Some research has shown that using clear plastic does an even better job killing unwanted grass, weed seeds, and soil-borne diseases.
If you live in a hot area and get a lot of sunny days, you'll usually need to wait a few summer months before removing the black plastic.
In places where the summers are mild, wait even longer.
(Shorten this timeframe by tilling and re-leveling the soil before laying down the plastic, but it's certainly more back-friendly to just lay down a tarp and wait!)
Autumn, Part 1: Reintroduce the Good Microbes
For solarizing to be really effective, your soil needs to reach about 150°F (66°C).
That's hot enough to also kill some of the good microbes in the soil. In late autumn, top dress the soil with about 4 to 6 inches (10 cm to 15 cm) of good organic matter—compost, composted manure, or green manures.
We're going for no more bad backs. So, spread the top dressing and let irrigation and earthworms pull the nutrients down into the subsoil.
(Do this each autumn to increase soil fertility.)
Autumn, Part 2: Use a Garden Fork in Rocky Soil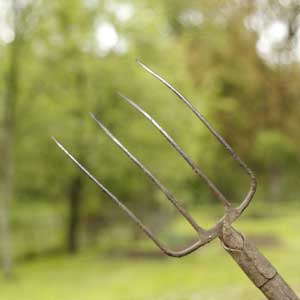 A note here for those of you with rocky soil: Once you remove the plastic covering, apply a garden fork to soil to remove the bigger rocks.
If you must do this yourself, be sure to use a garden fork with a long, lightweight handle. Try to keep your back straight by bending at the knees instead of the waist.
Alternately, ask a relative or friend to do it for you, or hire someone to help with this task.
Trade with fellow gardeners—the work you can't do for the work you can. Perhaps you could provide compost in exchange for help tilling rocky soil, or seedlings in exchange for help weeding
Spring: Strategic Planning and Garden Planting
When it's time to plant in spring, some folks with bad backs like to use a simple, homemade seed-sowing tool.
Simply take a four-foot length of 2.5 inch PVC pipe and cut a 45° angle on one end. (If you buy your PVC at one of the larger home improvement stores, they will often cut it for you at no charge.)
Use the sharp end of your seed-sowing tool to make holes or furrows.
Hold the pipe upright. Drop the seeds in the top hole, and let them fall through to the soil.
Then, use the tool to cover the seeds with soil.
When deciding what and how to plant, consider reducing the need to weed by using companion planting methods, mulch, a block-style layout—or a combination of the three.
Achieve Gardening Success—Even With a Bad Back!
It's well-known that converting a plot of sod into a fertile garden is backbreaking work.
But, through pre-planning and gardening smarter, not harder, you can work your beds successfully—without overworking your back!
What Do You Think?
Now let's hear from you. What tips and tricks do you use to keep your back in tip-top shape? Let us know in the comments below!
Access our growing selection of downloadable e-Books …
… on topics that include growing your own food, herbal medicine, homesteading, raising livestock, and more!
___________
(This article was originally published on May 29, 2017.)
Save
Save
Save
Save
Save
Save
Save
Save
Save
Save
(Visited 3,571 times, 1 visits today)
Marjory Wildcraft is the founder of The Grow Network, which is a community of people focused on modern self-sufficient living. She has been featured by National Geographic as an expert in off-grid living, she hosted the Mother Earth News Online Homesteading Summit, and she is listed in Who's Who in America for having inspired hundreds of thousands of backyard gardens. Marjory was the focus of an article that won Reuter's Food Sustainability Media Award, and she recently authored The Grow System: The Essential Guide to Modern Self-Sufficient Living—From Growing Food to Making Medicine. 

Tags: