The Day You Prepared For
Imagine that the time has come…
Some major disaster has taken place, and all of a sudden you are utterly on your own.  If you get hurt, no ambulance is coming.  The power grid is down.  It's a collapse scenario.  SHTF.
No need to panic – you have some food stocked up to get you through the initial fallout.  You've thought ahead and made all of the basic preparations.  And you have some fresh water to tide you over, although you know that it will run dry all too soon.
How Long Before You Get Thirsty?
But the fact is: eventually, for one reason or another, each of us will need to head back out into the world – for better or for worse.
The number one reason why we'll need to leave the safety of home and head out into the chaos?  Water – without a doubt.
The Number One Skill You Need to Find Water
Just ask survival expert Kirsten Rechnitz.  She lived an extreme minimalist lifestyle in the low mountain high desert environment for several years.  At one point she even headed out into the desert, all by herself, and didn't come back for a month.
When my friend Dave Womach from The Survival Summit asked Kirsten what her secret was, do you know what she said?  MAP READING!
Dave couldn't believe that something as simple as reading a map was Kirsten's biggest asset, but when she broke it down for him, Dave fully understood.  The only thing you absolutely need to do to stay alive in the desert is to find water.  Every single day.
Where is the nearest spring?  Is that stream seasonal, or does it flow year round?  The map will tell you.
Survival Land Navigation DVD
Dave was so impressed by Kirsten's story that he teamed up with Top Albritton to produce a new video called Survival Land Navigation that includes all of the information you need to know to get where you're going – long after your batteries are dead and the GPS satellites are out of commission (which will only take a few weeks, at most).
In this beautiful cinematic and educational 90-minute DVD (it's also available for streaming), you'll learn to fully understand:
– How to navigate without a GPS
– How to correctly read a topographic map
– Understand "declination" and why it's so important
– Find where you are on a map so you can correctly navigate towards water
– Hide and locate a secret cache without losing it
– How to determine what makes a good compass… or a bad one
– Route planning and selection
– How to use "dead reckoning" to reach your destination as soon as possible
Now, I realize that it might seem like common knowledge… but do you really understand how to read a map?  And use it to navigate?  When your life depends on it?
Click Here to Order the Survival Land Navigation DVD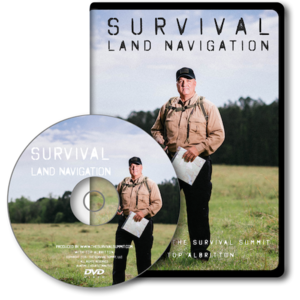 (Visited 100 times, 1 visits today)
Marjory Wildcraft is an Expedition Leader and Bioneer Blogger with The [Grow] Network, which is an online community that recognizes the wisdom of "homegrown food on every table." Marjory has been featured as an expert on sustainable living by National Geographic, she is a speaker at Mother Earth News fairs, and is a returning guest on Coast to Coast AM. She is an author of several books, but is best known for her "Grow Your Own Groceries" video series, which is used by more than 300,000 homesteaders, survivalists, universities, and missionary organizations around the world.

Tags: