Upcycle Old Objects to Make Creative Planters
A pot is a pot is a pot, no?  But of course!  And there are so many objects that can serve as creative planters!  With the warmer weather upon us, here are a few ideas to get you rethinking and upcycling old objects come spring cleaning time and get you ready for some creative planting "a la pot."
Shoe-In
Old boots and shoes make just dandy creative planters and are a great way to repurpose those baby booties and too tight children's shoes. You can plop them right on your front stairs as a "welcome-come-on-in" gesture. Make sure to drill a few holes in the bottom for drainage, and if you use waterproof boots, slash the toe area to help with aeration. Fill with soil and you're good to go.
Cage Those Beasts

Ever had a rodent as a pet, and ended up with an empty cage after the pet passed on? Consider it as the great rat cage planter! If you have a square cage, cut off the top "ceiling" using wire cutters. If you have a domed cage, cut off the part where it curves. Since either of these cages will now have sharp metal bits, overturn the cage and fit the sharp top edges into the plastic bottom.
Drill holes in the bottom for drainage, and then consider prettying it on up: cut a waterproof tablecloth or an old shower curtain to fit, and use a glue gun to glue it in place. Feel free to add some ribbons, stickers, flowers or anything else for extra appeal. Great to grow cukes, tomatoes and peppers.
Other ideas: repurpose rodent plastic and wooden houses (tape to hold together if need be and use mosquito netting over holes to hold soil in place) and carrier cage (drill holes for drainage).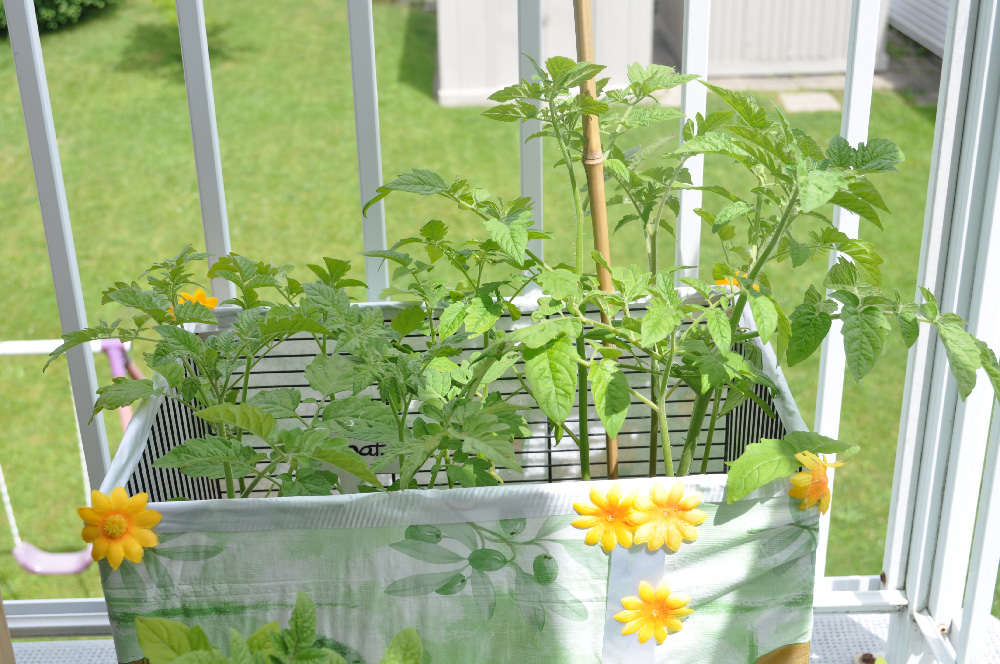 Ideas for edible container plants: Balcony Gardening – Big Food Production in Small Spaces
Milk It
Even though they don't deliver milk anymore, there are stores that still use milk crates, so you might be able to ask around and get some for free. You can also purchase milk crates at some stores, where they market them as storage organizers. You can easily turn these into creative planters by simply adding some mosquito netting or landscaping fabric on the bottom to prevent the potting soil from slipping out.
Another idea is to fit an old cardboard box into the crate and to make holes in the bottom of the cardboard for drainage (the cardboard will deteriorate over time so you will have to replace it). Don't like the look? Paint the outside of the crates first, or do the wrap and glue method with the shower curtain/tablecloth, as described above. Again, you can pretty up the crates by gluing on ribbons, buttons, decorative flowers, etc.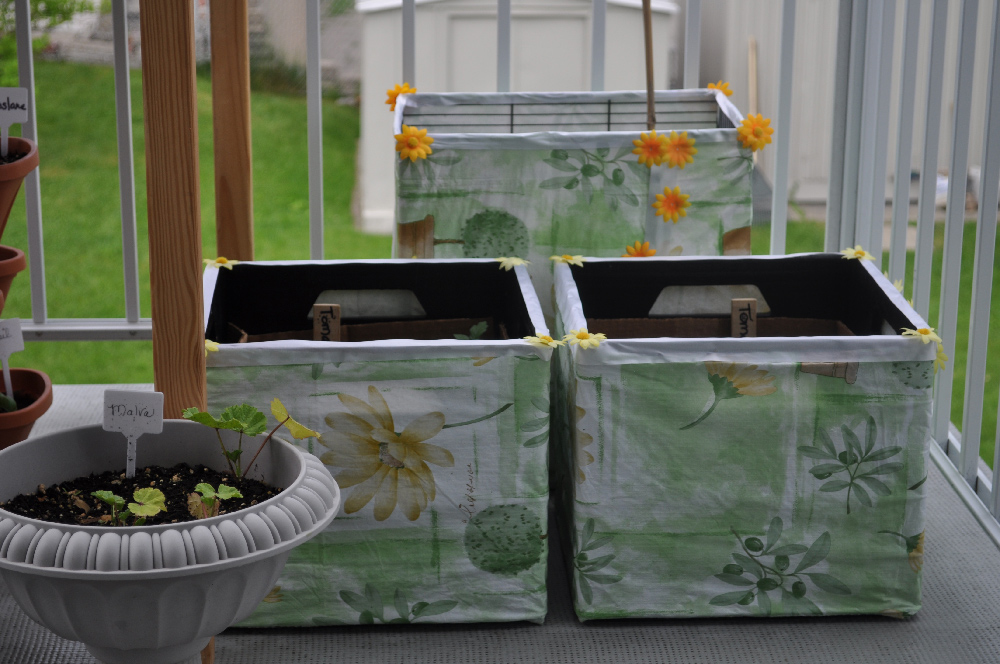 Tote It On Up
There are lots of videos out there about how to make your own hydroponic and self-watering systems using big plastic totes. If you don't mind watering, nothing could be easier than drilling some holes in the bottom and adding in potting soil and plants. Again, decorating them with paint or some waterproof material is always nice. Other upcycling ideas in this line of plastic planters: old fishing tackle boxes, garbage pails, storage bins, organizers, and plastic bowls in all shapes and sizes. Drill holes in the bottom for drainage and you're set.
Airy Inspiration
Colanders are cute items that provide great aeration and can easily be painted pretty. Simply add some mosquito netting to hold the soil in, and you're done! You could even add a hook and chain and use it as a hanging basket.
Other ideas in this line of creative airy inspiration: any wooden or wire basket will do. Old bread baskets, bamboo hampers, and braided garbage bins are some examples. If you have a lovely wire basket or an old bird cage, fill it with coir fiber before adding in soil and plants.
Hello Sexy!
It's true: bras and heels are a succulent's paradise! Too tight stilettos or old heels make for a lovely and interesting decorative piece. Make a drainage hole in the bottom of the shoe and then another small hole in the sole of the foot, where the plant will go.  Add a touch of soil and it's sweet succulent heaven!
As for bras, bigger space means more room for plants to grow! You'll need 2 bras to make this planter. Hang a bra from a hanger and then hang the other one in the opposite direction, so that the cups face each other. You can then staple the bras together for a tighter fit, and even stitch a piece of garden netting on the bottom to help hold everything in. Stuff  the cups with coir, add a bit of soil and a few small plants such as petunias or succulents.
Alternatively, you can use a camisole or tank top with a built in shelf bra. Again, stuff with coir, add soil and plants. Hang planters against a fence for additional support. Bring in during heavy rain and windy weather. This is one idea for creative planters that's sure to be noticed.
Fendi is Trendy
Purses make for some pretty and interesting portable pieces. Hang from a fence or plop down anywhere you like. Good for flowers with shallow roots.  Suitcases are another idea, as are trunks and chests. Make sure you drill holes for drainage.
Heed the Call of Nature
Whether you've upgraded to a composting toilet, or the old one just needed to go, continue to share those good times with an old porcelain toilet or bathtub by repurposing it in the garden (painting is highly recommended for this one!). Not only will you be upcycling, but you'll be making for some interesting future conversation, and isn't gardening a great way to foster community?
Porcelain is long lasting, and you can also conceal the drainage bit with a small plant in front, or consider using some waterproof material and gluing in place. Throw in an old refrigerator (with the door removed) and the kitchen sink, and you've got yourself a bargain deal in your garden! Other items that heed the call of nature include bed pans, urinals, bidets and baby potties.
My Cuppa Tea
An old tea kettle gets savvy when upcycled with a few drainage holes and some pretty flowers or herbs.  Other tin objects include old lunch boxes, tool boxes, and cookie/biscuit tins. Cracked ceramic and glass pots, bowls and mugs are other kitchen ideas. An old bread box works nicely too.
Silver 'n' Succulents
Old square or round baking pans make nice shallow creative planters for succulents, while muffin tins can be used to plant seedlings. Other small spaces where succulents can be happy: bricks with holes, seashells, candle holders, ceramic tea cups, and even ties. For that last idea, hang up 4 or 5 ties on a hanger and add in a bit of soil and a succulent in the space at the bottom of the tie.
You've Got That Baby Face
Before donating those baby items, you might want to reconsider how they can be used in the garden. For example, take off the soft mat from the changing table and use it as place to put pots or as a potting bench. Other baby creative ideas include upcycling the enamel bathtub (add in drainage holes), high chair (stick in a planter and decorate it on up), baby dresser (any dresser makes for a great growing vertical space; leave drawers partially open, and plant) and baby strollers (Bonus: use the hood to provide shade for plants, such as to help leafy greens from bolting).
Great Gatsby Garden Party
Although you might not have a gardening piece from the 1920s, many gardening pieces from any age can be lovingly reused, including plastic and metal watering cans, old wheelbarrows, wooden toolboxes, bird baths, and gardening barrels. Fallen logs can be hollowed out and filled with soil and plants, as can tree stumps. Tree stumps that are cracked work well too. Jazz music is optional.
More Ideas for Creative Planters
Old kayaks and boats, shopping carts (fill with coir first then add soil and plants), bicycles (add a basket in front and on the back and fill with coir first), children's toys such as dump trucks and small wagons, old BBQ grills (remove grate first), yoga blocks (cut a hole out and add in soil and succulents), washing machine and dryer drums, cloth shopping bags, toasters, and glass containers such as mason jars and cookie jars (which can also be painted and decorated, but recommended for indoor use due to transparency).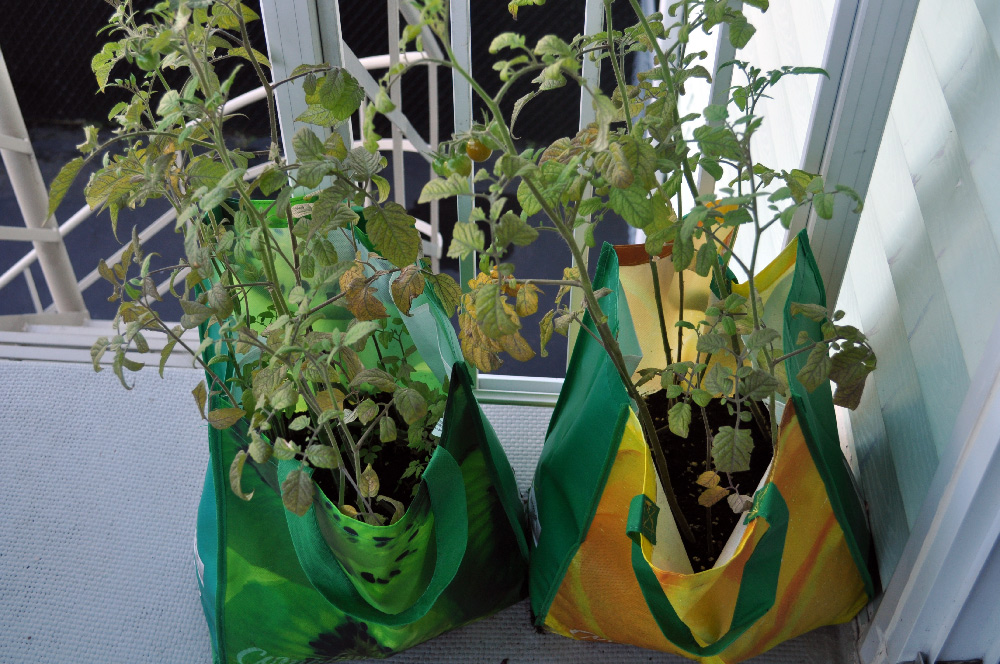 Safety Note: For any planter without drainage holes, simply get a drill bit and make your own. Use a diamond drill bit on ceramic, glass and stone pieces and wear safety glasses when drilling. For plastic planters, avoid using plastics marked with 3, 6 and 7. For wooden ideas, avoid using treated wood. Be mindful of glazed ceramics which may contain lead, and metal containers which may harbor toxic chemicals such as cadmium. If you're unsure of the safety of your planter – when in doubt, leave it out and don't use.
Happy planting!
Read more: Patio Farming: Growing Great Edible Gardens in Small Spaces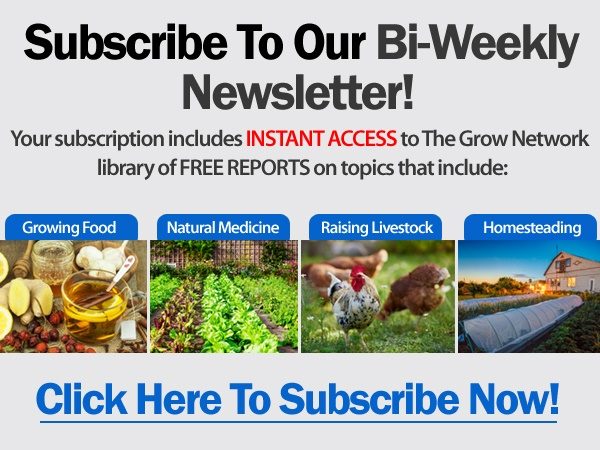 (Visited 967 times, 1 visits today)

Cat Wilson is a holistic health practitioner who loves plants and meditation. When she isn't working out or writing, you can find her hugging trees and talking to the wild weeds in her garden. Grab a gluten-free recipe or get some help with going vegan or mindfulness at her website or on her YouTube Channel: Cat's Raw Paw.

Tags: