I Get a Lot of Questions, and They're Changing
As a somewhat 'public' figure I get asked a lot of questions.
And lately there has been a dramatic change to the questions people are asking me.
I used to get asked all about growing food and medicine – what are the easiest plants to grow, what herb should I take for my cough, or what do you do for insect control?
But all of that has recently changed.
More and more, producers, editors, and tv hosts are asking me to talk about my business.
Answering Questions about My Business
As you know, I founded The Grow Network, which is becoming the biggest 'go to' resource on the web for everything related to producing your own food and medicine.
Apparently The Grow Network is getting a lot of attention for being successful in an area where others have failed. The biggest, smartest, and baddest digital markets in the US could never make the numbers work on a business focused on backyard food production. Think about it; I am mostly asking people top get off the couch, put down their smart phones, and go outside and work. It's not a sexy message. None of the professional marketers could get a profitable formula working in this niche.
Yet despite that, the Grow Network is not only growing, but expanding exponentially.
"What is your secret Marjory," Tom Martin of the American Preppers Network asked me in a recent podcast interview. "How did you do that?"
Rachael Yasser asked me the same question for an article she is writing for a major business magazine.
A "Sustainable" Business Must Also Be a Solvent Business
So I am little nervous to send you this email because I am usually focused so much on homesteading and herbal medicine ~ you know the "home grown food on every table" thing I keep talking about? Business is not my usual topic. And to be honest with you, while the business is growing really well, we are still in a fairly fragile state. Whew, if you are a small business owner than you can certainly relate to personnel and cash flow problems, huh?
But living sustainably also means making a living. And we need to create a vast network of small businesses focused on sustainability. I am very dedicated to helping more homesteaders and sustainability innovators develop successful businesses.
So I thought I would write to you about what has been the biggest factor behind the success of The Grow Network.
It is actually really simple.
The Secret to How I Manage My Business
I've been in a business school founded by an awesome coach. His name is Rick Sapio. Rick is a very experienced business man who has started, operated, bought, and sold, dozens of companies. Rick has been through it all; economic ups and downs, hiring and firing, lawsuits, big losses and big wins. After decades of experience, he really knows what works and what doesn't.
Rick has distilled everything he has learned into a set of principles and teachings called "The Business Finishing School".
Isn't that a great name? Starting a business is one thing, but actually 'finishing' it is another…
The tag line for the school is "a blueprint for exponential business growth and success." They literally have created a simple blueprint that any entrepreneur can follow. And I'll tell you from my experience, it works. The school has helped thousands of entrepreneurs double their revenue, spend more time with family, eliminate employee drama, and have more balance.
The Business Finishing School Bootcamp
Only twice a year Rick is available in person at a weekend event known as The Business-Mastery Bootcamp. At the Bootcamp, you'll get to see Rick in person and learn the principles that really make a business successful. It is a very rare opportunity to get this kind of direct access.
The 10th Bootcamp is coming up very soon: September 23rd to 25th, 2016 at the Marriott Quorum in Dallas, Texas. This event provides community, tactics, support, ideas, and accountability.
At this event, you will learn:
• How to implement the Business Finishing School principles into your business
• How to get your employees, venders, and clients fully aligned with your purpose
• How to leverage your resources to produce more with less, while creating more profits
• How to identify and break down the barriers that are keeping you from 10X-ing your thinking and your productivity
• And many more powerful principles!
Special Offer for a Limited Time
Because of my relationship with Business Finishing School, I'm able to share this event with you at a $200 discount. Please use promo code BFS300 at check out to receive your ticket for only $197.
Click Here to Reserve Your Seat for the Business Finishing School Boot Camp
https://bfs.isrefer.com/go/BMI/Marjory/
I regularly attend the Bootcamps and I can tell you that it is very powerful. It has totally been the framework for the success of The Grow Network.
Really, it is life changing.
If you are looking for a powerful seminar that will catalyze action and results in your business, then register to attend the next event by clicking here: https://bfs.isrefer.com/go/BMI/Marjory/
You can also speak with Ashleigh Mooney, Executive Director of Business Finishing School at 214-954-0302 ext. 2000 or via email at amooney@BusinessFinishingSchool.com.  And be sure to tell Ashleigh that Marjory Wildcraft sent you.  She will get a kick out of that. 🙂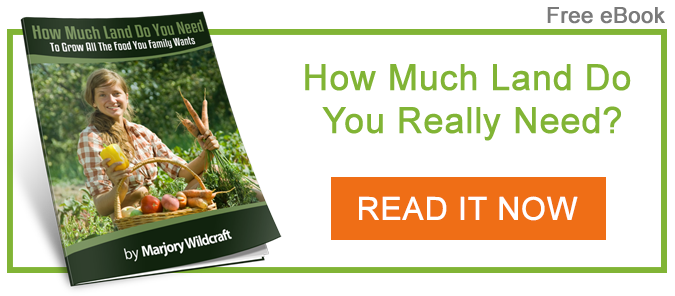 PS: If you are a business owner, I really hope you get into the program. Why? Because it would allow us to have a much deeper relationship. I am putting these principles into practice all the time and love engaging with others who are doing so too.  Maybe I'll see you at the Bootcamp?
(Visited 85 times, 1 visits today)
Marjory Wildcraft is an Expedition Leader and Bioneer Blogger with The [Grow] Network, which is an online community that recognizes the wisdom of "homegrown food on every table." Marjory has been featured as an expert on sustainable living by National Geographic, she is a speaker at Mother Earth News fairs, and is a returning guest on Coast to Coast AM. She is an author of several books, but is best known for her "Grow Your Own Groceries" video series, which is used by more than 300,000 homesteaders, survivalists, universities, and missionary organizations around the world.

Tags: