date_range
January 7, 2014
If you are going to raise rabbits, then eventually you'll have the problem of 'ear mites'.  It is pretty easy to diagnose; there is an ever growing build-up of gunk in their ears.  If left untreated, they get more and more lethargic, stop eating, and I am not sure what else because I've never let it get that far.  But I presume it eventually leads to a miserable death.
Bill is an older friend got me started in raising rabbits.  He gave me his technique on treating ear mites.  Bill uses drops of campho-phenique in the rabbits ears (campho-phenique is an over the counter medication for cold sores).  Bill told me not to worry about getting out the crud, just get the drops in down far enough to work, and the rabbit will scratch all the junk out.
As the mites die from the campho-phenique, they tickle the rabbits ears and sure enough, the rabbits would shake their heads and scratch out all the gunk.   It works.
I've successfully treated many rabbits with campho-phenique.
But always in the back of my mind I wondered, what would I do if I couldn't get Campho-Phenique?  Yes, yes, that old "store closing" concern.  But I am also in love with the idea of true self-reliance.  So I hit the web and checked out a bunch of options on home remedies using medicine I could grow or find myself.
I decided to try the "honey" method for treating the mites.  And I want to report that it is working very well.
Unlike Bills original method, first I used tweezers to clean out the biggest pieces of gunk from the rabbits ears.  I probably would have worked without cleaning it, but the big plug.  I just couldn't stand seeing it there.  I made a mixture of about a teaspoon of honey and two teaspoons of warm water.  I put about 2 or 3 dropperfuls of the honey mixture into each ear and massaged so it would get way down in there.
I applied this twice a day for the first few days and then switched to once per day.
It's been about a week now and I can see that this method is very effective.  The ears are almost completely clean and the rabbit is much, much happier.
Apparently, mites have a 21 day life cycle.
Why is that important?  Well, it means you have to make sure you treat for that long just to ensure you've wiped out every last possible egg or reproducing adult.  Here is a link to a handy pdf file describing ear mites, along with skin and fur mites too.  http://www.mybunny.org/info/mites.pdf   I will warn you though, the treatments they recommend are chemically oriented.  But the rest of the information is good and the photos of these microscopic creatures are fascinating.
I am planning to switch to applying the honey mix once every two days pretty soon.
FYI, yes, the rabbits fur just below the ears gets a little sticky when the honey mixture gets on it.  It dries out and stiffens there, but it is not a problem and doesn't hurt the rabbit.  Every couple of days I use a piece of cloth and some warm water to clean the area.
If this treatment ultimately doesn't work, I'll let you know, but from what I am seeing so far, this is an excellent home remedy for treating ear mites in rabbits.  The next time the problem comes up, I might try another home remedy just to test out different techniques.
Stay tuned!
If you've successfully treated rabbit ear mites, please do put a comment down below.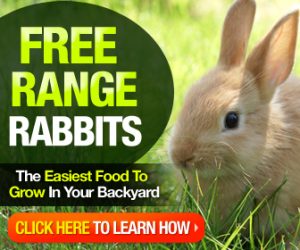 (Visited 1,956 times, 41 visits today)
Categorised in: Livestock, Rabbits, Raising Livestock
This post was written by Marjory