I have setup a phone interview with John Jeavons – yes, the man behind of amazing Grow Bio-Intensive gardening method – which is the most complete system for individual food self-reliance.  He is also the force behind all the research on family-scale food production over at Ecology Action.  And author of the bible on growing food "How To Grow More Vegetables Than You Ever thought Possible On Less Land Than You Can Imagine".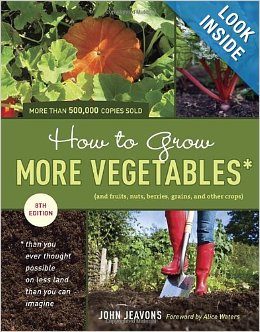 I told John that I would be collecting your questions for the interview.  What would you like to ask John?  Here are some of the questions I have (and I am working on a long list);
In the forward of the 7th edition, Alice Waters mentions a woman in Vancouver, British Colombia that is earning $400/wk growing gourmet vegetables on 1/16th of an acre using the principles of the mini-farm developed by Ecology Action.  That is pretty amazing.  How possible do you think that is for us listening on this call right now?
Why didn't they include animals in the system?  Is it because even small livestock such as chickens or rabbits are often too expensive for many of the parts of the world where the BI system is used?  Or because animals adds a level of complexity to quantifying the research?
Can John speak a bit about the concept of "peak soil"?  How does it happen, and where are we today?  Have we crossed a point where the planet can no longer support the population we have?
What does John think about home scale aquaponics systems?
Please enter your questions in the comments box below and I will post the interview as soon as it is recorded!
(Visited 126 times, 1 visits today)
Marjory Wildcraft is an Expedition Leader and Bioneer Blogger with The [Grow] Network, which is an online community that recognizes the wisdom of "homegrown food on every table." Marjory has been featured as an expert on sustainable living by National Geographic, she is a speaker at Mother Earth News fairs, and is a returning guest on Coast to Coast AM. She is an author of several books, but is best known for her "Grow Your Own Groceries" video series, which is used by more than 300,000 homesteaders, survivalists, universities, and missionary organizations around the world.