It was so shiny, and only $8.  I held it in my hands feeling both its weight and its lightness.  Maybe holding it a little longer would help me decide.
The last thing I need is an emergency tent.  I am quite confident of my ability to survive almost anywhere and it is highly unlikely I would have this thing on me if such an emergency ever came up.
I've got a wonderful story of surviving through a bitter cold night I'll share with you next Tuesday.   That experience was very empowering and helped me get a step away from needing 'stuff'.
So the attraction wasn't because it was a 'tent'.  Calling the thing a tent was marketing hype as it was really an over sized space blanket and a bit of nylon cord.
But there was this strange attraction to it.  "Maybe because it is shiny", I thought.  Who doesn't love shiny things?
But I easily turn down the zillion shiny things my daughter suggests we absolutely need.  So while I am not exactly immune to 'shiny' I felt this pull was something else.
One of the fun aspects of speaking at Expo's across the country is getting to meet the vendors and see all the cool stuff being offered.  And so here I am standing around at this booth holding this 'tent' with a strong desire to buy it and no real apparent need for it.
There are many times in my life when I've had a strong desire for something with no logical basis.  And I usually act on it.  It seems that most of the time it works out amazingly well.  And, there are enough mistakes to keep me humble – and uncertain.
My husband isn't much into supporting purchases based on intuitive leaps.
So what did I do?
I bought it.
Skip forward to the potatoes in tires project.  Hey, they are growing really, really well.  I've put on two more tires to the stack.  So far, this experiment is very promising.
Check out these update photo where I am adding th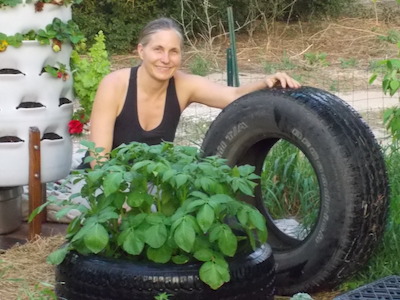 e second and then the third tires.
But recently it has been getting warm and black tires get even warmer.  I needed to either paint them or cover them or something….  Now where is the white paint?  And the brushes?  And what about all the mess that will involve…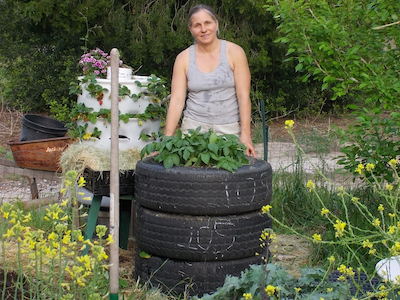 Hey, what about that space blanket tent?  So that is where it is being used right now.  Kind of looks like a little lunar space pod in my 20/20 research garden.
And click here to see the original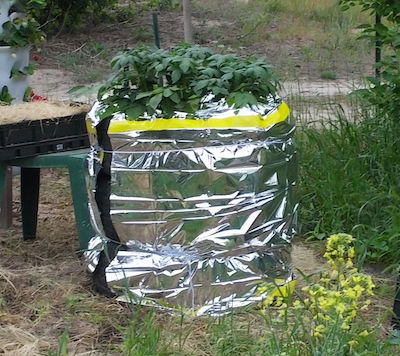 video where I setup the experiment to see if growing in tires was 1) a good gardening technique, and 2) if the resultant poduce has any toxicities from the tire.  Here is the link to that first video if you missed it.
http://growyourowngroceries.org/experiment-to-determine-if-growing-in-tires-is-toxic/
I am still trying to figure out where in the heck to send the potatoes once they are grown.  You asked me about Mike Adams at the Natural News and I have tried contacting him several times.  Could you drop him a line and tell him to contact Marjory Wildcraft about the potatoes test?  Leave a message for Mike at this link http://www.naturalnews.com/Contact-Us.html   Maybe it we both keep bugging him we'll get a response.
I'll keep you updated on the progress of the experiment.  It should be harvest time in about a month.  Stay tuned!  And if you aren't subscribed already, sign up now.  You'll be the first to know the results.
(Visited 424 times, 1 visits today)
Marjory Wildcraft is an Expedition Leader and Bioneer Blogger with The [Grow] Network, which is an online community that recognizes the wisdom of "homegrown food on every table." Marjory has been featured as an expert on sustainable living by National Geographic, she is a speaker at Mother Earth News fairs, and is a returning guest on Coast to Coast AM. She is an author of several books, but is best known for her "Grow Your Own Groceries" video series, which is used by more than 300,000 homesteaders, survivalists, universities, and missionary organizations around the world.