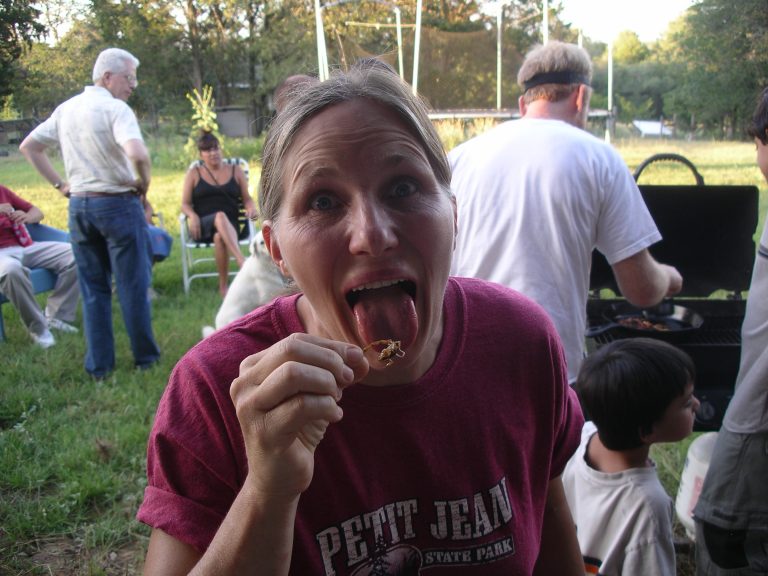 Imagine if you could step out your door anytime you want and grab some of the most nutritious food there is, full of omega-3 fats, protein, and fiber. Sustainable food that you don't have to grow or tend to. Tasty food that you can find and enjoy in almost every climate. Such a food exists, and it is a common traditional food source in 80% of the world's cultures – pretty much everywhere on earth except in North America and Europe. According to the United Nations Food and Agriculture Organization, over 2 billion people worldwide regularly eat this food.
So what is it? You guessed it… bugs!
You might have heard that the 8th Annual Bug Eating Festival took place this weekend in Austin. Marjory started this event 8 years ago with her friend Allen Davisson, who is an expert on edible bugs. We didn't want those of you who live elsewhere to feel left out, so we decided to send out this offer.
If you're like me, the idea of eating bugs is… well… kinda gross. But in an emergency, knowing which bugs are nutritious and edible would be an extremely valuable skill. And this isn't just about emergency survival – it's about sustainability. Bugs can be mass produced with a tiny fraction of the space, food, and water required to produce the same amount of beef. Nutritionally, ecologically, and financially – eating bugs just makes good sense. Many food experts are predicting that eating bugs will become commonplace in Western cultures in the very near future. Crickets, grasshoppers, mealworms, and more. And, if you're trying to eat a paleo diet, this as about as paleo as you can get.
Marjory's friend Allen Davisson has put together a great resource to inform you about eating bugs, and to help you get past the "yuck factor." It's called The American Bug Eater's Handbook, and it includes a 40 page eBook and a half hour video, all about eating bugs. He can show you which bugs are safe to eat, which bugs taste the best, and which bugs you should avoid. This is a terrific resource for preppers, and it's a great start for people who are curious about eating bugs for ecological sustainability and nutrition. In this eBook and video, Allen clearly explains all of these important points:
– What do bugs actually taste like
– Which common bugs are always safe to eat
– How to catch enough bugs to survive
– Which bugs taste best (and which should be saved for survival situations only)
– How to attract insects
– How to farm insects as a regular food source
– Which bugs can be eaten raw (and which bugs should not)
– Campfire recipes to turn bugs into a gourmet meal
– And more!
Whether you are interested in foraging for bugs, or farming them, Allen's eBook and video contain all of the information you need to get started. Allen has agreed to sell the entire package to you for the very low price of only $7.
Click Here to Order The American Bug Eater's Handbook
(Visited 198 times, 1 visits today)