Justin Rhodes is a permaculture homesteader in North Carolina who focuses his work on finding the best, most sustainable, most natural way to raise chickens. He studied under Geoff Lawton and Pat Foreman, and he soaked up every bit of chicken knowledge he could find.
Last year he launched a Kickstarter campaign to fund a movie about keeping chickens on a permaculture homestead – and it was a huge success. His project was fully funded, and it was picked as a "Staff Favorite" by the employees at Kickstarter. Justin's full-length feature movie Permaculture Chickens made its public debut in December.
Free Permaculture Chickens Videos
Now he's offering a series of four educational videos for free, along with some great free bonus resources. You can watch these informative videos for free – they tell Justin's personal story, and they're full of good information about how to keep a flock of chickens using natural, sustainable practices that are consistent with the ideas of permaculture.
Here's an overview of what's included in the free videos:
• Putting Chickens to Work for You (hint, hint… they can give you much more than eggs and meat)
• How to Get Started Quickly and Easily (in just one weekend)
• DIY Mobile Chicken Coops
• How to Cut Your Feed Costs (by 100%)
• How to Learn Everything You Need to Know About Raising Chickens in One Evening
And here's an overview of the free Bonus Resources that are included when you sign up for the free videos:
• Why Chickens – a micro-documentary featuring Joel Salatin, Pat Foreman, and Lisa Steele
• DIY mobile chicken coop plans for Justin's "Chickshaw" and Chicken Tractor
• Access to the "Getting Started" chapter of the movie Permaculture Chickens
• PDF action plan for cutting feed costs 100%
Sign Up for Free Access
You can sign up to get free access to Justin's four free videos below. When you sign up, you will receive an email with a link to watch the first video. Then you'll get links to the other videos over the next few days. Enjoy the free videos!
Click Here to Sign Up for Four Free Videos (and Bonus Resources)
After you watch the four free videos, you'll have the opportunity to buy the entire Permaculture Chickens video. As Justin's affiliate, the Grow Network will receive a percentage of any sales made as a result of this promotion.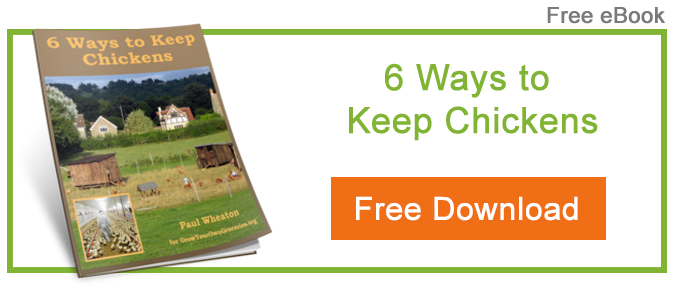 (Visited 415 times, 1 visits today)