Read This Month's Inside Edition
October 2018
The 6 Best Strategies for Preserving Your Garden Produce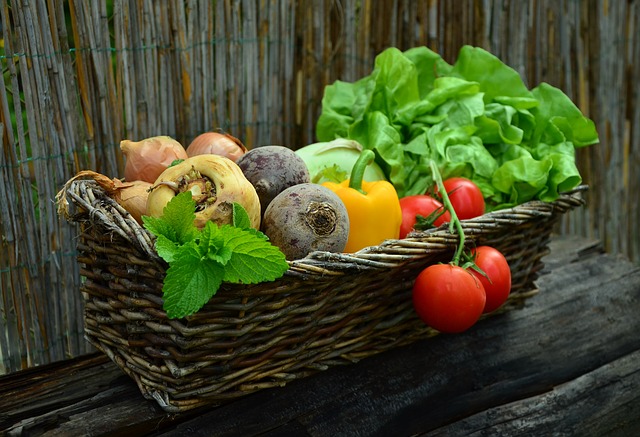 Your garden is thriving and you're feasting on salads each night. That's great, but the growing season is short and there's only so much produce you can eat each day. If you want to reap the rewards of your harvest for longer than the summer months, you'll need to find a way to preserve it.
But where to start? There are numerous ways to put up garden produce, and they vary in effectiveness, longevity, and even nutritional content of the final product. Let's look through the details so you can find the best method for your situation.
Depending on where you live, what your out-of-season eating requirements are, and whether you are a fan of kitchen prep work, your ideal garden-produce preservation strategy might vary. Below are some proven ways to preserve your bounty so your family can celebrate your hard work at dinnertime all year long.
#1. Freezing
If you have space, it's hard to beat the convenience of a deep freezer for keeping your vegetables fresh. Almost all food can be frozen, so long as you follow a few essential tips:
Wash and dry all produce before freezing it (any extra water content will become an icy nuisance).
If you're freezing fruit that has a pit (like peaches or cherries), be sure to remove these seeds first. This will save you from a potential knife injury later!
Don't toss fresh produce directly into a zipper-lock bag and into the freezer. Instead, slice everything into small pieces and flash freeze it on a baking tray lined with freezer paper. Once frozen, toss the slices into bags. This way, they're less likely to stick together.
Some vegetables (like greens, broccoli, potatoes, and beans) stay fresh best if they are blanched1)

http://www.howto-simplify.com/2010/04/friday-series-how-to-simplifyblanching.html

before you freeze them. Blanching means to partially boil the produce before quickly cooling it to slow down the cooking process.
Tomatoes are ideal for freezing, especially if you plan to stockpile your supply for a later cooking project. Freezing them also makes it easier to remove their skins; just run the frozen tomatoes through hot water and then peel them.
#2. Canning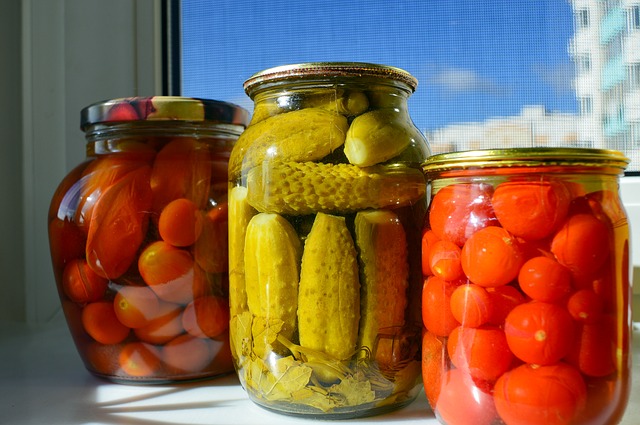 This traditional homesteading technique is making a comeback, and today, more people than ever are discovering the joy of dipping into home-canned dilly beans and garlic pickles. Not only is canning creatively fulfilling, but it is a stellar method of preservation that doesn't put you at the mercy of needing electricity to run your freezer. So long as you carefully follow food safety standards,2)https://www.foodsafety.gov/blog/2016/06/canning-botulism.html there's little risk of contracting botulism.
There are 2 accepted methods for canning today: water bath canning and pressure canning. Water bath canning requires you to boil home-canned mason jars in a pot of hot water for a specified amount of time. This lets you kill off any bacteria a jar contains and seal it so that it's shelf-stable. This method works best for fruits with a pH level of 4.6 or lower, though most recipes require you to add vinegar or lemon juice to boost the acidity further.
Pressure canning, in contrast, brings the water in the canner to a higher temperature than standard boiling, which is necessary for killing off some of the hardiest harmful bacteria. Meat, fish, and most vegetables have a pH over 4.7, so they need to be pressure canned. You'll need a quality pressure canner with a weighted gauge and locking lid to complete the process—and it's important to read the instructions carefully, as misusing a pressure canner can cause pressure to build up to the point that the lid blows off. Thankfully, modern canners come with enough safety features that you're unlikely to experience an explosion.
#3. Vacuum Sealing
If your goal is to extend the life of your food while leaving it as untouched as possible, vacuum sealing might be a preservation strategy worth exploring. This technique was first used as a cost-saving mechanism by food packaging companies in the 1940s,3) http://vacuumsealersexpert.com/history-behind-modern-vacuum-sealer and it's a proven way to prevent the oxygen exposure that causes food to spoil.
Vacuum sealers work by removing as much oxygen as possible from plastic bags in a process called reduced oxygen packaging (ROP). This hinders bacterial growth and prevents freezer burn. While you'll still need to refrigerate perishable ingredients, vacuum sealing will extend their lifespan more than 5 times over.
There are two kinds of vacuum sealers available for the home preserver: handheld sealers and countertop sealers. While you'll pay more for a countertop sealer, they tend to be a more efficient option and are ideal for preserving larger quantities of produce. Handheld sealers work better for smaller batches, as the process is more cumbersome than with larger models.
Before using a vacuum sealer, be sure to clean your workspace so that bacteria don't contaminate the packaging. Seal your produce when it's as fresh as possible, and consider blanching fibrous vegetables first so that they retain their flavor. Always wipe down the counters between ingredients to prevent contamination. It's also smart to offset the odds of food spoiling by adding oxygen absorbers (small packets of iron powder) into the packaging. This prevents air molecules from contacting your food.
#4. Dehydrating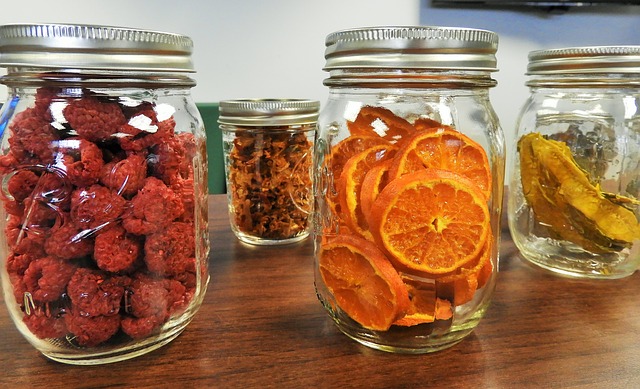 Considered to be the world's oldest form of food preservation, dehydrating your fruits and vegetables is a low-tech way to preserve them. Best of all, you don't need anything fancier than a clean surface and some sun to find success with dehydrating. Dried food will last for months without any preservatives, and the process concentrates the produce's flavors within each bite. Best of all, dehydrating food is space-efficient, as the finished product is approximately a sixth of the size. This makes it a perfect preservation method for processing bulk harvests, farmers' market deals, or garden-grown herbs for stocking your herbal medicine supply. You should especially consider turning to a dehydrator to preserve your cherry tomatoes, apple harvest, or any berries that come your way.
The most efficient method is to use a dehydrator, which circulates hot air around your food so that it dries at an even rate. For the best results, you'll need to prepare your produce in thin, even slices and align it on drying racks so that nothing touches. The time necessary depends on the moisture content of the food, but you can typically expect it to take between 4 and 12 hours. An oven set at a low temperature will also work, but it will use significantly more energy than a dehydrator.
Ready to get started? Check out these five dehydrator recipes for inspiration!
#5. Fermenting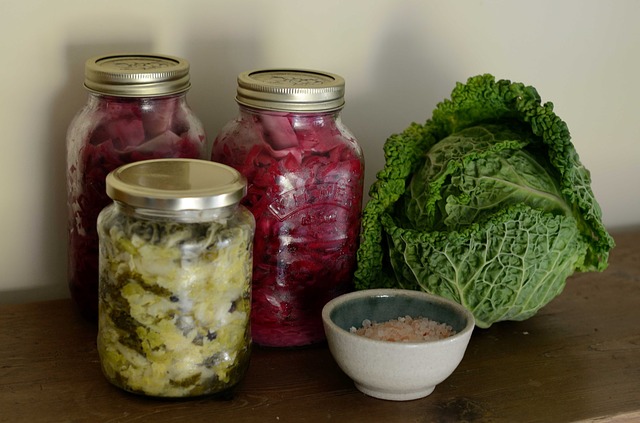 Fermented foods are booming in popularity, and for good reason. People are paying more attention to their probiotic levels, and indulging in homemade kimchi is a smart way to maintain healthy microbes in your system.
Letting beneficial bacteria colonize your cucumbers and cabbage turns them into nutrient-rich pickles and sauerkraut that will do more for the health of your digestive system than any store-bought brand. That's because store-bought pickles are typically pasteurized, meaning that they undergo high-heat conditions that kill off friendly microbes before they can make it into your digestive system.
You'll get better results from using a fermentation crock for home fermentation. These classic kitchen tools range in size from 1 liter to 10 gallons or more, and they can be used to enhance the nutritional content and enhance the shelf life of almost anything you grow in the garden, including full corn on the cob.
#6. Freeze Drying
If you're tired of throwing away food from your refrigerator because you don't get to it in time, then freeze-drying is an innovative preservation strategy that will genuinely add decades to the lifespan of your food. Freeze drying allows you to store raw ingredients, fully cooked meals, and even bread and other baked goods for up to 25 years.
You'll pay a premium up front for your freeze dryer (about $2,000 for a Harvest Right),4)https://harvestright.com although one machine can make up its cost in food savings in a matter of years.
Lyophilization, the scientific term for freeze drying, is the process of removing water from food by shifting its water content directly from a solid to a gas (no liquid stage). Freeze dryers accomplish this by flash freezing food so that the water content forms ice crystals. Then, the freeze dryer converts into a vacuum that turns the crystals into a vapor as a low-temperature condenser plate pulls the gas from the chamber. This eliminates almost all risk that the food can spoil—without compromising its quality.
Since freeze drying can take up to 2 days to complete, it's best to fill your machine to maximum capacity for every cycle. But don't let the long wait time dissuade you; freeze drying is entirely hands-off once you load up your trays and press start. The final product can be eaten as-is or "cooked" again by rehydrating the food with water to restore the texture so that it is similar to fresh food.
Why go through the process of freeze drying your food? This preservation strategy has plenty of advantages:
Minimal Equipment Required: All you need is a freeze dryer and plastic storage bags; no cumbersome canning jars required.
High Nutritional Content: Freeze drying lets you preserve food at peak freshness, and up to 97% of the nutritional content remains intact.
No Added Ingredients: You won't alter your food's flavor or nutritional content by adding preservatives.
"Natural Looking" Appearance: Canning and dehydrating can lead to shriveled, dull-looking produce. Freeze drying, in contrast, lets you maintain your food's natural shape and color, making it far more appealing on the plate.
Simple to Store: Freeze-dried foods weigh a fraction of their fresh weight, and when vacuum sealed they are impressively space efficient.
For the best results, consider blanching your veggies beforehand and making soups slightly thicker than the recipe calls for (yes, you can freeze dry soup!). Bread and baked goods can also be preserved, so long as they don't have a high sugar or butter content.
Bonus: Compost Food Scraps with a Bokashi Composter
Even the best preservation regimen is likely to leave you with unused food scraps, but that doesn't mean you can't still put them to use. If you want to explore the potential of a kitchen-friendly composting system, consider trying a bokashi bucket. This tool lets you build up quality soil without being strict about your ingredients, and the process is entirely odor-free.
Bokashi5)https://www.thespruce.com/basics-of-bokashi-composting-2539742 is a Japanese composting strategy that uses an inoculate (usually bran) to ferment almost any kind of food scraps. Unlike standard composting systems, using a bokashi bucket pickles your food scraps in low-oxygen conditions that leaves you with a quick-forming, nutrient-dense soil additive that's filled with microbes.
The bokashi composting process is simple. You will start by adding food scraps to the bottom of a bokashi bucket and sprinkle a handful of a specialized inoculant on top. Continue to build up layers over time, keeping the bucket closed as much as possible to ensure the process stays anaerobic. Once the bucket is full and you smell a faint pickle odor when you open it, dig a hole in your yard away from plant roots and bury the scraps. Allow things to mellow for several weeks before digging up the scraps and incorporating them into your garden. Your plants will appreciate the effort!
Gain Garden Insight With The Grow Network
Growing your food is half the fun—the next challenge is knowing what to do with it. Hopefully, these food-preservation strategies will give you some inspiration to get started. If you need more ideas for what to do with your bounty, The Grow Network is a stellar resource. We have articles that cover everything from how to make homemade fertilizers to strategies for natural bug repellents that will let you stay in the garden longer.
Look through the website today, and you'll come away inspired for improving your self-sufficiency.
Save
Save
Save
Save
Save
Save
Save
Save
Save
Save
Save
Save
Save
Save
Save
Save
Save
Save
Save
Save
Save
Save
Save
Save
Save
Save
Save
Save
(Visited 247 times, 1 visits today)