Chayote Squash are Delicious!
This is my second year growing chayote squash and I'm thrilled to have them making their way into the kitchen.
I think it's quite unfortunate that they're called "squash," since they taste nothing like a squash. Chayote taste more like a crisp cucumber mixed with a hint of pear and fresh green beans. Juicy and refreshing — more like eating a mild fruit than eating any other squash.
This is understandable, since they're in the same family as melons and cucumbers. Some have called chayote squash "vegetable pears," which isn't a bad nickname. They'd certainly fit much better in a fruit salad than zucchini would.
More from David the Good: 10 Reasons to Garden NOW!
How to Grow Chayote Squash
Growing chayote isn't hard if you have a long enough warm season (I've read 150 days). I originally planted mine in March of last year at the base of a pomegranate tree off the back porch.
They ate the tree.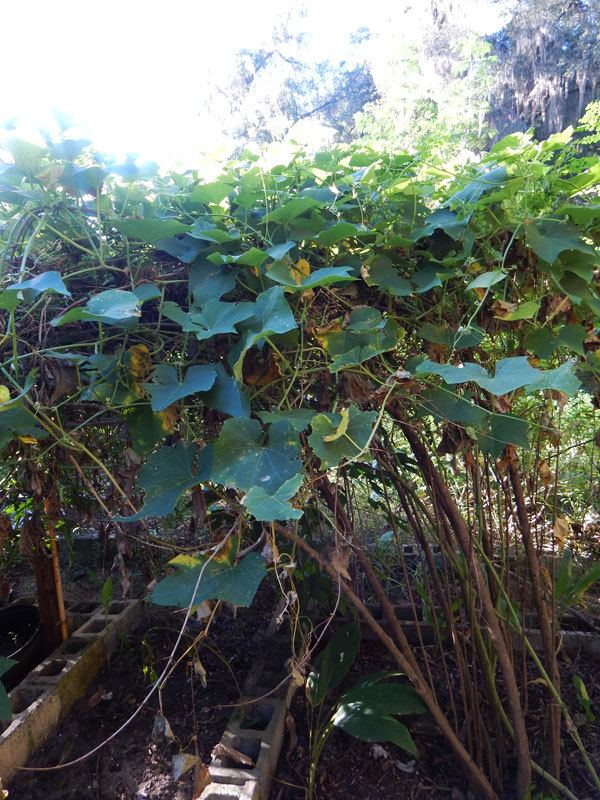 This is fine, because by the time they climbed over the top of that pomegranate, I already knew it wasn't going to produce fruit that year. The pmegranate blooms had dropped, so I said, "forget it! Thou art a chayote trellis, non-bearing knave!"
Chayote really are beautiful. Here is a still growing chayote fruit, almost ready for harvest: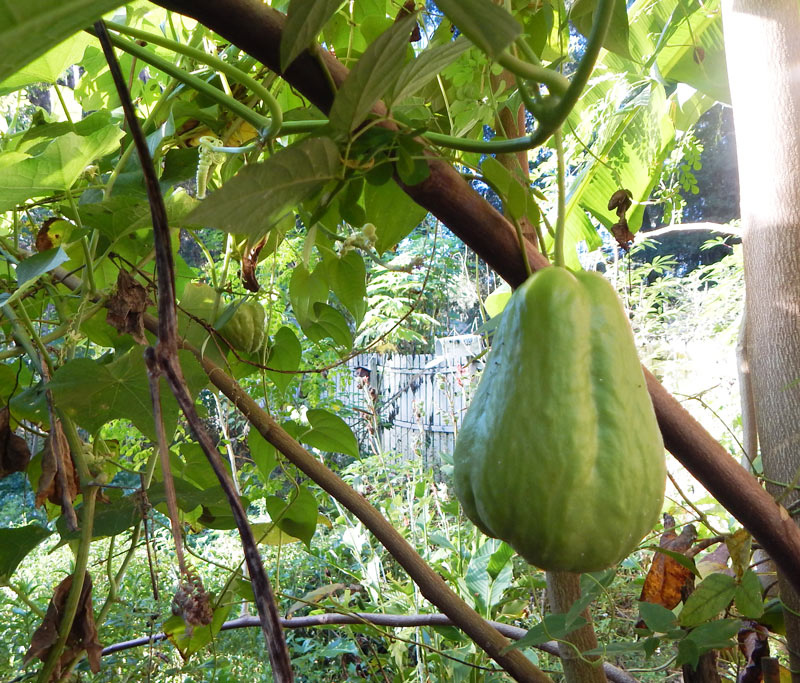 What Makes Chayote Squash Unique
Unlike their squash cousins, chayote don't produce seeds. Instead, the entire fruit surrounds a single embryo in the middle. To grow a new vine, you need to plant the fruit itself. I buried mine half-way in the ground and they did fine.
Here's what mine look look coming back from the ground, plus I show you how I plant them:
Chayote Make a Great Pass Along Plant
These chayote originally came from my friend Joe Pierce of cob oven fame. Since frost will take a chayote squash vine to the ground, he puts some of the final fruits of fall on the porch and lets them sit until spring when they can be planted out again.
They'll grow big crazy vines right out of the end of the fruit… very strange.
Read more: How to Make Composting Easy
Using Chayote Squash as a Perennial
Growing chayote squash as a perennial is possible in warmer areas of the country (probably zone 8 and warmer). The vines come back fine for me even after nights in the low 20s. Chayote don't start setting fruit until the fall, so if you live too far north (say, past Georgia) it may be impossible to get a good yield. (Let us know if you've heard differently, or if you have luck — I always love to hear gardening stories.)
Mother Earth News did a good article on chayote a few decades back and the link is here. Lots more info worth checking out. It has the potential to be a remarkably productive plant — I've heard of folks around here getting close to a hundred fruits and having the vines climb way up into the oaks.
Though I'll bet I'm the only one growing them on a pomegranate tree.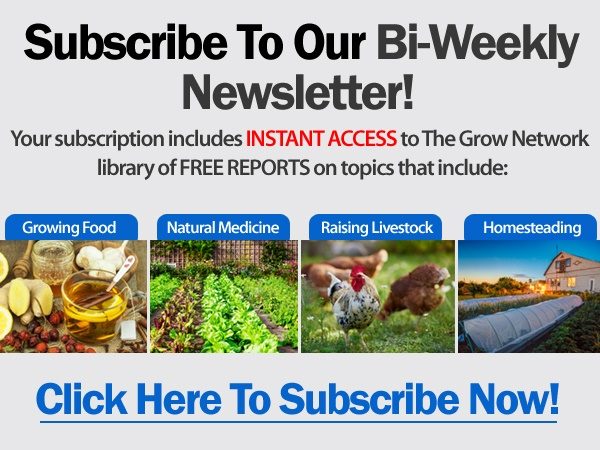 (Visited 4,752 times, 1 visits today)
Tags: