Are food contamination epidemics on the rise?  Below is a chart of microbial food epidemics in the US from 1993 to 2008.  The chart was created by Dr. Phillip H. Howard, who is an associate professor with Michigan State University.  Dr. Howard says the timeline only includes large epidemics that affected multiple States.  Dr. Howard also mentions that the data is very incomplete due to under-reporting (i.e. it is probably much worse).
For the complete interactive chart, go to https://www.msu.edu/~howardp/foodborne.html
Don't you think it is time to start growing your own groceries?  Click here to buy the video set:  http://www.GrowYourOwnGroceries.com/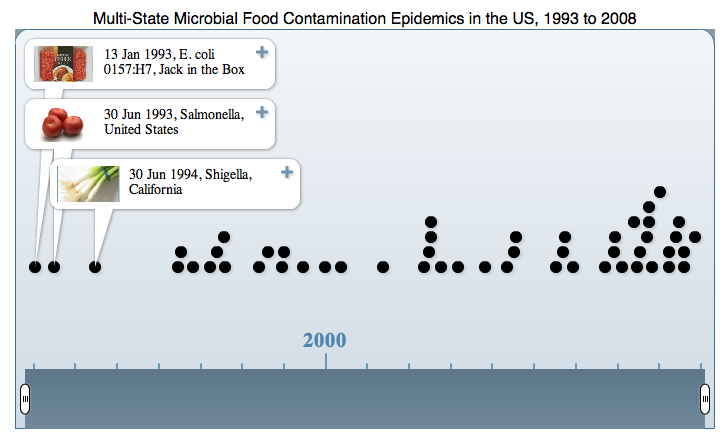 (Visited 83 times, 1 visits today)
Marjory Wildcraft is an Expedition Leader and Bioneer Blogger with The [Grow] Network, which is an online community that recognizes the wisdom of "homegrown food on every table." Marjory has been featured as an expert on sustainable living by National Geographic, she is a speaker at Mother Earth News fairs, and is a returning guest on Coast to Coast AM. She is an author of several books, but is best known for her "Grow Your Own Groceries" video series, which is used by more than 300,000 homesteaders, survivalists, universities, and missionary organizations around the world.