Are you afraid of a pressure canner?  What if the thing blows up?
They are quite intimidating with all those latches, that ominous gauge, and that hissing steam vent.
But being able to preserve food is a really useful skill.   And a joy!  Every day I get a little jolt of happiness at the sight of my pantry lined with jars of homegrown food.
It's also a big part of my backup plans.  Not only for backup food, but also the plan for 'in case the freezer goes out'.  I remember seeing a news segment after a big storm and the camera zoomed in big hunks of dripping meat that were spoiling and would be wasted because the power was out.  That won't ever happen at my homestead.  I'll either be canning that meat or drying it.  But it dang sure isn't going to waste.
I was recently sent a video about home canning to review.  Kendra and her husband decided to take the off-grid plunge is 2008 and they've been on an adventure towards self-sufficiency ever since.  In addition to a blog chronicling their journey, Kendra also has started a small homestead business.  Kendra is quite experienced with home canning and she has a DVD that shows you how to do both water bath and pressure canning.
The videography is sharp with a clean and simple style that is easy to watch.  Kendra is, well, attractive, and she demonstrates the processes very clearly.
If you have any concerns about using these big machines, watching Kendra's gentle ease as she works with the equipment will definitely inspire you.
It's a long DVD – almost 2 hours worth.  It's not meant to be watched all in one sitting.  The best way to use the video is pick one of the many recipes Kendra offers, get the ingredients and the equipment, and jump right into that chapter of the video and follow along.   Kendra shows the full process for each recipe – especially repeating the safety precautions.
Here is a list of what Kendra will show you
Apple Jelly
Applesauce
Blueberry Pie Filling
Grape Juice
Spaghetti Sauce
Green Beans
Dried Beans
Ground Beef
Chicken
Chile Con Carne
Chicken Soup
Beef Stew
The information is really empowering for those that have not done any canning before.
Click here to get a copy of Kendra's video http://newlifeonahomestead.com/at-home-canning-dvd/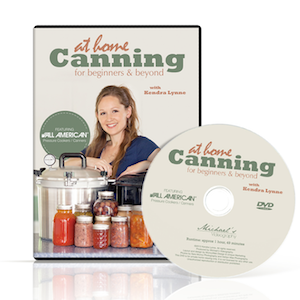 (Visited 147 times, 1 visits today)
Marjory Wildcraft is an Expedition Leader and Bioneer Blogger with The [Grow] Network, which is an online community that recognizes the wisdom of "homegrown food on every table." Marjory has been featured as an expert on sustainable living by National Geographic, she is a speaker at Mother Earth News fairs, and is a returning guest on Coast to Coast AM. She is an author of several books, but is best known for her "Grow Your Own Groceries" video series, which is used by more than 300,000 homesteaders, survivalists, universities, and missionary organizations around the world.