Communicating with Your Animals
He was running at me full on.  I stopped him at arms length by grabbing his neck.  This was true one on one animal communications.
I then shook him; not hard enough to hurt him, but firm enough that he knew I could break his neck if I wanted to.
My two eyes looked into his one for a long moment and then I slowly released my hand.  The communication between us was absolutely clear and he understood.
Training Male Geese
I have a new young flock of geese and it is almost a rite of passage that the leading male would someday challenge me.  He was almost full grown and the biggest of the flock.  And now he was testing his boundaries and wondering just how much authority he had in the world.
I feed, water, and protect them and I am very clear about our relationship.  And now he and the rest of the flock were clear too.
I will sometimes sit very still and let the geese come and look me over very closely, and even do some exploratory nibbles.  Is that grass on her head edible?  What do her changing feathers feel like?  How does she make the long snake spit water?  They are very curious, but never aggressive.  Especially now that we've 'talked'.
Another reason to raise geese: The Barefoot Friendly Project; Transforming Harsh Land
Animal Communications – More than Just Talking
There are many different levels of communication between species.  And in fact you are communicating with all of the plants and creatures around you all the time.  Although you are probably not as aware of your message as they are.
The phrase "inter species communication" normally conjures up images of specially gifted mystics.  Maybe some one who can hear something we can't – it's just out of our frequency range.  Or perhaps it is a magical ability like the psychics who can also conduct seances to talk with loved ones now past into the world of the dead.
But communicating with plants and animals doesn't have to be supernatural.
I am not discounting the direct 'knowing' levels of communication.  And yes, if you were to focus on developing that ability over time, those intuitive levels of communication may very well open to you.  In fact, I think it happens quite naturally for anyone who spends enough time in their garden or working with their livestock.
But most inter-species communication is much more practical and easy to understand.
It's Not Magic, It's Physical
Have you ever heard the saying "your actions speak louder than words"?  The physical level of communication is extremely effective and is within reach of anyone, without any training.  Not to mention, it is something you are doing all the time anyway.
There are estimates that some 90% of communication is non-verbal. These are studies referring to human to human communications, but it applies to plants and animals too.  Your body posture, the quality or cleanliness of your clothes, your hand gestures, and the expression on your face, the smell your body is emitting – all of this communicates your mood and intentions.
There is also some degree of reality to that "vibe" you put out that others pick up on.
Different Ways of Communication
There really are many ways of communicating.  And this is quite useful since most of the other life forms on this planet don't quite vocalize the way we do.
For example, once I had shaken that goose, he stepped back quickly with his head slightly tilted expressing a bit of shock.  When he was a few feet away, at a safe distance away from me, he began to compose himself by preening his feathers.
Watching him made me laugh at the recognition of an almost universal response after an altercation; that of grooming.  Embarrass a cat and it will almost immediately start licking its fur.  And humans once separated will start straightening their clothes and smoothing their disheveled hair.  A hen getting up from the rooster's rough attentions indignantly ruffles her feathers back into shape.
My laugh was not derogatory, but served as a peace offering sound and let everyone know all was well in the world.  The rest of the flock who had been watching this with interest now cackled back in response, and everyone started moving off to find something else to do like nibble at some nearby grass.
Learning from Your Animals
I had learned about the power of laughter between species from two ferrets.
Don't ask me why we have two ferrets.  We certainly don't need any ferrets.  And we don't really want two ferrets.  I can't honestly think of any good reason to have ferrets.  But I have a young daughter who gets money for working, and she was convinced that buying ferrets was the best use of her hard earned funds.  Sigh.
Since we have the ferrets (ah, the relentless pressure of children), I can't help but be fascinated by them.  One thing that interests me is that when I let the ferrets run free in a new area where they aren't normally allowed in, they get so excited.  They jump around and make a funny sound sort of like a cross between a grunt and a gurgle.  That sound is so captivating (I've been trying to catch it on video and when I do, I'll get it to you).  But what was it they were doing?
Then one day it occurred to me they were laughing with joy!  The ferrets definitely share the playfulness of their cousins the otters.  They are amazingly good-natured creatures and love having fun.  "Mommy they exude cuteness," my daughter explains.  (They exude a few other things too but I won't go into that here.)
But the ferrets were so happy they would laugh out load as they ran and played.
Sometimes they playfully come up and nip my feet and then bound away – chuckling the whole time.  I stand there dumb founded at the audacity of these eight ounce bundles of silliness daring themselves to play with a giant.  It's completely disarming.
My daughter is right, they do exude cuteness.
Read about my daughter's other pet: The Perfect Natural Camouflage
Pay Attention to Signals from Your Animals
The ferrets got me in trouble with the chickens.  One morning I decided to let the ferrets run about with me while I was working in the garden.  And as the ferrets did their jumping and playing and investigating they naturally came across the flock of chickens I keep for eggs.  Although these ferrets are pets and probably would never consider eating anything but the store bought supplies my daughter gives them, they were recognized by the chickens for what they are; carnivores.  And the chickens were upset.
The flock is free range so they moved off to another part of the yard.  But later that day when I saw the chickens again the rooster rushed me.  I easily kicked him back.  But from the way he looked sort of satisfied and did not come at me again, I became ashamed of my earlier annoyance.  The rooster had been trying to get my attention in about the only way a rooster knows how.  I was mystified what he was trying to communicate.  And then it dawned on me, he was letting me know how upset the chickens were at the ferrets being loosed in their space.
Read more: Channel Your Mama-Energy for Healthy Homestead Animals
Tell Pests to Leave Before You Kill Them
Before we built our home, our little family lived in a 20×20 room above the barn.  Mice also had quite an attachment to that room.  My husband whom I don't normally think much of a big communicator totally shocked me with his solution to the problem.  He started by stomping around growling at the top of his lungs in the meanest bad-ass animal sounds I've ever heard come from a man.  He did this for quite a few minutes making sure to visit each corner to insure his message was being received.
Then he set out some traps.  But I think the mice got the message from his growls for we didn't trap many and generally weren't bothered by them again.  From then on, if an occasional new mouse showed up my husband would repeat the warning and that usually took care of the problem.
We aren't always successful with communications.  I've tried communicating with fire ants for many years without success.
Dealing with Predators – Livestock Guardian Dogs
As you start to develop systems for producing your own food, you'll notice that lots of other creatures like your food too.  After years of losses of both livestock and plants I came to the see how extremely useful a pair of good dogs could be.  In no way am I a professional animal trainer, and I had never been a "dog person," but using dogs to protect your food supply made so much sense I had to learn.
The dogs live to chase off deer, raccoons, squirrels, and other dogs.  They will harass snakes, bark at hawks, and hold off a pack of coyotes until I can get there to help.  They don't mind working all night while I sleep.  And they consider themselves well rewarded by a bit of praise and the scraps I toss them.
In the Grow Your Own Groceries video set, I have a section that goes into detail of how to work with dogs – and of course, you can pick up a copy at this link: http://growyourowngroceries.com/.
Embracing New Relationships
Opening up my relationships with other living beings beyond humans is one of the many pleasures of growing my own food.  Let me know your interest level and I'll write more about inter-species communication.  Talking with plants is not quite as direct and requires more sensitivity, but can definitely be developed.  As with animals, learning to communicate on the physical level with plants is the easiest way to get started.
Drop me a note in the comments section below to let me know if you're interested in communicating with plants.  I'm sure you have some interesting stories to tell…
I am also intrigued with communication on even more subtle levels; working with energetics or nature spirits as was reputably done at Findhorn, for example.
And then there is that other topic to deal with; how can I love the creatures I am raising knowing their fate is that I will kill them and eat them?  It is a difficult question that I struggle with and would be delighted to discuss with you.  Again, let me know your interest by putting a quick comment down below.
3 Part Series about Ethical Meat: Have You Ever Been to a Hog Killin'?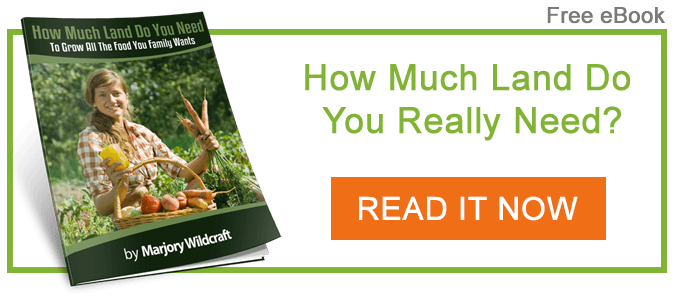 (Visited 439 times, 1 visits today)
Marjory Wildcraft is an Expedition Leader and Bioneer Blogger with The [Grow] Network, which is an online community that recognizes the wisdom of "homegrown food on every table." Marjory has been featured as an expert on sustainable living by National Geographic, she is a speaker at Mother Earth News fairs, and is a returning guest on Coast to Coast AM. She is an author of several books, but is best known for her "Grow Your Own Groceries" video series, which is used by more than 300,000 homesteaders, survivalists, universities, and missionary organizations around the world.

Tags: