Raising Meat Chickens



Here's Complete Access To "Raising Meat Chickens – Digital Edition"
Including The Film, Companion Guide, and Bonuses
 (Please note, if you ordered the Physical Edition, your package will ship in 48 hrs. of purchase.)

---
Raising Meat Chickens – The Film
Featuring Marjory Wildcraft
Raising Meat Chickens:  In the spring of 2016, Marjory Wildcraft and her family hatched a plan to raise chickens for meat and film their adventure, hoping to inspire a new generation of backyard farmers.  It seemed like a great idea… until EVERYTHING started to go wrong!
Follow along as Marjory and her family battle extreme Texas heat, storms, and predators to keep these unusually hungry chicks alive until processing day.
And see how, even when EVERYTHING goes wrong, you can still raise meat chickens for as little as $14 per bird, chick to table.
---
Raising Backyard Chickens for Eggs, Meat, and Fun!
By Tasha Greer
Click Here To Download The eBook PDF
The Companion Guide for "Raising Meat Chickens," written by Tasha Greer.
It's everything you need to get started:  A 154-page companion guide, that breaks down every aspect of raising chickens for eggs, meat, and fun.  With lots of pictures and helpful lists, it provides just enough information to give you confidence, without boring or overwhelming you.
---
Bonus Video Gift #1:
How To Grow A Year's Worth of Chicken In 51 Days
Featuring Justin Rhodes
In this special BONUS VIDEO, Justin Rhodes of Abundant Permaculture shares how he raised an entire year's worth of chicken meat for his family… in just 51 days!
Just like me, Justin, too, is going to show you what goes right… what goes wrong…
Plus, he'll be revealing his "secret sauce" for helping his chicks to thrive in those critical first 7 days.
---
Bonus Video Gift #2:
Predator ID:  Who Killed Your Chicken
Featuring Justin Rhodes
A second bonus from Justin, in this video he'll share his tips on how to keep your chickens safe from the MOST COMMON predators… so you can sleep at night!
Including the 2 chicken predators you need to worry about THE MOST!   And, how to raise a guardian goose for "game changing" results.
---
Bonus Video Gift #3:
Picking Chicken Breeds
Featuring Jeanette Beranger
Jeanette Beranger is the Senior Program Manager for The Livestock Conservancy.
And in this video, she'll show you how to choose the best breeds of chicken for your property, lifestyle, and needs, including the #1 chicken breed she recommends for beginners, the breeds that lay 180+ eggs per year, and chickens that thrive FREE RANGE vs. in COOPS.
Plus – the best DUAL PURPOSE breeds that make excellent egg layers and table birds, too.
---
Bonus Gift #4:
6 Ways To Keep Chickens (Guidebook)
By Paul Wheaton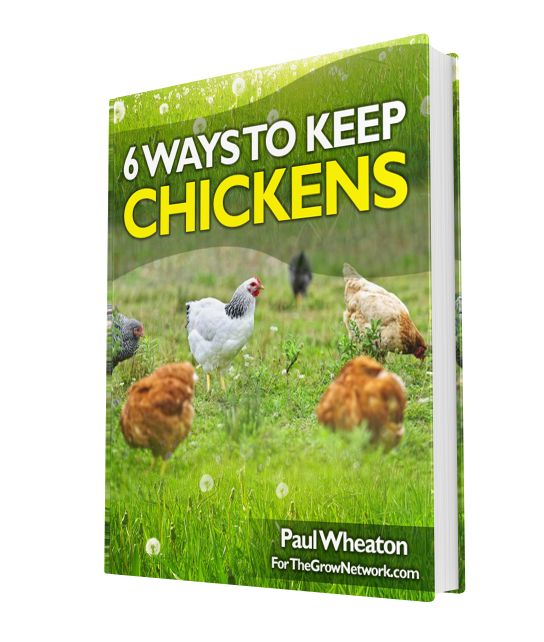 Click Here To Download The eBook PDF
​​​​​​​My good friend and colleague Paul Wheaton, founder of the largest permaculture forum on the Web, wrote a really fabulous 38-page book, detailing his adventures in chicken keeping.
He called it "6 Ways to Keep Chickens."
But really, I think he should have called it:
"7 Years Of Building Crazy Chicken-Keeping Contraptions Before I Hit The Jackpot And Found A Winner!"
Because in this book, Paul is going to walk you through his many years of trial and error, pioneering and experimenting with different chicken keeping methods …
… And he is going to share his winners with you.
With pictures, diagrams, blueprints, and really clear (and often funny) descriptions.
Specifically, Paul is going to show you the 3 most intelligent ways to keep chickens on your property.
---
Thanks again for your purchase of "Raising Meat Chickens"!
If you have any questions or comments, remember that you can reach us at happiness@thegrownetwork.com